Announcing the latest dialogue from The Free Speech Project.
About this event
[ZOOM LINK FOR EVENT BELOW]
The Free Speech Project - The Future of Fox News
Fox News: To its cult-like following, it is the only place to get reliable information about American politics, popular culture, and world affairs. To its detractors, it has long since suspended practicing journalism and become a pure propaganda vehicle for the Republican Party and especially Donald Trump.
Join Georgetown University's nonpartisan Free Speech Project on Thursday, November 18, between 2 and 3 pm, for a virtual conversation about the evolution of America's largest cable network and the place it has come to occupy on the media spectrum in this country.
What role was Fox originally intended to play? How did that change? What is the secret of its ratings success, and do its leaders feel any embarrassment over being regarded as an increasingly partisan enterprise? Do some of its stars and their popular programs actually aggravate the problem of political and social polarization in the United States?
Panelists include the original president of Fox News, media analysts for National Public Radio and The Washington Post, and a longtime Washington columnist for The Chicago Tribune.
This event is sponsored by the Free Speech Project (Georgetown University).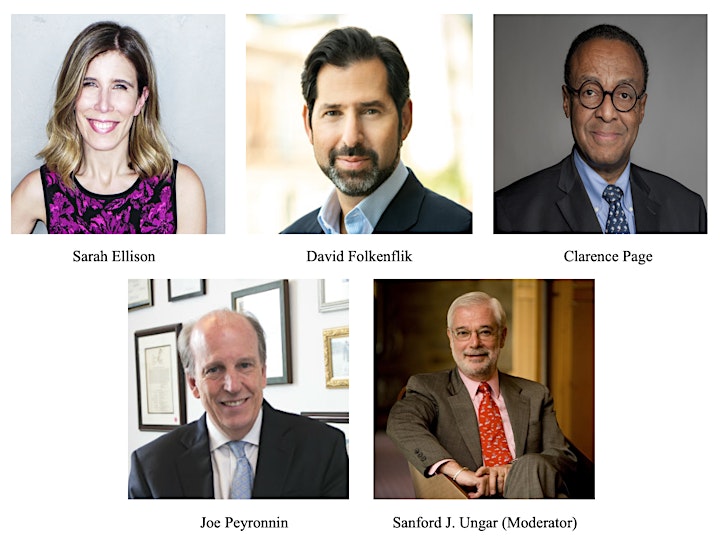 Featured:
Sarah Ellison is a staff writer based in New York, covering the media business for The Washington Post. Previously, she wrote for Vanity Fair, the Wall Street Journal, and Newsweek, where she started her career as a news assistant in Paris. She is the author of War at the Wall Street Journal. In 2017, she received a Front Page Award from the Newswomen's Club of New York for her work with Vanity Fair's blog, the Hive, and was awarded the Mirror Awards' John M. Higgins Award for Best In-Depth/Enterprise Reporting for her contributions to an article titled The Snowden Saga: A Shadowland of Secrets and Light.
David Folkenflik serves as NPR's media correspondent. His stories and analyses are broadcast on All Things Considered, Morning Edition, and Here & Now, and are featured on NPR's website and mobile platforms. He has reported on the relationship between the press, politicians, and the general public, as well as the fight over the flow of information in the age of Trump. He is a five-time winner of the Arthur Rowse Award for Press Criticism from the National Press Club and the author of Murdoch's World: The Last of the Old Media Empires.
Clarence Page is the 1989 Pulitzer Prize winner for Commentary, a columnist syndicated nationally by Tribune Media Services, and a member of the Chicago Tribune's editorial board. He has also been a regular contributor of essays to The PBS News Hour and appeared regularly on The McLaughlin Group, NBC's Chris Matthews Show, ABC's Nightline, and BET's Lead Story news-panel programs.
Joe Peyronnin is an adjunct journalism professor at New York University. He was previously an award-winning producer and senior executive in broadcast journalism for 40 years at CBS News, Fox News, and Telemundo/NBC News. In 1995-96, Peyronnin was the first president of Fox News, where he put together the core of the cable network's organization, oversaw many news specials, and created the weekly public affairs program Fox News Sunday. He has two Emmy Awards and a Polk award for his CBS News coverage.
Sanford J. Ungar (moderator), president emeritus of Goucher College, is director of the Free Speech Project at Georgetown University, which documents challenges to free expression in American education, government, and civil society. Director of the Voice of America under President Bill Clinton, he was dean of the American University School of Communication and is a former co-host of "All Things Considered" on NPR.
[ZOOM LINK INFO]
Hi there,
You are invited to a Zoom webinar.
When: Nov 18, 2021 02:00 PM Eastern Time (US and Canada)
Topic: The Future of Fox News
Please click the link below to join the webinar:
https://georgetown.zoom.us/j/93684607516
Or One tap mobile :
US: +17866351003,,93684607516# or +12678310333,,93684607516#
Or Telephone:
Dial(for higher quality, dial a number based on your current location):
US: +1 786 635 1003 or +1 267 831 0333 or +1 301 715 8592 or +1 312 626 6799 or +1 470 250 9358 or +1 470 381 2552 or +1 646 518 9805 or +1 646 558 8656 or +1 651 372 8299 or +1 669 219 2599 or +1 669 900 6833 or +1 720 928 9299 or +1 971 247 1195 or +1 213 338 8477 or +1 253 215 8782 or +1 346 248 7799 or +1 602 753 0140
Webinar ID: 936 8460 7516
International numbers available: https://georgetown.zoom.us/u/abCEJ00vD3
Or an H.323/SIP room system:
H.323:
162.255.37.11 (US West)
162.255.36.11 (US East)
115.114.131.7 (India Mumbai)
115.114.115.7 (India Hyderabad)
213.19.144.110 (Amsterdam Netherlands)
213.244.140.110 (Germany)
103.122.166.55 (Australia Sydney)
103.122.167.55 (Australia Melbourne)
149.137.40.110 (Singapore)
64.211.144.160 (Brazil)
149.137.68.253 (Mexico)
69.174.57.160 (Canada Toronto)
65.39.152.160 (Canada Vancouver)
207.226.132.110 (Japan Tokyo)
149.137.24.110 (Japan Osaka)
Meeting ID: 936 8460 7516
SIP: 93684607516@zoomcrc.com