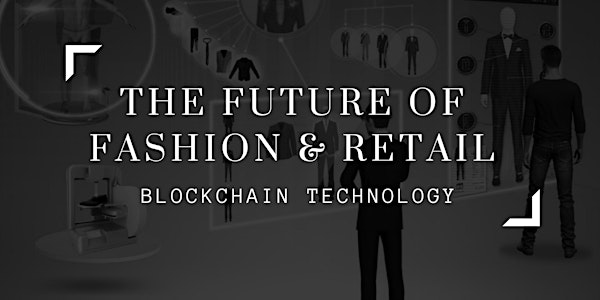 The Future of Fashion & Retail - Blockchain Technology
When and where
Location
River Island 1 Curtain Place London EC2A 3AN United Kingdom
Description
Join #FASHHACK & RIVER ISLAND to hear from the leading Blockchain innovators in fashion & retail!
Blockchains and smart contracts will change every industry in the next 10 years, including Fashion that has moved much faster in the last few years to adopt newer technologies in ways it firmly resisted for a long time.
Although blockchain is based on a simple idea, it is built upon a complex technological framework. Its goal is to establish trust, accountability and transparency while streamlining business processes. Blockchain Technology can change fashion & retail in different ways.
During this event we will be exploring the prospect and potential of how blockchain technology can support the fashion industry.
Agenda:
6.30pm Networking
7.00pm Intro & Presentations
7.15pm Panel Discussion
8.00pm Drinks & Networking
Panel:
René Bostic, Global Vice President of Innovation and New Technologies at IBM
René is the Worldwide Technical Vice President of Innovation and New Technologies for IBM Cloud. She is an expert in cloud computing, DevOps and emerging cloud technologies such as Blockchain. In 2018, she was a speaker at the O'Reilly Software Architecture Conference (New York), Cloud Expo Europe (London), AdTech (London), Blockchain & Bitcoin Conference Germany (Berlin), Blockchain & Bitcoin Conference Russia (Moscow), Blockchain & Bitcoin Conference Prague (Czech Republic), Armenia Blockchain Forum (Yerevan, Armenia), and IBM Think Roadshows (USA/Canada). Her strengths and core competencies include a proven record of accomplishments in consensus building at all levels to assess, plan, and implement enterprise cloud computing solutions. Follow her on Twitter: @ReneBosticAtIBM.
Geri Cupi, CEO & Co- Founder of MonoChain and Retail Blockchain Consortium.
Geri is CEO & Co-founder of MonoChain, developing provenance and tracking for the luxury second life market. Also, he is the Technical Director of Retail Blockchain Consortium which will be launched this October in partnership with Oracle and UCL. He has been in the blockchain space since 2014 while he was working as a VC at Velo Partners. Previously, he co-founded 2 other fashion startups JOOK and Social DNA (exited to Levi's).
Jason Cresswell , CEO/Co-founder at Resonance, FRSA
Jason previously ran the global operations of a leading data provider of Environmental, Social and Governance (ESG) risk in supply chains. 93% of the social and environmental impact of clothing happens within the supply chain, and this cannot be resolved without first opening up data sharing and collaboration within them. This is the problem that Resonance is solving. Resonance recently completed the Techstars/METRO programme and is developing distributed ledger technology to connect FMCG supply chains. It is also part of an industry-wide pre-competitive collaboration to solve the problems of product data, developing decentralised systems in collaboration with 11 major corporates and the Consumer Goods Forum.
Brian Sivyour, Head of IT portfolio for Buying & Merchandising and Supply Chain at River Island.
Brian is responsible for IT projects for Buying, Merchandising and Supply Chain at River Island. His team currently working on major projects on product set-up and design, allocation and replenishment, use of RFID, multi-channel stock distribution and returns handling, and data science and insight. Before River Island, Brian worked at M&S for nine years on IT for supply chain, distribution and warehousing, ecommerce fulfilment and assortment planning, with projects for both the clothing and foods sides of the business. Going back further, he was in consulting (also for nine years), mostly at Accenture, where he did projects for Sainsburys, House of Fraser, New Look amongst others.