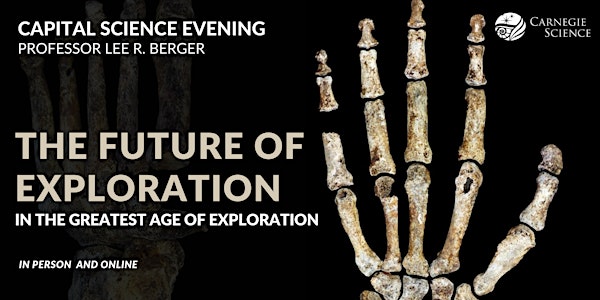 The Future of Exploration In The Greatest Age of Exploration
Professor Lee R. Berger will explore some of the greatest discoveries of the last two decades in the search for human origins.
When and where
Location
Martin Luther King Jr. Memorial Library 901 G Street NW Washington, DC 20001
About this event
1 hour 15 minutes

Mobile eTicket
Understanding where we come from as a species has been one of the great goals of humankind, exploring the questions of where we come from and why we are here as a species. In this lecture, Professor Lee Berger will explore some of the greatest discoveries of the last two decades in the search for human origins, discoveries he has been instrumental in and intimately involved with. These discoveries have led us to re-evaluate the story of human origins on the continent of Africa. With lessons from what has been described as one of the most challenging sciences on earth, Berger will explore why he believes we are in the midst of the greatest age of exploration and relate the importance of lessons he has learned during his search for understanding human origins that he believes are applicable to all areas of scientific endeavour and to our daily lives.
Professor Lee R. Berger is an award-winning researcher, explorer, author and speaker. He is the recipient of the National Geographic Society's first Prize for Research and Exploration and the Academy of Achievement's Golden Plate Award, the SA Academy of Sciences Gold Medal and was the 2016 National Geographic Society's Rolex Explorer of the Year. His work has brought him recognition as a Fellow of the Royal Society of South Africa, the Royal Geographical Society, the Explorers Club and the South African Academy of Sciences and prominent advisory positions including the Chairmanship of the Fulbright Commission of South Africa, the Senior Advisory Board of the Global Young Academy and the Centre of Excellence in PalaeoSciences of South Africa among many others. He is a South African Ambassador for Tourism, Conventions and Business Events. He has been awarded several humanitarian awards including the Boy Scout Medal of Honor for saving a life and the Red Cross Certificate of Merit. He is the Honorary National President of the South African Spelaeological Association.
- Doors open at 6:00 p.m.
- Seating in the auditorium is on a first-come, first-served basis.