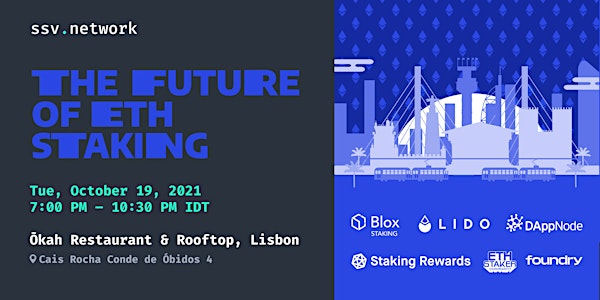 The Future of ETH Staking
ssv.network is hosting its first LIVE event❗️ Join us for drinks, snacks and nerds talking about the future of ETH staking.
Date and time
Tuesday, October 19, 2021 · 7 - 10:30pm WEST
Location
Cais Rocha Conde de Óbidos 4 4 Cais Rocha Conde de Óbidos Lisboa Portugal
About this event
___________________________________________
A panel of ssv.network operators, staking experts and partners gathering to discuss the future of ETH staking.
Join us for great food, drinks, networking and an immersive conversation about staking after the merge and beyond.
Speakers
Staking rewards, Mirko, Founder (@berlincrypto)
Lido - Isidoros Passadis, Master of Validators (@IsdrsP)
DappNode - Pol Lanski - COO
Foundry (DCG) - Lucas Kohorst, Staking Engineer (@KohorstLucas)
EthStaker Community - Colfax Selby, EthStaker (@colfaxselby)
Bloxstaking - Alon Muroch, Founder & CEO (@AmMuroch)
Fireside chat (30-40 min)
The future of ETH staking + QnA
The rest of the time will be dedicated to mingling, eating, drinking and geeking :)
___________________________________________
ssv.network, a Decentralized ETH Staking Network - based on joint research with the Ethereum foundation; Secret-Shared-Validators (SSV) is a secure way to split a validator key between non-trusting nodes (or operators). A unique protocol that enables distributed control and operation of an Ethereum validator.
Venue:
Date and Time: 19 Oct 7PM - 10:30PM
Location: Ōkah Restaurant & Rooftop, Lisbon
Address: Cais Rocha Conde de Óbidos 4