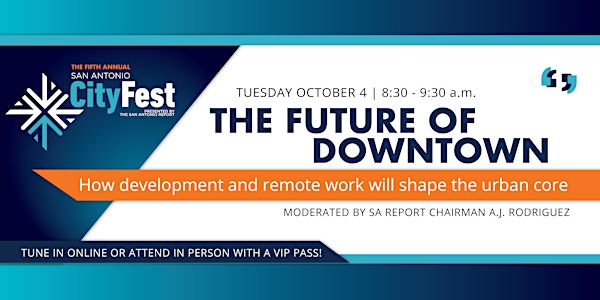 The Future of Downtown - 2022 CityFest
How development and remote work will shape the urban core
About this event
Coming on the heels of San Antonio's "decade of downtown," the global pandemic put the years-long creation of a downtown tech district in jeopardy. The resulting departure of much of the business crowd has put a pinch on local businesses, workers and developers, and has led to concerns about safety. We'll ask stakeholders in the downtown business and development community what the next stage of downtown growth looks like.
Panelists:
Jenna Saucedo-Herrera - President and Chief Executive Officer, greater: SATX
Randy Smith - Co-founder and Chief Executive Officer, Weston Urban
Matt Brown - President and Chief Executive Officer, Centro San Antonio
Tommie Gonzalez - Owner of Puro Handsome Barbershop
Lori Houston - Assistant City Manager, City of San Antonio

CityFest: Live Local
Join us for CityFest 2022—four days of dynamic programming curated around the theme "Live Local" from Tuesday, October 4 through Friday, October 7. As San Antonio continues to recover from the worst days of the pandemic and look toward strengthening our community using an equity lens, our fifth annual urban ideas festival will be staged throughout the city and streamed online to promote accessibility and community engagement.
Our keynote luncheon titled "The Exit Interview" will be a conversation with County Judge Nelson Wolff and San Antonio Report co-founder Robert Rivard at the Tobin Center for the Performing Arts. San Antonio Report staff along with invited guests will serve as moderators throughout the week for panels and events to get you connected (or re-connected) to your city.
For more information on CityFest, visit www.cityfestsa.org