The Future of Digital Money! 2017 Fintech World Workshop Series"The Evoluti...
Description
"The Future of Cryptocurrency" "The Evolution of Finance"
Laws, Rules, Regulations & Compliance
Over $1.2 billion in Cryptocurrency was raised through Initial Coin Offerings ("ICOs") in the first half of 2017, far outstripping venture capital investment into Blockchain and Bitcoin firms. Of that amount, approximately $600 million was raised in last 30 days alone.
Initial coin offerings (ICOs), might be subject to federal securities laws.
Review Cryptocurrency Listings, " cryptocurrency exchanges – qualify as securities. – SEC revealed last month that it had been investigating The DAO, the ethereum-based funding vehicle that raised more than $150 million through a token sale.
For Speaking & Sponsorship Inquiries:
For Promotional Opportunities, Group Discount, Sponsorship, and how to become a panelist
call 1-888-580-6610 or email to Info@2020fintech.com
#BLOCKCHAIN #TOKEN MANIA #CROWDFUNDING #DIGITAL ASSET #CRYPTOCURRENCY
The Rise of Digital Money!
2017 Fintech World Workshop Series
"The Evolution of Finance"
The Future of Cryptocurrency
Pressure Mounts For SEC As Even More Issuers File For Bitcoin ETFs
The Important gathering will discuss what's new on State of Investing and Risk Mitigation through evolving Internet finance space under the label "2017 Fintech Summit under Congress & President Trump administration"
Topics of Agenda & Discussion
SEC surprise announcement on ICO's – A huge increase in ICO investment, surpassing VC funding in Blockchain market- Regulatory landscape of Cryptocurrency – Blockchain technology: New policies and Application – Digital Currencies like Bitcoin and Ethereum reaching their highest market cap sector- Investor perspective and education – The role of digital money in Crowdfunding– Security compliance audits- Token Economy– Future of Digital Currencies Exchange – Challenges facing companies who adopt Blockchain technology: Health – Education- Government – Energy- Logistics – Transposition- DAO Tokens, a Digital Asset – P2P SME Lending – Reg A Plus Mini IPO

Organized by Crowdfund Beat & Fintech World Media Group

Group Discount / Speaking Opportunities / Sponsorship Packages Call 1 888-580-6610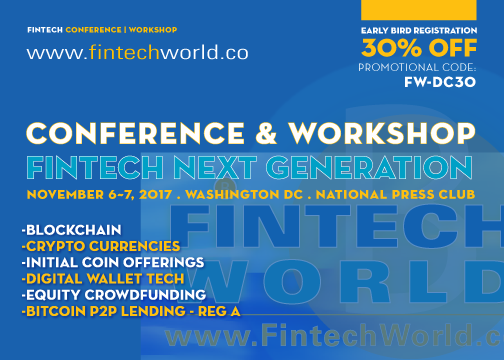 Date and Time
Location
Refund Policy