The annual Virginia Democracy Summit will take place via zoom from April 8-10th. Please register to attend this amazing conference!
About this event
The annual Virginia Student Democracy Summit will take place via zoom from April 8-10th. The summit will focus on the importance of community building as a strategy for addressing inequities within our political system and governing power structures. Please register below to recieve the agenda and zoom links for the sessions via email.
Sessions topics will include
building inclusive community partnerships
ethical leadership in the realm of voter engagement
addressing racism, sexism, and ableism in civic engagement efforts
community organizations working with colleges and students
student power in local elections
combating harmful rhetoric and political polarization
NSLVE data
gerrymandering and legislative updates from the Virginia General Assembly
advocating for a more equitable democracy
The specific sessions and timing can be found on our website: https://mdoane6.wixsite.com/vademocracysummit21
This conference is open to people of all ages, racial and gender identities, experiences in civic engagement, education levels, and areas throughout Virginia and the country. Please share amongst your networks and friends!
Co-hosted by PVCC Votes, VT Engage, VCU Votes Student Coalition, W&M Voter Engagement Action Coalition, JMU Civic, UMW Votes, VCET, SLSV, CEEP, The Latina Institute for Reproductive Justice, and IDHE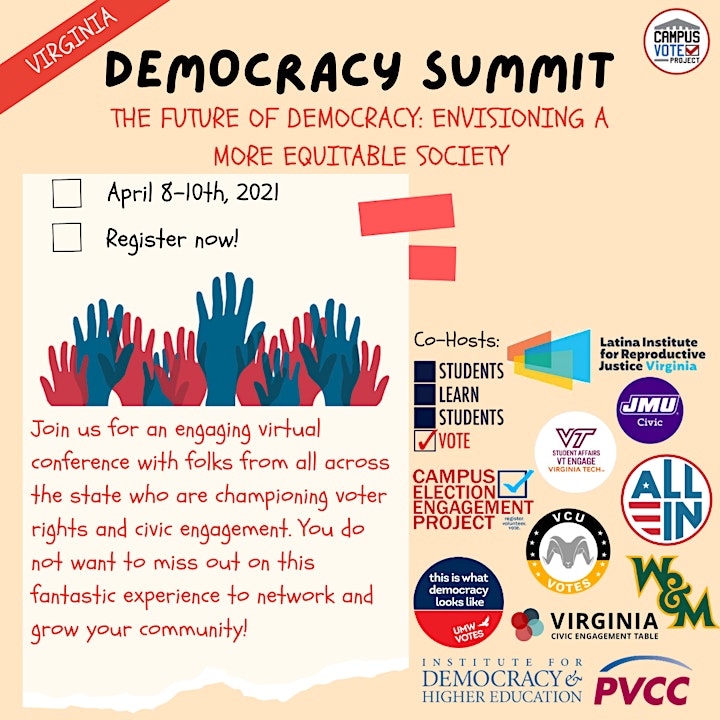 Organizer of The Future of Democracy: Envisioning a More Equitable Society
Campus Vote Project works with universities, community colleges, faculty, students and election officials to reduce barriers to student voting.Our goal is to help campuses institutionalize reforms that empower students with the information they need to register and vote.
We currently work with over 150 college and universities across 30 states with a combined enrollment of over 2 million students.
Historically, young adults have voted at lower rates than older cohorts. They are also the newest members of our democracy, move more frequently, are less likely to have a driver's license, and are less likely to be contacted directly by political campaigns then older age groups, all of which are barriers to registering and voting.