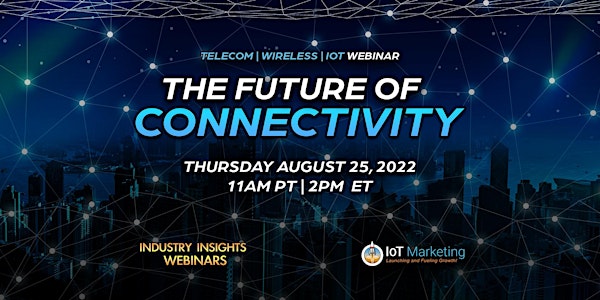 The Future of Connectivity
Find out how to leverage the networks of the future and what to expect for tomorrow's connectivity ecosystem. Join our webinar!
About this event
Connected devices are getting faster, smaller and cheaper. What types of connectivity will power the billions of devices expected to come online in the near future?
Join Industry Insights Webinars and IoT Marketing for "The Future of Connectivity" webinar on Thursday August 25, 2022 for a live panel discussion with Q&A.
Discussion topics include:
• Data Transparency and zero trust
• How the wireless industry is adapting to new generations of cellular
• New communications service provider operating models
• Connectivity demands for IoT use cases
Event Details:
Date - August 25, 2022
Time - 11AM PT | 1PM CT | 2 PM ET
Register now to hear from our panel of experts and industry leaders on how to leverage the networks of the future and what to expect for tomorrow's connectivity ecosystem. https://iotmktg.com/the-future-of-connectivity/