Understand what commercial tenants are asking for right now and how designers can prepare for the future.
About this event
As Melbourne returns to bustling city life with workers slowly returning to the office, now is the time to listen to what is driving the market for commercial space and how to make an impact and deliver a design that will stand the test of time.
Hear from industry experts as they share their thoughts on what commercial tenants are asking for right now and how to prepare for the future.
The discussion will cover...
The main changes in commercial space demand in Melbourne
Current market response from the tenants and prediction of future trends
How tenants evaluate commercial spaces now
Recommendations on where to concentrate investment for long term profitability
Insights into the importance of a visually appealing public space for a commercial building
Learn the key areas for upgrade in existing commercial spaces
and hear from...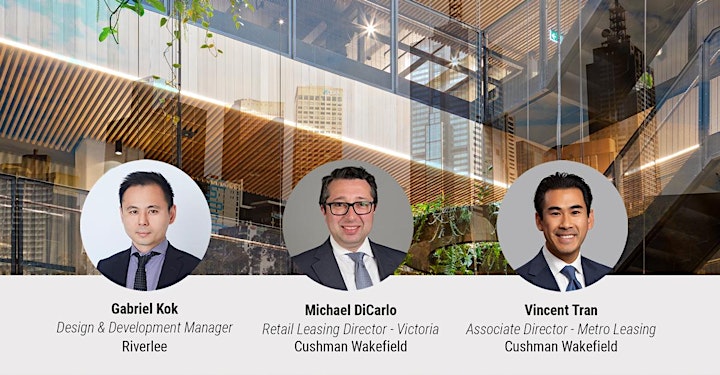 Gabriel Kok
Design & Development Manager, Riverlee.
Riverlee is a Melbourne based, privately owned property group specialising in development and asset ownership across the commercial, residential and retail sectors. With a passion for urban renewal, Riverlee has completed and delivered in excess of $2.5 billion of urban land and master-planned communities, commercial office, residential, and hotel developments; with an active development pipeline in excess of $3 billion
Gabriel joined Riverlee in 2014 and currently oversees the design roll out across the company portfolio. He spent 12 years prior working as an architect at FK architects.
Michael DiCarlo
Retail Leasing Director - Victoria, Cushman & Wakefield.
Michael has over 18 years' experience in Commercial Real Estate and has gained significant experience across several property classes throughout his career. Since 2005, he has focused on CBD retail and prime retail opportunities. Michael is one of Melbourne's most active retail agents in the CBD years and has successfully brokered high profile CBD retail sites along Bourke Street Mall, Swanston Street, Little Collins Street and Collins Street. Michael's broad experience in commercial real estate puts him in a position where he is able to relate to both landlords and tenants of various backgrounds.
Vincent Tran
Associate Director - Metropolitan Leasing, Cushman & Wakefield
Vincent joined Cushman & Wakefield in January 2018 as an Associate Director of the Victorian Metropolitan Office Leasing Business., where he assists in providing Landlord's with advice specialises in major backfill repositioning .
Before joining the firm, Vincent had previously worked for another multinational commercial real estate agency for 7 years.
Vincent has a deep knowledge of the Melbourne City Fringe Office Markets and provides advice to both Private and Institutional clients regarding new office developments and major leasing appointments.