Join us for a presentation on "The Future of Cloud Technology" and a night filled with networking over cocktails!
About this event
Palm Beach Technology Association is partnering with Rinehimerbaker, a cloud accounting solutions provider, to bring you a presentation on "The Future of Cloud Accounting Technology."
This event is perfect for business owners, VPs, and Directors who are interested in learning more about the cloud and how it can reduce risks, free up time, and make you money. Ultimately, how it can help you achieve more. . . faster!
Tonya Lilly, Director of Accounting Services at Rinehimerbaker, will present on the following topics:
Discuss where the future of cloud is taking us.
Reduce risks and costs associated with hiring, onboarding, and turnover.
Free up valuable time to achieve greater results.
Introduce technology and tools to reduce processing times and increase productivity.
Discover new opportunities to improve organizational results.
The event will be hosted by Digital Resource in downtown West Palm Beach on Wednesday, November 6th from 5:00 pm - 8:00 pm.
There will be food, drinks, raffle prizes, networking, a great presentation, and everything is FREE!
*** All donations made will benefit our local 1909 startup community. You can learn more at www.weare1909.org ***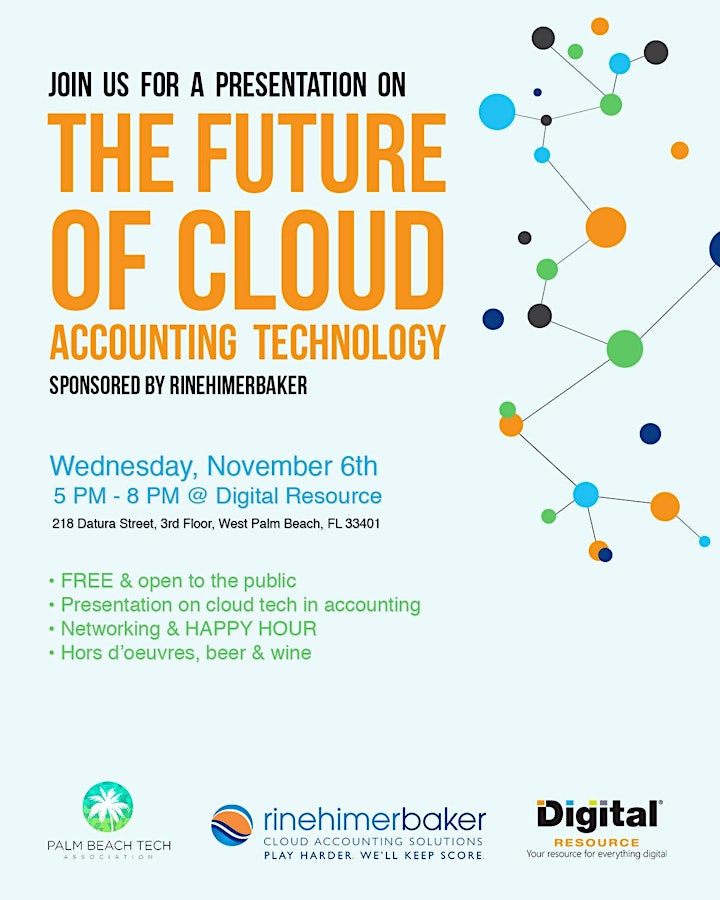 Organizer of The Future of Cloud Accounting Technology