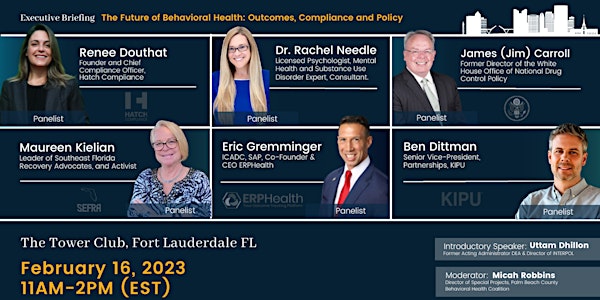 The Future of Behavioral Health | Outcomes, Compliance and Policy
Executive Briefing | The Future of Behavioral Health: Outcomes, Compliance and Policy
Date and time
Thursday, February 16 · 11am - 2pm EST
Location
Tower Club Ft Lauderdale 100 Southeast 3rd Avenue #28th Floor Fort Lauderdale, FL 33394
About this event
llicit fentanyl has become a national crisis, driving record numbers of drug-related deaths in the United States. According to the Drug Enforcement Administration (DEA), two-thirds of the 107,000+ overdose deaths in 2021 were caused by synthetic opioids like fentanyl and its analogs.
Fearing for their lives, people with substance use disorders and their loved ones are seeking help. But who can they trust? Negligence and unlawful acts by some addiction treatment centers have led to increased public skepticism about their effectiveness. And it can be difficult to identify which treatment facilities have quality recovery programs and which do not.
This executive briefing will feature an update on the illcit fentanyl crisis by Uttam Dhillon, former Acting Administrator of the DEA followed by a roundtable discussion with industry leaders led by former U.S. Drug Czar Jim Carroll focused on creating better outcomes in addiction treatment through transparency, compliance, and policy.