The Future of AR/VR/MR, Presented by Fairfax County EDA & TechFire (June 19...
Sales Have Ended
Registrations are closed
Tickets are not currently available.
Sales Have Ended
Registrations are closed
Tickets are not currently available.
Description
TechFire and the Fairfax County Economic Development Authority (FCEDA) cordially invite you to a special lunch reception and talk on June 19 in Los Angeles (Playa Vista).
The event will feature remarks by virtual reality pioneers Nathan Burba (Co-Founder & President of Survios) and Guy Primus (Co-Founder & CEO, The Virtual Reality Company), and augmented/mixed reality pioneer Ashley Crowder (Co-Founder & CEO of VNTANA) (bios below), plus speakers on the key advantages that Fairfax County offers for growing technology companies, including for tech companies from Southern California looking to expand to the East Coast and the Washington, DC area in particular.

Fairfax County's dynamic business community is on the forefront of one of the strongest economies in the country. Along with its well-known strengths in cybersecurity and big data, and in government and defense technology, the county has large and growing numbers of big data, commercial IT, financial, software, communications and technology management service providers.

Fairfax County is a highly desirable business location for companies of all sizes and especially businesses that specialize in technical and business services. With its diverse business base, firms come to Fairfax County for its ideal mid-Atlantic location, the proximity to the federal government in neighboring Washington, D.C., the well-educated workforce and the high quality of life.

Many California-based companies have expanded operations to Fairfax County in order to to take advantage of the region's highly skilled workforce, vibrant business community that includes more than 9,100 technology-focused enterprises, proximity to the Department of Defense and civilian agencies that issue billions of dollars in procurement opportunities each year, and the contractors that work with government agencies. Just a few examples of California companies that have expanded to Fairfax County include Palo Alto Networks, VMWare, Splunk, UST Global, Nutanix, and Forescout Technologies. In addition, since 2008 five companies relocated their corporate headquarters from California to Fairfax County: CSC, Hilton Worldwide, Science Applications International Corporation (SAIC), Geeknet and Northrop Grumman.



WHEN & WHERE:
June 19, 2019. Doors open at 11 am for a lunch reception (arrive early-when the food is gone it's gone!). The program will run from 12 noon to 1:30 pm.

At Microsoft Technology Center - Los Angeles, located in "The Reserve" office park in Playa Vista, 13031 W. Jefferson Blvd, Suite 200, Los Angeles, CA 90094.


SPEAKERS:


Nathan Burba, Co-Founder and President, Survios
Nathan Burba is the Co-Founder and President of virtual reality pioneer Survios, backed by $54 million in funding from MGM, Shasta Ventures, and Lux Capital. Survios has built partnerships with AT&T, Intel, IMAX, Sony and Nvidia among others. Survios is a developer of virtual reality software and games including the titles Raw Data, Sprint Vector, Electronauts and CREED: Rise To Glory. Survios' first VR game, Raw Data reached #1 on Steam's global top sellers list, and was the first VR game to reach $1 million in sales in one month. It also operates Survios branded Virtual Reality Arcades and a worldwide VR software distribution network operating in 45 countries.
Before founding Survios, Nathan was the Director of Product Holodeck (named after Star Trek's holodeck!), a joint research effort between the Mixed Reality Lab and the Advanced Games program at the University of Southern California. He also authored a book on iOS game development, the Cocos2d-iPhone Cookbook.

Ashley Crowder, Co-Founder/CEO, VNTANA
Ashley Crowder is Co-Founder and CEO of VNTANA, "the world's first scalable, affordable and interactive hologram."
VNTANA's technology has been used by many Fortune 500 brands including Pepsi, Nike, Microsoft, Intel, Mercedes-Benz, Lexus, and others and is applicable globally across multiple industries including advertising, retail, business communications, sports, and automotive. VNTANA is headquartered in Los Angeles.
VNTANA is an end to end solution for premium mixed reality experiences to engage consumers. VNTANA's patented platform has automated experience creation tools that make it fast & easy to create highly personalized, branded mixed reality experiences. The platform automatically collects data with facial tracking and post interaction online engagement tools to provide an accurate 360° view of consumer interactions while syncing the data with existing marketing automation tools & CRMs.
Crowder co-founded VNTANA in 2012, after working at Gulfstream, Northrop Grumman and BP, utilizing her experience in manufacturing to help design the new company's early offerings. As TechCrunch notes, "In 2013, the team sent a video of a hacked Kinect to Microsoft, demonstrating how the company's popular hands-free controller could be used for gesture tracking and control with VNTANA's holographic images. It was enough to gain the startup a place in Microsoft's Early Developer and BizSpark programs" -- and the rest is history!
Guy Primus, Co-founder and CEO, The Virtual Reality Company
Guy Primus is co-founder and CEO of The Virtual Reality Company (VRC), where he has served as executive producer of such projects as The Martian VR (winner, Cannes Lions award), Raising a Rukus (winner, Lumiere Award), and Jurassic World VR Expedition (named Best Location-Based VR Experience by UploadVR). Variety called Jurassic World VR Expedition, which was developed by VRC in cooperation with Steven Spielberg's Amblin Entertainment and Universal Studios, "one of the most successful commercial VR partnerships for a major motion picture studio to date."
Primus is the former Chief Operating Officer of Overbrook Entertainment, the film and television production company founded by actor/producer Will Smith and producer James Lassiter. Mr. Primus also co-founded and managed Tentpole Ventures, a seed-stage tech investment fund that focuses on consumer lifestyle companies and whose portfolio includes Pinterest, DogVacay, Fancy and Loom (acquired by Dropbox) for Smith.
Prior to joining Overbrook, Mr. Primus was Director of Digital Media at Starbucks, where he co-created the popular "Pick of the Week" program. As Group Product Marketing Manager for Microsoft's MSN Entertainment, Guy earned the company an ad:Tech award for his creation of "The Scenario" for Sprite. He also served as Vice President of Strategy & Planning for Blue Flame, the marketing and advertising agency founded by Sean "Diddy" Combs.
He was recognized by Black Enterprise as one of the most influential blacks in technology and was on the 2017 Ebony Power 100 list.
Mr. Primus is a member of the Georgia Tech Advisory Board and chairman of the advisory board of Georgia Tech's School of Industrial Engineering, and was honoured as a "Captain of Industry" by the Institute of Industrial Engineers.
Mr. Primus earned a BS (1992) & MS (1995) in Industrial Engineering from Georgia Tech and a MBA (2000) from Harvard Business School.
Plus:
Rodney Lusk, Director, National Marketing, Fairfax County Economic Development Authority
Rodney Lusk coordinates the efforts of the National Marketing team which travels throughout the U.S. to promote Fairfax County as a prime expansion location for emerging technology companies. He supports firms that are proposing to grow their operations in Fairfax County, and coordinates the development of incentive and relocation packages for firms considering the relocation of their corporate headquarters. Some of National Marketing's corporate relocation/expansion wins include; 1) Carfax, 2) EY, 3) Hilton Hotels Worldwide, 4) Navy Federal Credit Union, and 5) Amazon Web Services.


Mark White, Director, Los Angeles Office, Fairfax County Economic Development Authority
Mark White heads the Southern California office for the Fairfax County Economic Development Authority. The office serves as a resource for California companies, and those from up and down the West Coast, who are interested in expanding on the east coast and want to find the best location in which to do that. The FCEDA first opened a California office in 2006 in San Francisco, and in 2011 shifted its base to Southern California. Mark specializes in assisting companies, governments, and capital investment companies, focusing on formulating strategies to help facilitate market expansion.

ABOUT FCEDA AND TECHFIRE:

About the Fairfax County Economic Development Authority (FCEDA):
The award-winning Fairfax County Economic Development Authority (FCEDA) promotes Fairfax County as one of the world's best business locations. The FCEDA is an independent authority chartered by the Commonwealth of Virginia, with offices around the globe (including here in Southern California) that work with businesses interested in expanding in the US market. The California office serves as a resource for California companies, and those from up and down the West Coast, who are interested in expanding on the east coast and want to find the best location in which to do that.

Located minutes from Washington, D.C., Fairfax County is an attractive location for headquarters
operations as well as for research and development, sales, marketing and government relations functions. Fairfax County offers proximity to the United States federal government, a state-of-the-art technology infrastructure, highly educated labor force, easy access to dozens of U.S. and global destinations through Washington Dulles International Airport and a quality of life that includes one of the best public school systems in the U.S.

The FCEDA provides a wide array of free, confidential services and information to assist new, expanding and relocating domestic and international companies and organizations. In addition to its headquarters in Tysons Corner, Fairfax County's largest business district, the FCEDA maintains offices in seven major commercial centers worldwide: Bangalore, Boston, London, Los Angeles, Munich, Seoul and Tel Aviv.


FCEDA services include:

Providing current, comprehensive market information about Fairfax County, the Commonwealth of Virginia and the Washington, D.C, area;
Assisting businesses with start-up, relocation and expansion needs by identifying office or industrial real estate options that suit their requirements;
Providing information for employees of businesses relocating to the county;
Offering increased visibility through FCEDA publications, Web site and newsletters as well as access to media opportunities when available;
Linking entrepreneurs with potential venture capital investors and other business and professional service providers;
Assisting company expansion operations by providing information and answering inquiries about county zoning, taxes and other issues critical to doing business;
Making introductions to other organizations in the community for partnerships or other business relationships;
Identifying state programs such as workforce and tax incentives to qualifying companies, and Virginia programs that assist businesses looking to expand globally.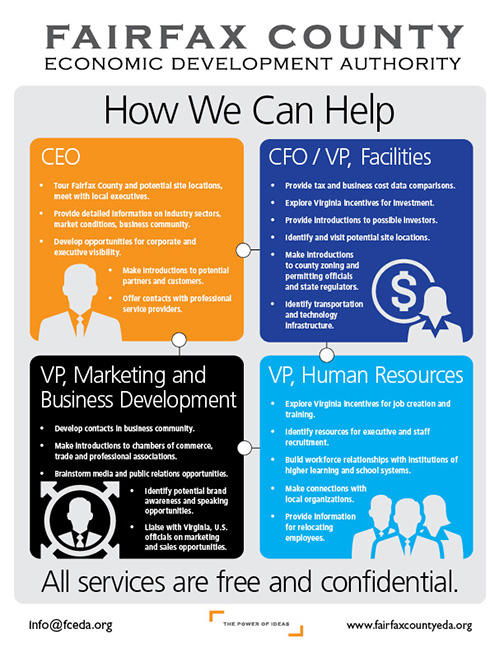 About Fairfax County's Tech Economy
Fairfax County is home to more than 9,100 technology-focused enterprises that deliver a full spectrum of high-end services and solutions to government, industry and consumer markets worldwide. Many nationally and internationally recognized technology market leaders, including Fortune 500 companies such as Northrop Grumman, General Dynamics and CSC are headquartered or have significant operations in the county.

One of every four jobs in Fairfax County is directly related to the technology sector. Along with the highly-skilled workforce of well-educated professionals, access to international transportation and the county's recreation and entertainment amenities are among reasons the county is so attractive to innovative technology firms, especially those looking to recruit and retain human capital.

The Washington, D.C., metro area has the second-largest number of computer and mathematical jobs in the U.S. The region also leads all metropolitan areas in the number of software and systems software developers, computer and information research scientists and operations research analysts.

Fairfax County's Key Advantages For Businesses

When compared to other similar areas of the country, Fairfax County stands out as an excellent business location. In Fairfax County, you will find:
a highly educated and trained workforce;
a dynamic network of technology firms and services;
strategic access to international airports and Washington, D.C.;
a competitive tax structure;
affordable, flexible and attractive real estate options;
a multi-modal transportation network; and
excellent public schools, colleges and universities.

Fairfax County: "One of the great economic success stories of our time."
— Time magazine
Learn more at http://www.fairfaxcountyeda.org.


ABOUT TECHFIRE:
TechFire is a leading producer of tech conferences and events, and has been recognized in Techmeme's list of nationally significant tech events. C-SPAN broadcast a recent TechFire summit nationally on TV. Our 40+ past events have featured speakers such as C-level executives from Warner Bros and PBS, investors from leading VC firms like Kleiner Perkins and Greylock, and Founders/CEOs from startups like Aurora, BlackLine, HotelTonight, About.me, Dollar Shave Club, and many more. TechFire is helping organize this event as a consultant to FCEDA. Learn more at techfire.co.
Image background (cityscape) credit: FCEDA.