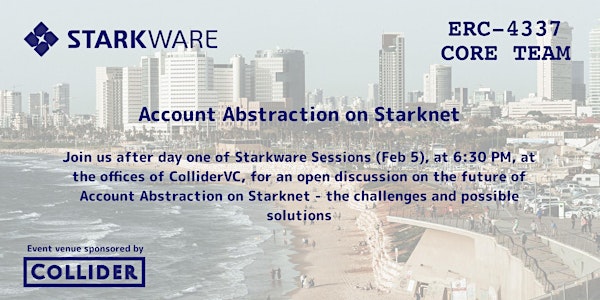 The future of Account Abstraction on Starknet
Join us after day one of Starkware Sessions for an open discussion on the future of Account Abstraction on Starknet
By Co-hosted by Starkware and the ERC-4337 core team
Date and time
Sunday, February 5 · 6:30 - 9:30pm IST
Location
HaArba'a St 28 28 HaArba'a Street Tel Aviv-Yafo, Tel Aviv District Israel
About this event
If you're interested in both Starkware and Account Abstraction, and understand the immense potential of combining the two, join the Starkware team and the ERC-4337 core team, as well as other awesome builders in the space, for a fantastic view of Tel Aviv, tasty refreshments, good company, and an engaging and open discussion on what the future holds for Account Abstraction in the Starkware ecosystem. We will go over the various challenges, opportunities and implications for those buildling both on top of those technologies.
After everyone had a chance to grab a drink and take in the view, we'll present some key items we think are valuable to discuss. We want to keep the discussion open and fluid, but obviously also make sure we don't sidetrack too much 😊
The event will take place at the offices of ColliderVC, who graciously agreed to host us and are located at walking distance from where Starkware Sessions are taking place.
📍 The Collider VC offices are located at:
HaArba'a Street 28, Tel Aviv
Hagag towers, Northern Building, Floor 19