Event Information
Location
War Memorial Building - The Green Room
401 Van Ness Avenue
San Francisco, CA 94102
Refund policy
Contact the organizer to request a refund.
Eventbrite's fee is nonrefundable.
Seven trailblazing youth share inspiring real world projects for a better future.
About this event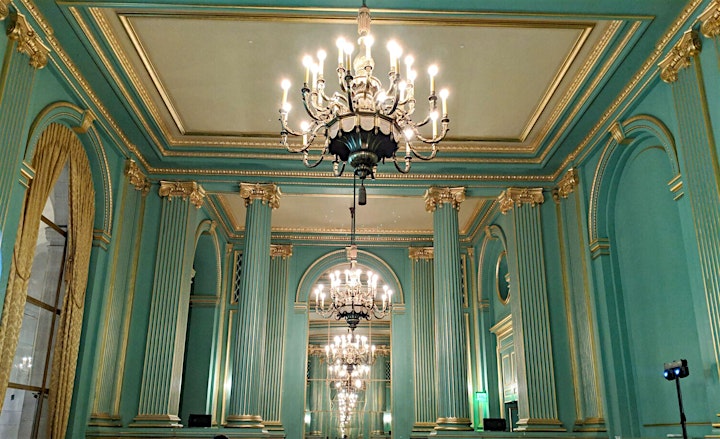 Join us in-person for a very special evening at the 2022 Her Idea Gala showcasing the incredible project ideas that our students have brought to life. Support innovation and education at this extravagant gala and see how the power of student-driven projects can change young women's lives and the community around them.
On Thursday May 26, the Green Room across the street from City Hall, it's time for our youth to shine! Her Idea's Project Mentorship Program presents seven young women who will share their project journeys with us. The project mentorship program focuses on the power of personal projects as a transformative learning experience giving youth a chance to pursue a passion as they build their own skills and network.
The evening will begin with a cocktail hour followed by presentations, dinner + performance, silent auction, and networking for an overall fun and inspiring night! There is an opportunity to purchase corporate sponsorships to help connect your own enterprise to Her Idea's fundraising publicity and be known as a sponsor of Bay Area youth.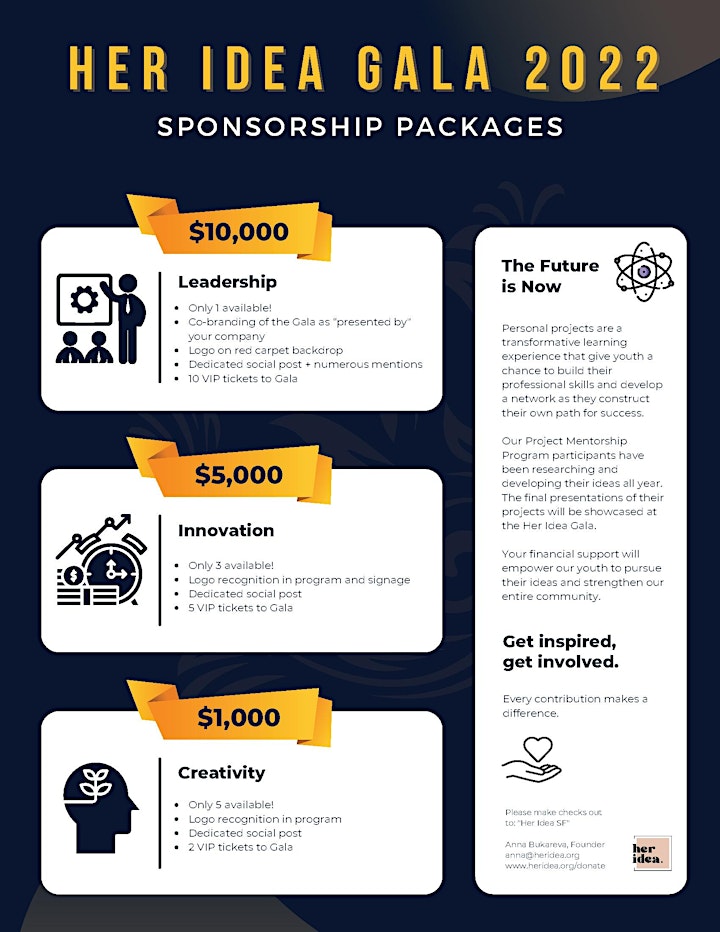 ABOUT HER IDEA:
Her Idea is a nonprofit that mentors young women as they make the transition from high school to the "real world" of college and career. We are working to partner with local schools to provide students with the resources needed to pursue their passions and purpose. We focus on the power of personal projects to serve as transformative learning experiences. We believe education is a community effort and we are very excited to create this opportunity for these talented young people to share what they have been working for the past few months.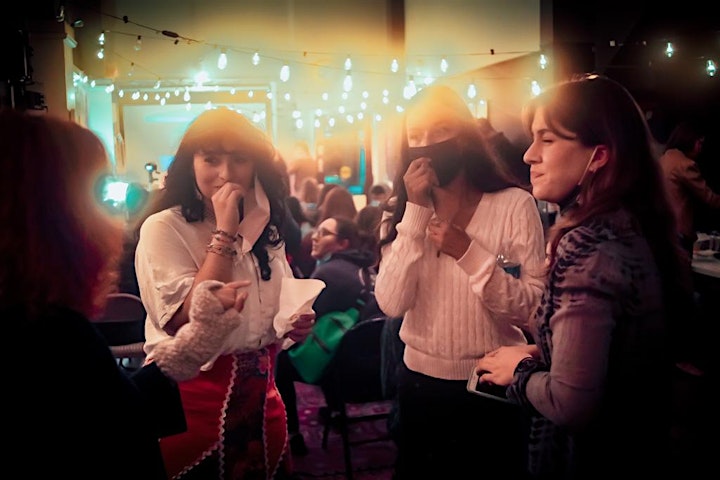 SPEAKERS:
At the 2022 Her Idea Gala you will meet this year's team of mentees and hear them describe the following exciting projects:
Karen started a nonprofit teaching first aid skills to middle school and high school students of Excelsior SF. She has already completed teaching the first 6 week program, and because that was so successful, she opened another session which filled up overnight. In January, she was awarded a $5,000 grant by the YMCA's Youth Empowerment Fund (YEF) to support this program. After she graduates in June, she will need to raise more money to continue providing free hands-on medical training to youth of SF.
Lexi imagined a space where youth could come and safely express themselves, a space where every voice is heard, a space where she belonged. In December 2021, Lexi was awarded a $10,000 grant by YEF to build a music production studio at her arts-focused high school, to provide interested students the opportunity to learn audio engineering and to record original music. She has spent the spring semester of her senior year designing the curriculum of an audio engineering program, building a music production studio from scratch, and teaching her peers how to master, mix, and record in the newly designed studio. She wants to continue growing this program even after she graduates high school and needs community support to make that happen.
Lily created a program called Danceable, a dance program for neurodivergent & physically disabled youth. Growing up dancing, she noticed that classes mostly catered to people who are able-bodied. While taking a dance-fitness class one day, she noticed a student with a disability transform into a "confident mover willing to take risks with their body." As someone who feels passionate about dance and art education, her goal is to make dance programs more accessible for disabled middle school and high school students in San Francisco. She wants them to "experience the joy and artistry dance offers in an encouraging learning environment." In January, she was awarded a $5,000 grant by YEF to build her dream program. Since then, she's designed and organized a successful and accessible dance program which held their first showcase in April at School of the Arts in SF.
Kera is an aspiring makeup artist and filmmaker. Her project goal is to help dismantle Eurocentric beauty standards that America makes women of color spend their entire lives trying to live up to. As a young Black woman who grew up in SF, she talks about the struggle she has had with her identity and race, especially in comparison to her white friends. She describes her experience as a wild ride from feeling as if she "wants to rip her own skin off and grow into something entirely new" to love herself again. She is creating a video project exploring how the beauty industry has hurt black women. She has realized the power within herself to achieve anything she sets her mind to. "And that's a very powerful lesson," she says.
Anique is a visual artist and feels strongly about the "art drought" in public schools. She explained that there is a shortage of art class time in public school curriculum, where supplies and art teachers are scarce, which is primarily evident in lower income schools. Her project goal was to establish a nonprofit arts education program for children ages 5-10, specifically those in lower income households. She will be hosting her first one day free workshop in the Mission this month. "A big part of this project is to boost kids' confidence and help them understand the power of their artistic capabilities, and who they are as a person."
Leila loves to work with kids and wants to be an educator. Growing up in the Tenderloin and Excelsior districts of San Francisco, she saw first hand the effects of homelessness, gentrification and drug addiction on the SF community. Leila is creating a curriculum about harm reduction policies and practices as a way to spread information to young people to make sure they understand the risks and adverse effects of drug usage. Her lesson plan will include a history of harm reduction in our country and the communities most affected by strict drug laws and policy in place to this day. With this education, she hopes to empower young people to be able to help and educate their peers and community.
Daniela defines herself as "a survivor, a healer, a leader, and an artivist." Being a part of many youth-led organizations, she realizes that the support from peers is motivating. "I want youth to be motivated, motivated to take charge of their lives on a spiritual level. I want to support them on their journeys as they discover and understand more about themselves and love who they are," she says. Daniela organized a school-wide student walkout last year in solidarity for survivors of trauma. This movement spread across the Bay Area. She began to see the real need for healing support and safe spaces especially among her POC peers. "I realized I wasn't alone in the need for safe healing spaces to process past trauma." Her goal is to create a healing circle for survivors – the much needed space for survivors of color in the community to come together, not feel alone, and heal. She was awarded a $1,000 grant from FOSOTA for her project and $5,000 from YEF to support her dream program.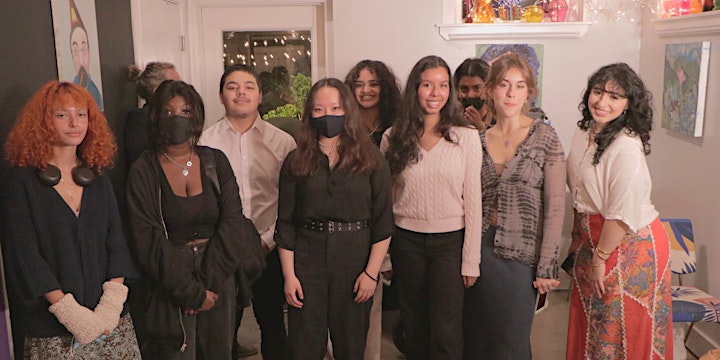 OUR COMMUNITY PARTNERS:
YMCA's Youth Empowerment Fund
FOSOTA
Boys and Girls Club
Project Level
Polam Federal Credit Union
General Assembly
826 Valencia
OUR SPONSORS:
INNOVATION SPONSOR: Volley
CREATIVITY SPONSOR: LR
Silent Auction Donations:
HAVN Collective
YuBalance
Ginger Rubio
Timber Designs
Bronca
Stanford University
Swag Bag Donations:
Jack Nadel
Olly
Stasher
Clif Bar
Date and time
Location
War Memorial Building - The Green Room
401 Van Ness Avenue
San Francisco, CA 94102
Refund policy
Contact the organizer to request a refund.
Eventbrite's fee is nonrefundable.