About this Event
*Ticket prices go up at 5pm!*
Join Spark to kick off 2019 with a bang as feminist artist and activist Madame Gandhi shares why #RepresentationMatters and how she uses her platform to advance gender equality around the world.
Recently recognized as Forbes 30 Under 30 in music, Kiran (who goes by the stage name "Madame Gandhi") is outspoken in using her music to give voice to the most pressing issues facing women and girls. So once she's gotten us sufficiently inspired, she'll also be performing a live Drum/DJ Set!
Dance into the new year with us to her hit The Future is Female along with other feminist anthems.
Doors open @ 6:30pm
Show starts @ 7:30pm
Plus, learn how to put your resources to work improving the world for women & girls by getting involved with Spark throughout the year!
Want to get started now? Join the Spark Delegation at the SF Women's March on Sunday, January 19th by RSVPing here, then celebrate with us at this Unofficial After Party!
Sharing is caring: Invite Your Friends on Facebook !
***
Thank you to ...
Our Sponsors: Eby-Hanelin Team and Megan Cayler
Our Community Partners: Monica Roy Photography and Follow The Prince
Our Host Committee: Prince Boucher, Yan Giet, Rei Wang, Tiffany Yu, Abi Ramanan, B. Cavelo, Tiffany Citra, Rei-Ling Hudson!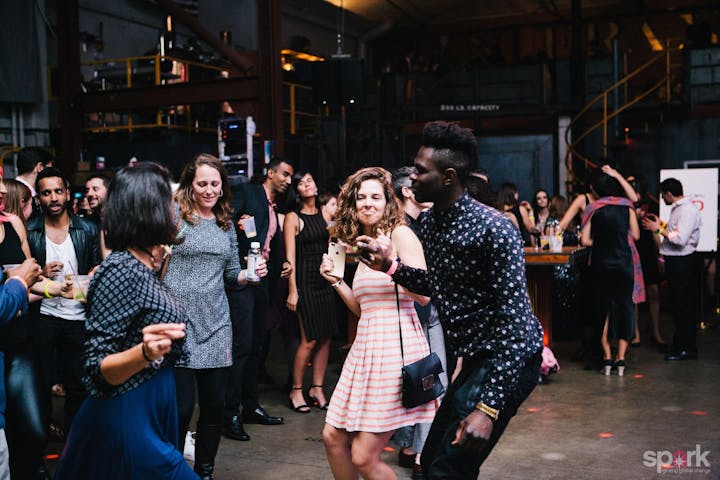 About Madame Gandhi
Kiran, who performs as Madame Gandhi, is an electronic music artist and activist based in Los Angeles. She studied mathematics at Georgetown University and worked as the first ever data analyst at Interscope Records before going on to receive her MBA from Harvard. Having gained recognition as the former drummer for artist M.I.A., and as the viral free-bleeding runner at the 2015 London Marathon, Madame Gandhi now produces music that elevates and celebrates the female voice. In 2016, she released her first EP Voices and in 2017, she toured as the opening act for Ani DiFranco. Madame Gandhi is currently working on her debut full-length album.
About Spark
Spark advances gender equality by engaging the next generation in accessible forms of philanthropy. We make it easy for young professionals to give to grassroots women's organizations, learn about women's rights, and become the next generation of leaders in the women's movement. We have a reach of 16,000 young professionals annually through 60 programs in our chapter cities, SF & NYC. In the last 5 years, our network has given over $175,000 to women's grassroots organizations, helping 35,000 women and girls around the globe. Learn more: sparksf.org.
ACCESSIBILITY:
Wheelchair and Mobility Device Accessible: Accessible to wheelchair-users and attendees who use other types of mobility devices. There are no stairs within the space.
Scent-Free Environment: Please refrain from wearing scented or perfumed products to protect attendees who may have multiple chemical sensitivities.
Service Animals: Monroe is a friendly environment for service animals.
For additional accommodation requests, please contact Meghan via email at programs@sparksf.org