The Future: Analytical Psychology and the World

Saturday, February 25, 2012 from 9:30 AM to 1:30 PM (PST)
Event Details
A WORKSHOP WITH GUEST LECTURER AND AUSTRALIAN ANALYST, CRAIG SAN ROQUE, PHD & MEMBER ANALYST, THOMAS SINGER, MD
What will the future bring? And what role might analytical psychology play in that future? These questions are vitally important for all who make depth psychology a part of their world view.
Craig San Roque, PhD and Thomas Singer, MD will lead an in-depth exploration of these questions. This workshop provides a forum to consider the ways in which culture affects the practice of analytical psychology and the ways in which analytical psychology might affect culture.
Cormac McCarthy's brilliant and disturbing novels, The Road and No Country for Old Men will provide a backdrop for the clinical exploration of the future of analytical psychology. In McCarthy's novels, as in the modern world, apocalyptic scenarios color the cultural landscape. Global warming and environmental catastrophe loom. There is an increasing division between "us" and "them," "haves" and "have nots," and "self" and "other." Can analytical psychology play a healing role in tomorrow's world? Or might analytical psychology in all its variations, as well as many other humanistic and spiritual traditions, be forced to sit helplessly on the sidelines as the future of humanity unfolds.
Both Craig San Roque and Thomas Singer have many years of experience bridging analytical thought, clinical work, and the deeply conflicted realities of societies in distress. They have collaborated on four different books in the past decade that discuss politics, myths, cities, cultures in crisis and complexes at the level of the individual and group psyche. Their new book (Spring Journal Books, January 2012) Placing Psyche: Exploring the Cultural Complexes of Australia focuses on the tremendous shifts within Australian society that are mirrored in turmoil around the world. Speaking from their research, personal and clinical experience, Craig San Roque and Thomas Singer will discuss cultural complexes, living "in-between" rapidly shifting socio-cultural boundaries, and practicing analytically in tomorrow's world.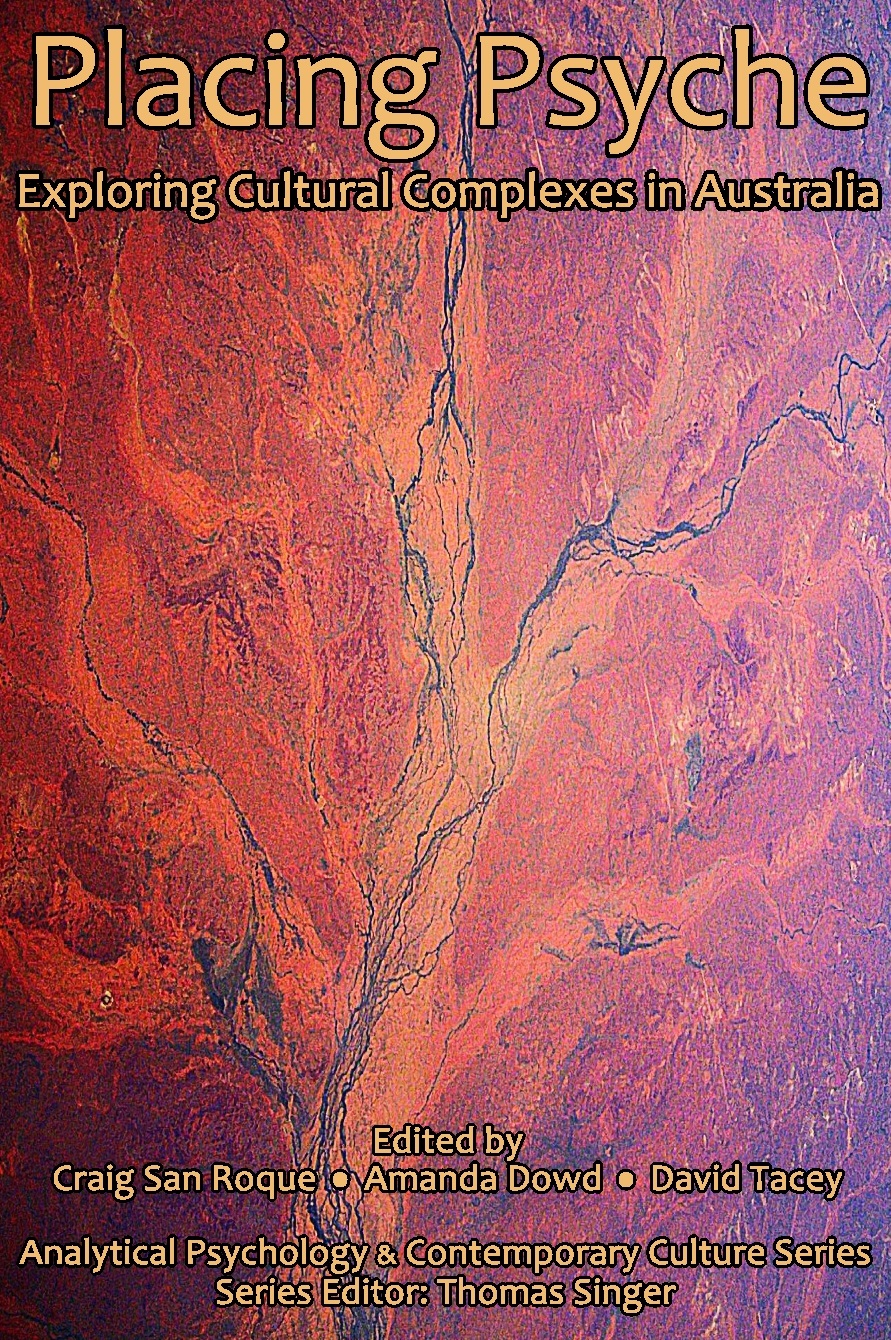 Click Here to order your copy of Placing Psyche: Exploring Cultural Complexes in Australia.
CRAIG SAN ROQUE, PHD, is a Member of the ANZ Society of Jungian Analysts. Of Australian origin, brought up in country towns, he has consistently tried to illumine psycho-cultural forces from experience based observation and evidence. He lived in London from 1968-1986, working in theatre, community services and training in psychotherapy with the Society for Analytical Psychology. Since 1987, based in Sydney and Alice Springs, Central Australia, he continues to practice analytically and consult in mental health, substance abuse, land issues and complex cultural trauma. He contributed chapters to The Vision Thing, The Cultural Complex, Psyche and the City, Placing Psyche and to Explorations in Psychoanalysis and Ethnography.
THOMAS SINGER, MD, is a Jungian analyst and psychiatrist. After studying religion and European literature at Princeton University, he graduated from Yale Medical School and later trained at Dartmouth Medical Center and the C.G. Jung Institute of San Francisco. His writing includes articles on Jungian theory, politics and psychology and he has written and/or edited many books including: The Vision Thing, The Cultural Complex: Contemporary Jungian Perspectives on Psyche and Society; Initiation: The Living Reality of An Archetype; Psyche and the City: A Soul's Guide to the Modern Metropolis, and Ancient Greece, Modern Psyche, and Placing Psyche:  Exploring the Cultural Complexes of Australia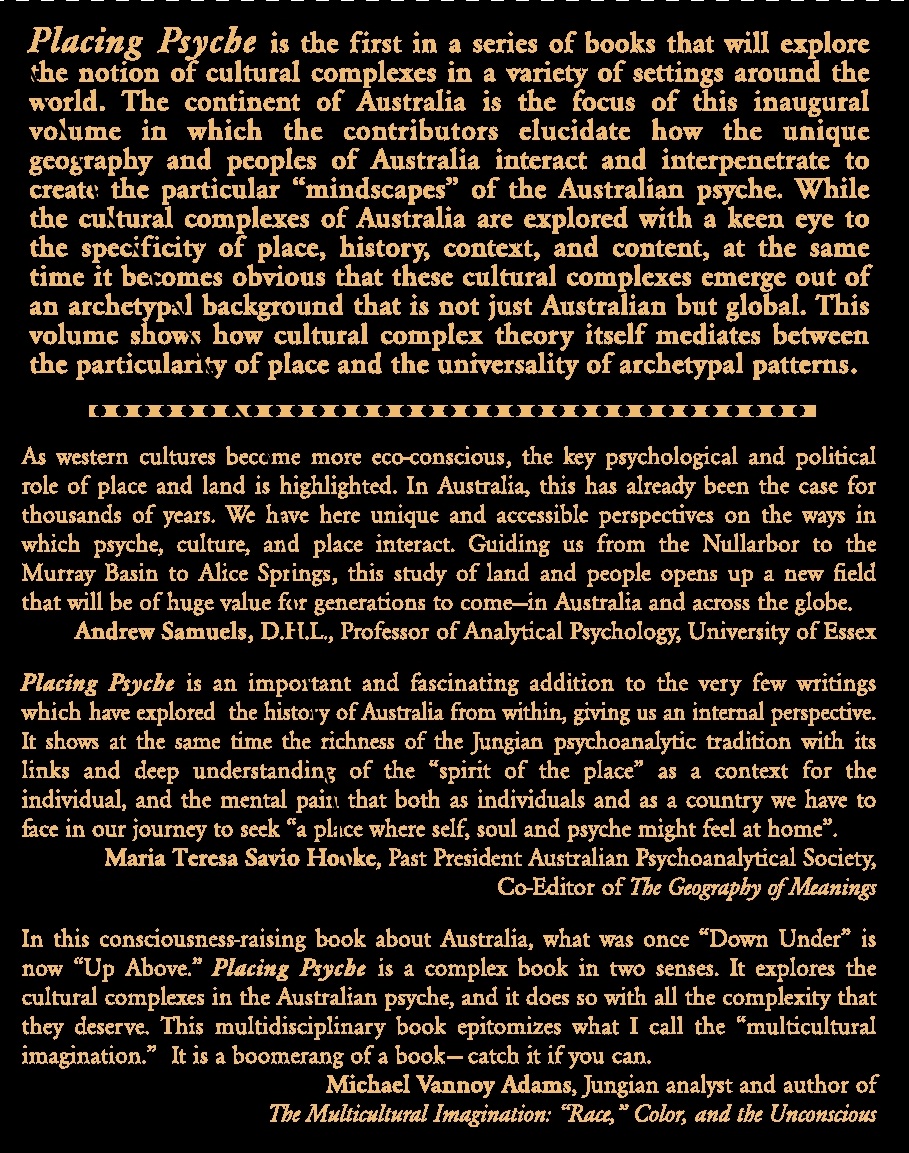 The Jung Institute of San Francisco is accredited by the Institute of Medical Quality/California Medical Association (IMQ/CMA) to provide continuing medical education for physicians. The Jung Institute of San Francisco takes responsibility for the content, quality and scientific integrity of this CME activity. 4 AMA PRA Category 1 Credits™ are offered for this event.
When & Where

The C.G. Jung Institute of San Francisco
2040 Gough St
San Francisco, CA 94109


Saturday, February 25, 2012 from 9:30 AM to 1:30 PM (PST)
Add to my calendar
Organizer
A non-profit educational and community service organization that devotes itself to the furtherance of Jungian thought in clinical work and in cultural discourse.

In addition to its Analytic Training Program, the Institute provides educational events for the general public, seminars for professionals, and produces Jung Journal: Culture and Psyche, now published by Taylor & Francis. The Institute houses an extensive library and offers a sliding scale psychotherapy clinic.  Friends of the Institute, an auxiliary organization, welcomes new members.