Change is constant. Transformation can be described as a process of profound change creating new perspectives, direction and results.
About this event
As a leader, if you are not regularly considering how to transform and adapt, you are risking organisational obsolescence.
Over the last year, organisations have faced many challenges due to the pandemic, with 48% of employees now working remotely or in a hybrid way. Many managers and leaders have had to transform in response to the challenges they have faced, to ensure the long-term effectiveness of their organisations.
This is the first session in a series of events hosted by CMI's East Midlands and Eastern board where we will explore the topic of Transformation. The events will focus on individual elements, highlighted in CMI's Management Transformed research, from communication, through to people and location. In this session, we will share with you some of the key findings from the research and explore what is transformation and why is it so important for managers and leaders.
For each of the events, we will be joined by guest speakers who are leaders in their field, and who will share with us their experiences, practical advice and some key learnings for you to be able to take away and put into practice.
Join us on Wednesday 19th May at 1.30pm, when we are delighted to be joined by Manisha Mistry CMgr MCMI, Portfolio Director - Digital Culture and Collaboration at Rolls-Royce & CMI's Chartered Manager of the Year 2020.
Our Speaker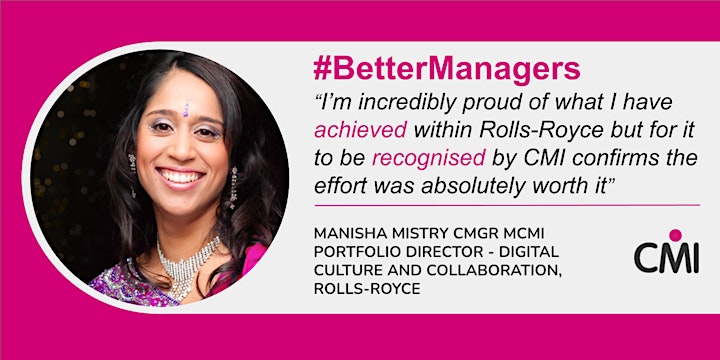 Manisha Mistry CMgr MCMI
Portfolio Director - Digital Culture & Collaboration, Rolls-Royce
Manisha is a technology leader of more than 17 years' experience in digital transformation, applying her practical expertise, MBA and CMI Chartered Manager status from the University of Derby to advise and implement strategic people and service transformation programmes with a specific focus on leveraging human centered design, Agile methodologies, ITIL, DevOps and Lean practices.
In her current role as the Portfolio Director of digital culture and collaboration for R2 Data Labs, Rolls-Royce Group's data innovation business, Manisha delivers a global digital-first enablement and learning ecosystem for Rolls-Royce, that supports the industrialisation and application of digital skills across the Group's workforce, supply chain and customers. R2 Data Labs is the data innovation catalyst inside Rolls-Royce tasked with identifying, testing, proving and accelerating new technologies and business models that support Rolls-Royce to be the world's leader in industrial technology.
Alongside her current role, Manisha is an active change agent of Business in the Community and a keen STEM ambassador. She is also a big believer of lifelong learning through investing in the local community, regularly volunteering to support local events as well as being an FA qualified grassroots football coach & welfare officer.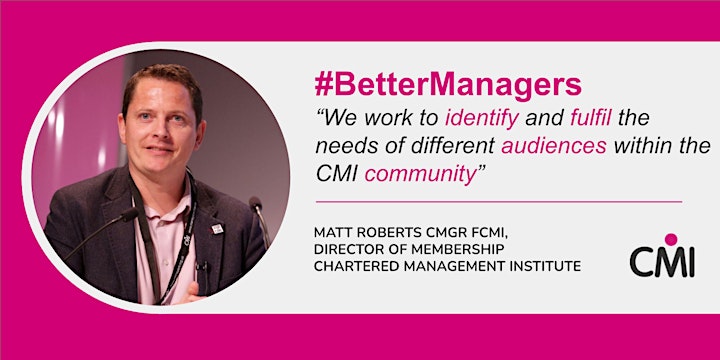 Matt Roberts CMgr FCMI
Director of Membership, Chartered Management Institute
Matt is CMI's Director of Membership. Responsible for the membership engagement strategy Matt and his team work to identify and fulfil the needs of different audiences within the CMI community from undergraduates and new managers through to senior executives. Matt is a Chartered Manager and also has responsibility for CMI's Regional volunteer Boards and our member magazine and regular newsletters. Matt has been with CMI since 2010 and prior to his current role headed up CMI's partnerships with Education Providers.
Before joining CMI Matt worked for Associa managing relationships with many membership organisations and charities to help them deliver services more effectively to their members and donors.
Our Host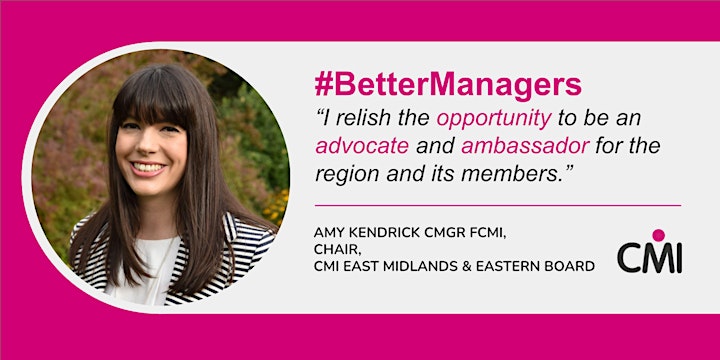 Amy Kendrick CMgr FCMI
Chair, CMI East Midlands & Eastern Regional Board
With a proven record in senior management, primarily in the UK Higher Education sector, I have a strong background in academic administration, operational and strategic planning and delivering and communicating change. My current role for The Headmasters' & Headmistresses' Conference (the professional association of Head teachers of many of the world's leading independent schools) is my first senior role outside of Higher Education. As Chief Operating Officer I am responsible for ensuring the organisation runs effectively and meeting members' needs through the provision of timely and efficient services. As Company Secretary I ensure that the organisation meets highly professional standards of financial, personnel, legal and governance practice. As a member of the senior leadership team I enjoy playing a pivotal role in shaping the future success and development of the association.
Previously, as Head of the President and Vice-Chancellor's Office at the University of Leicester, I led the executive support function and delivered a range of strategic initiatives. I also oversaw the development of the University's approach to Corporate Portfolio Management, with responsibility for monitoring and control of key strategic projects and reporting to relevant governance bodies.
As a Chartered Fellow of the CMI, I completed the experiential route of the award in December 2015 and have significantly benefited from the services the Institute provides. I am passionate about CMI's work and am delighted to have been appointed as Chair of the East Midlands & Eastern Regional Board. I am committed to representing the needs and interests of our members across the Region, particularly as we continue to collectively navigate our way through the challenges of leading and managing during such uncertain times.
In the meantime…
If you're a member of CMI, or subscribe to our content, don't forget you can find thousands of exclusive, practical development resources in ManagementDirect. Log in here and search for a topic to get started.
Not yet subscribed?
From free newsletters packed with the latest trends, insights and tips for managers and leaders, to the full suite of invaluable tools and benefits that come with being a CMI member, we've got something for everyone. Visit our website to find out more.