A night of House • Techno • Disco on FUNKTION-ONE sound.
About this event
Ascendants • SoundCloud | Dunstan Wallace • SoundCloud
Gainesville's only built in FUNKTION-ONE sound system
Enter through the Record Shop at The Wooly #𝘉𝘶𝘺𝘚𝘦𝘭𝘭𝘛𝘳𝘢𝘥𝘦
𝐅𝐑𝐄𝐄 𝐰/ 𝐄𝐕𝐄𝐍𝐓𝐁𝐑𝐈𝐓𝐄 𝐑𝐒𝐕𝐏 𝐎𝐑 $𝟓 𝐖𝐈𝐓𝐇𝐎𝐔𝐓
________________________________________________________
𝗔𝗦𝗖𝗘𝗡𝗗𝗔𝗡𝗧𝗦
𝘝𝘪𝘫𝘢𝘺𝘢 𝘚𝘦𝘪𝘹𝘢𝘴 𝘢𝘯𝘥 𝘚𝘩𝘢𝘢𝘯 𝘚𝘢𝘪𝘨𝘰𝘭 𝘮𝘢𝘬𝘦 𝘶𝘱 𝘵𝘩𝘦 𝘥𝘶𝘰 𝘈𝘴𝘤𝘦𝘯𝘥𝘢𝘯𝘵𝘴, 𝘸𝘪𝘵𝘩 𝘣𝘰𝘵𝘩 𝘮𝘦𝘮𝘣𝘦𝘳𝘴 𝘩𝘢𝘷𝘪𝘯𝘨 𝘳𝘰𝘰𝘵𝘴 𝘪𝘯 𝘍𝘭𝘰𝘳𝘪𝘥𝘢'𝘴 𝘥𝘢𝘯𝘤𝘦 𝘮𝘶𝘴𝘪𝘤 𝘴𝘤𝘦𝘯𝘦. 𝘋𝘪𝘴𝘵𝘪𝘯𝘨𝘶𝘪𝘴𝘩𝘦𝘥 𝘣𝘺 𝘪𝘵𝘴 𝘭𝘢𝘤𝘬 𝘰𝘧 𝘱𝘳𝘦𝘫𝘶𝘥𝘪𝘤𝘦 𝘢𝘯𝘥 𝘵𝘩𝘦 𝘱𝘳𝘦𝘷𝘢𝘭𝘦𝘯𝘤𝘦 𝘰𝘧 𝘢 𝘭𝘰𝘷𝘦 𝘧𝘰𝘳 𝘮𝘶𝘴𝘪𝘤, 𝘵𝘩𝘦 𝘥𝘶𝘰 𝘤𝘶𝘳𝘢𝘵𝘦𝘥 𝘕𝘌𝘖𝘕 𝘓𝘐𝘎𝘌𝘙 - 𝘰𝘯𝘦 𝘰𝘧 𝘵𝘩𝘦 𝘰𝘯𝘭𝘺 𝘭𝘰𝘯𝘨𝘦𝘴𝘵 𝘳𝘶𝘯𝘯𝘪𝘯𝘨 𝘢𝘯𝘥 𝘢𝘭𝘭 𝘪𝘯𝘤𝘭𝘶𝘴𝘪𝘷𝘦 𝘥𝘢𝘯𝘤𝘦 𝘱𝘢𝘳𝘵𝘪𝘦𝘴 𝘪𝘯 𝘵𝘩𝘦 𝘴𝘵𝘢𝘵𝘦 𝘥𝘶𝘳𝘪𝘯𝘨 𝘪𝘵𝘴 𝘵𝘪𝘮𝘦. 𝘛𝘩𝘳𝘰𝘶𝘨𝘩 𝘵𝘩𝘦𝘪𝘳 𝘸𝘰𝘳𝘬 𝘸𝘪𝘵𝘩 𝘕𝘌𝘖𝘕 𝘓𝘐𝘎𝘌𝘙, 𝘝𝘪𝘫𝘢𝘺𝘢 𝘢𝘯𝘥 𝘚𝘩𝘢𝘢𝘯 𝘨𝘳𝘦𝘸 𝘢 𝘣𝘶𝘳𝘨𝘦𝘰𝘯𝘪𝘯𝘨, 𝘵𝘪𝘨𝘩𝘵 𝘬𝘯𝘪𝘵 𝘤𝘰𝘮𝘮𝘶𝘯𝘪𝘵𝘺 𝘪𝘯 𝘎𝘢𝘪𝘯𝘦𝘴𝘷𝘪𝘭𝘭𝘦, 𝘍𝘭𝘰𝘳𝘪𝘥𝘢, 𝘸𝘩𝘪𝘤𝘩 𝘢𝘵𝘵𝘳𝘢𝘤𝘵𝘦𝘥 𝘯𝘰𝘵 𝘰𝘯𝘭𝘺 𝘵𝘩𝘦 𝘭𝘰𝘤𝘢𝘭 𝘋𝘑𝘴 𝘣𝘶𝘵 𝘮𝘢𝘯𝘺 𝘸𝘰𝘳𝘭𝘥 𝘳𝘦𝘯𝘰𝘸𝘯𝘦𝘥 𝘢𝘳𝘵𝘪𝘴𝘵𝘴. 𝘉𝘶𝘵 𝘵𝘩𝘦𝘳𝘦 𝘤𝘢𝘮𝘦 𝘢 𝘵𝘪𝘮𝘦 𝘵𝘩𝘢𝘵 𝘝𝘪𝘫𝘢𝘺𝘢 𝘢𝘯𝘥 𝘚𝘩𝘢𝘢𝘯 𝘴𝘦𝘯𝘴𝘦𝘥 𝘢 𝘤𝘰𝘯𝘤𝘭𝘶𝘴𝘪𝘰𝘯 𝘧𝘰𝘳 𝘕𝘌𝘖𝘕 𝘓𝘐𝘎𝘌𝘙 𝘢𝘴 𝘢 𝘸𝘦𝘦𝘬𝘭𝘺 𝘦𝘷𝘦𝘯𝘵 𝘢𝘯𝘥 𝘮𝘢𝘥𝘦 𝘵𝘩𝘦 𝘤𝘩𝘰𝘪𝘤𝘦 𝘵𝘰 𝘴𝘸𝘪𝘵𝘤𝘩 𝘵𝘩𝘦𝘪𝘳 𝘧𝘰𝘤𝘶𝘴 𝘵𝘰 𝘵𝘩𝘦𝘪𝘳 𝘰𝘸𝘯 𝘮𝘶𝘴𝘪𝘤. 𝘛𝘩𝘦 𝘥𝘦𝘣𝘶𝘵𝘦𝘥 𝘢𝘵 𝘐𝘐𝘐 𝘗𝘰𝘪𝘯𝘵𝘴 𝘪𝘯 𝘔𝘪𝘢𝘮𝘪 𝘢𝘯𝘥 𝘩𝘢𝘷𝘦 𝘴𝘪𝘯𝘤𝘦 𝘵𝘩𝘦𝘯 𝘳𝘦𝘭𝘦𝘢𝘴𝘦𝘥 𝘴𝘦𝘷𝘦𝘳𝘢𝘭 𝘰𝘳𝘪𝘨𝘪𝘯𝘢𝘭𝘴 𝘢𝘯𝘥 𝘳𝘦𝘮𝘪𝘹𝘦𝘴. 𝘞𝘪𝘵𝘩 𝘮𝘰𝘳𝘦 𝘰𝘯 𝘵𝘩𝘦 𝘸𝘢𝘺, 𝘈𝘴𝘤𝘦𝘯𝘥𝘢𝘯𝘵𝘴 𝘢𝘪𝘮 𝘵𝘰 𝘮𝘢𝘬𝘦 𝘢𝘯 𝘦𝘷𝘦𝘯 𝘨𝘳𝘦𝘢𝘵𝘦𝘳 𝘪𝘮𝘱𝘢𝘤𝘵 𝘰𝘯 𝘥𝘢𝘯𝘤𝘦 𝘮𝘶𝘴𝘪𝘤 𝘵𝘩𝘢𝘯 𝘵𝘩𝘦 𝘵𝘸𝘰 𝘩𝘢𝘷𝘦 𝘢𝘭𝘳𝘦𝘢𝘥𝘺 𝘤𝘰𝘯𝘵𝘳𝘪𝘣𝘶𝘵𝘦𝘥.
𝐃𝐔𝐍𝐒𝐓𝐀𝐍 𝐖𝐀𝐋𝐋𝐀𝐂𝐄
𝘚𝘩𝘢𝘱𝘦𝘥 𝘣𝘺 𝘵𝘩𝘦 𝘦𝘷𝘦𝘳-𝘦𝘷𝘰𝘭𝘷𝘪𝘯𝘨 𝘮𝘶𝘴𝘪𝘤 𝘴𝘤𝘦𝘯𝘦 𝘰𝘧 𝘎𝘢𝘪𝘯𝘦𝘴𝘷𝘪𝘭𝘭𝘦, 𝘍𝘓, 𝘋𝘶𝘯𝘴𝘵𝘢𝘯 𝘞𝘢𝘭𝘭𝘢𝘤𝘦'𝘴 𝘥𝘦𝘦𝘱 𝘭𝘪𝘣𝘳𝘢𝘳𝘺 𝘱𝘳𝘰𝘮𝘪𝘴𝘦𝘴 𝘵𝘰 𝘥𝘦𝘭𝘪𝘷𝘦𝘳 𝘢 𝘨𝘳𝘰𝘰𝘷𝘦-𝘧𝘶𝘦𝘭𝘦𝘥 𝘵𝘢𝘬𝘦 𝘰𝘯 𝘢𝘯𝘺 𝘦𝘯𝘷𝘪𝘳𝘰𝘯𝘮𝘦𝘯𝘵 𝘺𝘰𝘶 𝘧𝘪𝘯𝘥 𝘩𝘪𝘮 𝘪𝘯. 𝘈 𝘣𝘢𝘤𝘬𝘨𝘳𝘰𝘶𝘯𝘥 𝘪𝘯 𝘭𝘪𝘷𝘦 𝘮𝘶𝘴𝘪𝘤 𝘥𝘳𝘪𝘷𝘦𝘴 𝘩𝘪𝘴 𝘵𝘢𝘴𝘵𝘦 𝘧𝘰𝘳 𝘢𝘯 𝘦𝘤𝘭𝘦𝘤𝘵𝘪𝘤 𝘣𝘭𝘦𝘯𝘥 𝘰𝘧 𝘧𝘶𝘯𝘬 𝘢𝘯𝘥 𝘴𝘰𝘶𝘭, 𝘸𝘩𝘪𝘭𝘦 𝘺𝘦𝘢𝘳𝘴 𝘰𝘧 𝘋𝘑𝘪𝘯𝘨 𝘶𝘯𝘥𝘦𝘳𝘨𝘳𝘰𝘶𝘯𝘥 𝘩𝘰𝘶𝘴𝘦 𝘮𝘢𝘬𝘦 𝘧𝘰𝘳 𝘢𝘳𝘵𝘪𝘤𝘶𝘭𝘢𝘵𝘦 𝘱𝘦𝘳𝘧𝘰𝘳𝘮𝘢𝘯𝘤𝘦𝘴 𝘸𝘪𝘵𝘩 𝘢𝘯 𝘢𝘵𝘵𝘦𝘯𝘵𝘪𝘰𝘯 𝘵𝘰 𝘮𝘪𝘹𝘪𝘯𝘨 𝘢𝘯𝘥 𝘮𝘰𝘰𝘥. 𝘕𝘦𝘷𝘦𝘳 𝘴𝘵𝘢𝘨𝘯𝘢𝘯𝘵, 𝘋𝘶𝘯𝘴𝘵𝘢𝘯 𝘤𝘰𝘯𝘵𝘪𝘯𝘶𝘦𝘴 𝘵𝘰 𝘣𝘭𝘦𝘯𝘥 𝘦𝘭𝘦𝘤𝘵𝘳𝘰𝘯𝘪𝘤 𝘢𝘯𝘥 𝘭𝘪𝘷𝘦 𝘮𝘶𝘴𝘪𝘤, 𝘰𝘧𝘵𝘦𝘯 𝘱𝘭𝘢𝘺𝘪𝘯𝘨 𝘢𝘭𝘰𝘯𝘨𝘴𝘪𝘥𝘦 𝘭𝘪𝘷𝘦 𝘮𝘶𝘴𝘪𝘤𝘪𝘢𝘯𝘴 𝘧𝘰𝘳 𝘯𝘪𝘨𝘩𝘵𝘴 𝘰𝘧 𝘪𝘮𝘱𝘳𝘰𝘷-𝘧𝘪𝘭𝘭𝘦𝘥 𝘫𝘢𝘮. 𝘋𝘶𝘯𝘴𝘵𝘢𝘯 𝘩𝘢𝘴 𝘱𝘳𝘰𝘷𝘪𝘥𝘦𝘥 𝘥𝘪𝘳𝘦𝘤𝘵 𝘴𝘶𝘱𝘱𝘰𝘳𝘵 𝘧𝘰𝘳 𝘴𝘰𝘭𝘥 𝘰𝘶𝘵 𝘴𝘩𝘰𝘸𝘴 𝘸𝘪𝘵𝘩 𝘊𝘩𝘳𝘪𝘴 𝘓𝘢𝘬𝘦, 𝘈𝘮𝘵𝘳𝘢𝘤, 𝘔𝘰𝘰𝘯 𝘉𝘰𝘰𝘵𝘴, 𝘕𝘰𝘳𝘢 𝘌𝘯 𝘗𝘶𝘳𝘦, 𝘔𝘢𝘯𝘪𝘤 𝘍𝘰𝘤𝘶𝘴, 𝘏𝘦𝘳𝘮𝘪𝘵𝘶𝘥𝘦, 𝘚𝘢𝘯 𝘏𝘰𝘭𝘰, 𝘈𝘴𝘤𝘦𝘯𝘥𝘢𝘯𝘵𝘴, 𝘋𝘶𝘳𝘢𝘯𝘵𝘦, 𝘢𝘯𝘥 𝘮𝘰𝘳𝘦.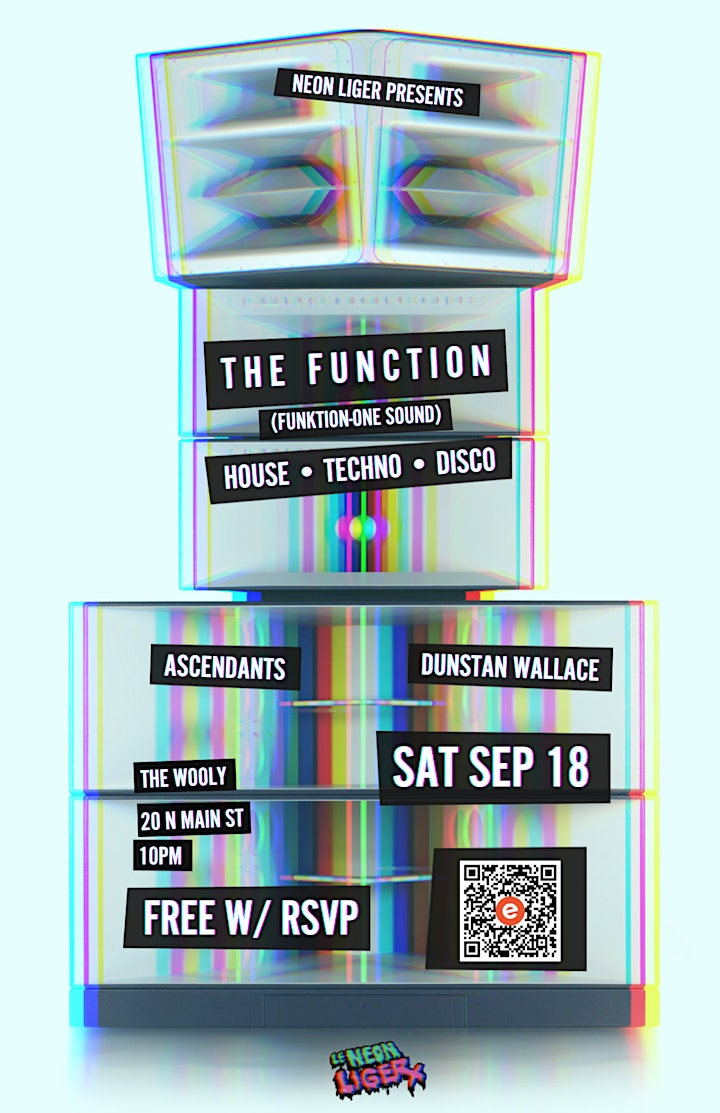 Organizer of The Function (HOUSE • TECHNO • DISCO)
Florida's rowdiest and longest-running electronic dance party started in February of 2008. For seven years, it roared weekly, never missing a Saturday night. NEON LIGER was vibrant, outrageous and non-judgmental, powered by the fierce people who made it their home. It was beautiful, sweaty, and untamed, and the legend continues once a year at the Ligerversary.