The Full Moon of Sacred Beauty, Empowerment and the Goddess Within
Description
Join us for the Full Moon in Taurus, one of the signs ruled by the mighty Aphrodite. This Full Moon balances the gorgeous earthy power the Taurus Moon with the transformational power of the Scorpio Sun. Scorpio is associated with the butterfly that transforms into a creature of astonishing beauty and reminds us that claiming our unique inner and outer beauty is empowering and liberating! Claim your beauty and your power as we explore Sacred Beauty together. Come to this event like the butterfly, dressed in the color and beauty that empowers you. Astrologer Demitra Vassiliadis will explore the astrology of your adornment!
The event will include some ceremonial time that will include writing a sacred intention for love and beauty and guided meditation to connect with our gorgeous empowered future selves.
Maria Benardis will share how we can balance our chakras to introduce the Goddess in her many manifestations. We will also learn how to harmonize the various chakras to attain optimum mind, body and spirit by adopting a high vibrational mind-food diet; an Ancient Greek "wisdom diet" that will nourish each chakra to manifest and awaken your inner Aphrodite Goddess. We will explore foods and mind medicine that will embrace your outer beauty and allow your natural beauty from within to flourish.
Refreshments are included.
ABOUT THE SPEAKERS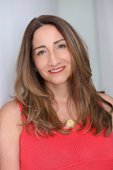 Demitra Vassiliadis is a spiritual astrologer and inspirational speaker who is passionate about helping others understand their unique talents and life path, reflected through the prism of spiritual astrology. Her interpretations and infectious enthusiasm for her subject have made her a very popular speaker, workshop leader and personal consultant.

Demitra has been a practicing Astrologer for 22 years. Her astrological services include interpreting natal charts, solar return charts, synastry readings, and helping clients select auspicious times for major events. Her practice is located in New York City. In addition to her private practice she was the house Astrologer at Monteverde Inn and Spa in Montrose, New York. Demitra also provided weekly services as an Astrologer, lecturer and workshop leader for New Age Health Spa in Neversink, NY. She has been a presenter and workshop leader at Old Stone Farm in Staatsberg, NY. She is currently a featured presenter at New York City's open Center where she periodically leads Full Moon circles. Demitra also leads monthly New Moon tele seminars and live New Moon circles at Sun Raven Healing Center in Bedford New York. She has been a regular presenter at ABC Carpet and Home's Day of Beauty, Wellness and Wisdom. She recently led an evening to celebrate the New Moon in Aries at ABC Carpet and Home's Deepak Homebase.
She has been a featured presenter for corporate retreats for McGraw Hill, The Women's President Organization, The Barbara E Giordano Foundation, The Newswomen's Club of New York, The Hudson Valley Hospital Symposium and other corporate venues. Last February Demitra performed an Evening of Lincoln and the Aquarian Age in Pleasantville NY sponsored by the Barbara E. Giordano Foundation. She has performed a one woman show off Broadway, at The Sage Theater titled Spiritual Astrology Goes To The Movies.

She is a practitioner at Dr. Michael Finkelstein's, Advanced Practitioner Roundtable at Sun Raven in Bedford NY. Dr. Finkelstein is the author of Slow Medicine. Demitra was one of the featured practitioners at Michael's Roundtable at The Omega Institute in Rhinebeck, NY.
Demitra's daily column and her monthly in-depth Astrology column can be found at her website heaventoearthastrology.com.

Maria Benardis is a Gourmand award-winning author, health & wellness coach, intuitive chef, motivational speaker and founder of Greekalicious, Sydney's first exclusively Greek cooking school. What initially started as a Greek cooking school, expanded to include catering services, restaurant consulting, grocery shopping tours, kitchen organizing services, pop-up restaurants, private chef services, an organic line of products, culinary tours to Greece and after completing studies at the Food Coach Institute in Australia, health & wellness coaching.
She has been featured in top media including The New York Times, The Today Show, and Vogue; she has offered "Cooking with Agapi" classes at prestigious venues including The Natural Gourmet Institute, Brooklyn Kitchen, Sur La Table, and Haven's Kitchen; she is a food and health blogger for The Huffington Post and Mind Body Green; she is the author of three books – My Greek Family Table, Cooking & Eating Wisdom for Better Health, and Greekalicious Feast; and she is the creator of the Manifestation Planner & Organizer. In May 2017 Maria released her fourth book MY GREEK FAMILY TABLE. In addition to demonstrating that the foods of ancient Greece are as relevant – and delicious – as ever, Maria places and emphasis on eating for health, healing and well-being. The recipes in MY GREEK FAMILY TABLE feature an abundance of fruit vegetables, healthy fats, and wholesome ingredients, and there is healing wisdom throughout the book as well as a glossary of the "Healing Ingredients of Greece" to show readers how to choose ingredients to treat ailments.