About this Event
Our story begins in the unlikely city of Milwaukee, Wisconsin where roller skating takes on importance in early formative years, thus creating competition among the three brothers. Ultimately the older brother skates off into the sunset, whilst the two younger brothers harmonize through music. Studying great musical artists, they become that which they study. They are gifted with wordplay and notes played, a gift they know that is given to them from a higher place. A gift they do not take lightly, considering the source. The Frogs are perplexed by the reaction and non-reaction by god's so-called children to their brilliance and chalk it up to a long awaited explanation they long to hear after this life when it is again time to meet their maker. The band don costumes to stand out, set themselves apart from others and to get noticed, only to have some place greater importance on visuals, rather than the celestial sounds they produce for all to cherish and behold. The Frogs mean a lot to a lot of people but not even close to what they mean to me, for I play guitar and sing in The Frogs and have penned this bio from my heart to yours.
The Frogs are an American band composed of brothers Jimmy and Dennis Flemion. They formed in Milwaukee Wisconsin in April of 1980. Jimmy on guitar and vocals and Dennis on drums and vocals. The brothers are 2 of the best songwriters around and their improvised home recordings are nothing short of sheer genius. Their live shows are something of legend. Their first show was at a college coffeehouse. Soon thereafter they frequently played a punk club in Milwaukee called The Starship. The early days consisted of punk cover versions of Beatles, Donovan, Leonard Cohen folk and nursery rhyme songs. Then in 1982 came the costumes, bat wings, boas, fog and flashpots that coincided with the new "Death Songs". The Frogs then played in Minneapolis where Wendy and Lisa of Prince's band The Revolution saw their show and said that their troubles were over. In early 1986 The Frogs began work on their first LP "The Frogs" which would be self-released in 1988. Their classic "It's Only Right And Natural", the first improvised made-up songs LP was released in 1989. Their follow-up LP "Racially Yours" was ready in 1991 but was ultimately released in 2000 on 4 Alarm Records. Another collection of Made-Up songs would be released in 1996 on Matador. In 1997, their Starjob EP, produced by Billy Corgan in 1994, was released by Scratchie Records. 1999 saw a new LP of Made-Up songs released on 4 Alarm and in 2001 their "Hopscotch Lollipop Sunday Surprise" LP was released. On the 4th of July, 2012, The Frogs released their first albums in 11 years, "Count Yer Blessingsz" & "Squirrel Bunny Jupiter Deluxe".
With his brother Dennis, Jimmy Flemion concocted one of the most singular and slyly provocative acts of rock music – The Frogs. Their dark humor and biting satire – moored by an impossibly catchy and copious catalog of songsmithery – is championed by indie cognoscenti and arena rock stars to this very day. Their sartorial flourishes and outrageous performances are rightly the stuff of legend, as is their video work that riffs on the ribald. While their 32-year run together was cut short by Dennis' untimely passing in 2012, Jimmy has continued on with his songwriting, and in 2017 he regaled a lucky audience in Austin, Texas with a Frogs set dedicated to – and featuring songs penned by – his brother.
"What do you do when one day your brother is here one day and the next day he's not. You honor him and yourself by always holding yourself to the high standards that he wanted for us and you give thanks for the blessings that have happened in our careers. We were and our artists who see and saw the world in our own way. Whatever we created was a reflection of what exists and the truth. We sing and sang of characters and ourselves but always through a window of love. Music has always been my saving grace, it's given me a purpose and a deep feeling of why I believe I'm here. The Frogs were always Dennis and me. It will never be the same again. No matter what, I will always continue to make music because it is in my soul and always will be."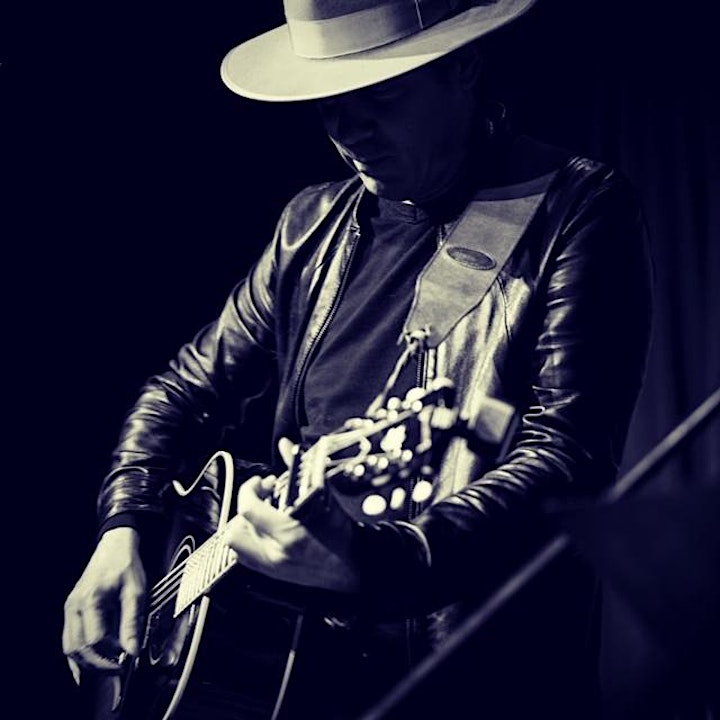 NASHVILLE, TN — "There are two kinds of singers: the ones you believe and the ones you don't," observes Mark Huff. "Anything that's good stems from honesty.
"You can hear the ring of honesty throughout Huff's ninth solo release, Stars for Eyes, as he negotiates the highs and lows of love and life in its 11 songs. But like real life, there's nothing simple about the characters that populate his tunes or their emotions. As Huff knows, even the bliss of falling in love can be laced with conflict—a duality he captures perfectly in the title track's shimmering sonic dreamscape, elegantly painted with steel and electric guitars, keyboards, and an angelic choir of female voices to support the balance of limerence and doubt in his arcing vocal melody.Stars for Eyes follows his 2016 Americana tour de force, Down River, which ranged from full-tilt roots rock to gospel-fueled allegory, all spiked by Huff's expert writing, open-hearted vocal performances, and ear for perfect musical support.In his new album's "I Know You Don't Want My Love"—a number driven by Huff's own acoustic guitar—he ventures into darker territory as the song's narrator is driven toward madness and even, possibly, murder, by cold-hearted rejection. All the while, the warm, wailing tones of an effects-laden pedal steel played by Russ Pahl (Pretenders, Dan Auerbach, John Hiatt, Lana Del Rey) provides ghostly commentary.Huff is also joined by a host of other accomplished players on Stars for Eyes, which was produced by Grammy winner Chad Brown, who has worked with Ryan Adams, Faith Hill, Gretchen Peters, Tom Russell, Dr. John, and Hayes Carll. Brown won a Grammy in 2015 for his work on Mike Farris' Shine for All the People. Other guests include guitarist Doug Lancio (John Hiatt), bassist Mike Vargo (Allison Moorer, Radney Foster), keyboardist Micah Hulscher (Margo Price) and Julie Christenson, the longtime supporting vocalist for Leonard Cohen, who plays the same role for Huff on his version of Cohen's meditative "Almost Like the Blues," which closes the album.Together Huff and his players give Stars for Eyes an uncommon blend of cinemascopic sound and storytelling depth—once again raising the bar for the rich musical journey he began in his teens. "For this album," Huff explains, "I took the filters off. I decided to liberate myself as an artist. I arrived at a point where I felt, after a lifetime of singing and learning from great songwriters like Ray Davies and the Beatles, that my vocal style had come into its own. When I was writing many of these songs, I'd also been in a relationship—and clearly I did not get the girl, so that affected by perspective. And I knew that since I was ready to really get personal with these songs, I didn't want it to be a typical Nashville sounding album, so I decided to work with Chad and to get a diverse group of musicians who could play deeply rooted music with an ambient sonic approach."That approach turns songs like "Carolina Blue," a kind of cosmic country waltz, into iridescent works of pop craftsmanship—balancing the poetic sensibility of Dylan's Nashville Skyline with the scope of Daniel Lanois' earthier productions. All the while, Huff's voice and guitar serve as the album's compass.Although most of the songs negotiate the turns of life's emotional landscape, "Big City Down" is an ode to his adopted hometown: Nashville, Tennessee. "When I moved here, I was welcomed with open arms by the music community," he says. "I've felt at home here ever since."Huff relocated to Music City in 2003, after establishing a strong career that began in his native Las Vegas. Inspired by a mix of music brought into his home by his mother and older siblings, which ran from Muddy Waters to the Rolling Stones to the Doors to Neil Diamond, he started a garage band with his brother Rick as a teenager. Huff's first original band was the punk- and British Invasion-inspired Smart Bomb, which quickly gained momentum, drawing as many as 1,000 fans to the frat parties and outdoor shows they played.
Huff's talents as a singer, songwriter, and charismatic performer grew, as did his regional reputation. In 1989 he released his first solo album, Happy Judgment Day, and through the '90s he made a series of heralded discs including 1999's Skeleton Faith, which won the Best Album and Best Artist awards, as well as the Best Single award for "White Trash Town," in the annual, fan-driven Las Vegas City Life music poll. All the while he played to increasingly larger audiences at local venues like the Hard Rock Hotel and the House of Blues, where he opened for Chris Isaak, Al Green and Peter Frampton, among others. He also launched his busy international touring career, and has performed in arenas as an opener for Bob Dylan and Willie Nelson.
After arriving in Nashville, Huff met Americana star Allison Moorer, who was so impressed with his songs and performing abilities that she invited him to open on her U.S. tour. In 2005, he cut his first Nashville studio album, Gravity, and in 2010 he recorded and released Feels Like California. The success of those albums and the recent Down River EP has continued to widen his fan base on both sides of the Atlantic and kept him on the road, performing solo and as a headliner, and opening more shows for Dylan and Steve Forbert.
"I love the cycle of making records and touring," says Huff. "Being in a new place every night and sharing my songs and stories with people makes me feel alive. I thrive on it, and I love being able to meet so many interesting people along the way."
Among them was Leonard Cohen, whose "Almost Like the Blues" appears on Stars for Eyes, and who gave Huff some indispensible advice. "I was struggling with a serious case of writer's block at the time, and felt like I couldn't get anything good on paper." Leonard said, "Sometimes you've got to write some shitty songs to get the good ones flowing again. And remember, a song is never finished."Huff took that to heart, and as he performs the songs from Stars for Eyes on the road, they'll explore new progressions, new sounds, additional nuances of tone and emotion. And continue to grow. So will their author.—END—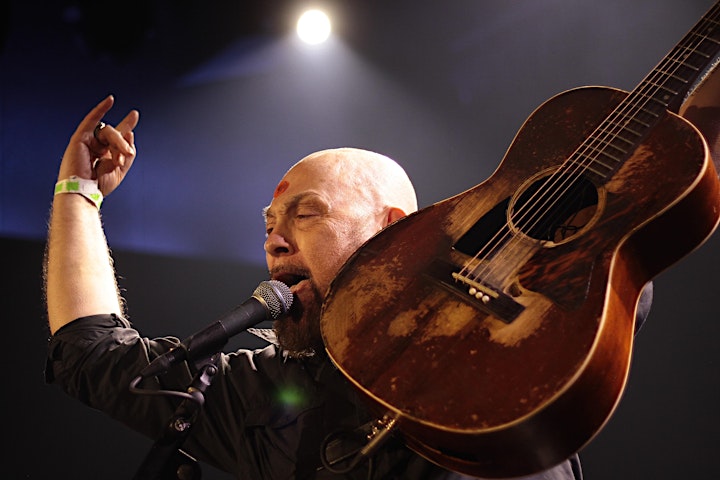 Hamell on Trial is the musical alias of New York-based folk punk hero Ed Hamell. A one-man explosion, he is loud-as-war one minute, stepping off the microphone to whisper to an enthralled audience the next. This is a dynamic performance informed by politics, passion, intelligence and the all-important sense of humor. His caustic wit and devil-may-care attitude has long been a favorite of anti-establishment icons Aesop Rock, Kimya Dawson, Ani DiFranco and the critical elite inciting Rolling Stone magazine to call him "Bald, bold and superbad!" Henry Rollins says "Hamell is a one man rock show!" He has been described as "Bill Hicks, Hunter S. Thompson, and Joe Strummer all rolled into one" by Philadelphia Weekly and a "one man Tarantino flick: loud, vicious, luridly hilarious, gleefully and deeply offensive" by the Village Voice.
His tenth album, Tackle Box, is his second for New West Records and features all instruments and sounds played by Hamell himself, with the exception of one. Hamell states, "The first voice you hear on the album is Donald Trump. It's from a campaign rally where he was saying he'd like to punch a protester in the face. His supporters cheer. I thought I'd kickstart the album making people aware that, should they disagree with that attitude, should they find his actions deplorable, his lies, his vanity, his lack of grace and intellect, his pandering to the lowest common denominator, his inciting violence towards minorities and the disenfranchised, they could find safety here at a Hamell show, from a Hamell song. Let us remember that he did not win the popular vote, his supporters are in the minority and I will treat them with all the respect THEY show minorities. The first voice you hear on the album is Donald Trump. ALL other voices you hear on the album, in firm and resolute opposition, are mine."
Tackle Box was co-produced by the Grammy award winning producer Phil "The Butcher" Nicolo (Bob Dylan, Ms. Lauryn Hill) and features the controversial song "Not Aretha's Respect (COPS),' an autobiographical tale teaching his child how to not get shot by a police officer. "'COPS' is a song about parenting. My son is 15, I'm teaching him how to drive. I'm explaining, because he has the ability at home to explain his side of the story to me, that he might not have that chance when he's in a situation with a police officer. Say 'Yes sir, no sir' and come home safe to me. The boss ain't always right, but he's always the boss. All four incidents in the song actually happened. I play all kinds of gigs, house concerts, theaters, diy punk rock rooms and the kids love this song. It's even has a chorus they can sing along to and rally behind. Last year I was touring across the country with my son and the day after we played Dallas, some cops got shot. I wish no violence on anyone. I preface my introduction to this song live now by saying I just wish the good cops would call out the bad cops. This "Code of Blue" thing is helping no one. And if we don't think it's a race thing, well…"
Once again we see Hamell uncompromising, fearless, obscene, insightful, absurd, angry & poignant and, in a first-time-ever ploy, including four children's songs...for balance. Hamell says, "I threw the four 'FROGGY' songs in there, trying my hand at children's songs if you will, to maybe make sense of what the American Dream is or maybe was. In the four songs, interspersed throughout the album, we see the character Froggy as a child, courting, running a business with his wife, and finally surrounded by his grandchildren. This is how he interprets success. I think in light of all the volatility in the country, I needed to remind myself of happier times or potential. And of course the listener, after so many confrontational topics, needs a little refuge."
Hamell tours the world constantly, seemingly enjoying every performance challenge. From larger stages and theaters, winning the coveted Herald Angel Award at the Edinburgh Fringe Festival, to house concerts and DIY underground spaces, this is a man who clearly loves to play. Armed with a battered 1937 Gibson acoustic guitar that he amplifies mightily and strums like a machine gun, a politically astute mind that can't stop moving, and a mouth that can be profane one minute and profound the next, with Tackle Box, Hamell sets his sights on the new America and issues personal and spiritual. His performances invoke thoughts of the great, rebellious satirists and social commentators of the past: Lenny Bruce, Richard Pryor and Bill Hicks. Hamell is a great mind with acoustic punk rock mixed with a seeker's soul. There's no way around his obscenity but in that is a willingness to fight for the free thinkers of the world. Don't we need that now more than ever?
Performers
Date and Time
Location
Refund Policy