About this Event
Lost Lake Presents:
The Fritz
with Voodoo Visionary
Sunday Feb 24, 2019
Doors: 7:00 PM
Show: 8:00 PM
21 and over
$10 - $12
Lost Lake
3602 E. Colfax Ave.
Denver, CO
All sales are final. Review your order carefully, there are no refunds for any reason. No tickets are mailed to you, your name will be on the will call list night of show. Night of show (1) bring a valid government issued ID and (2) be able to show ticket confirmation at the door.
_____________________________________________________________________________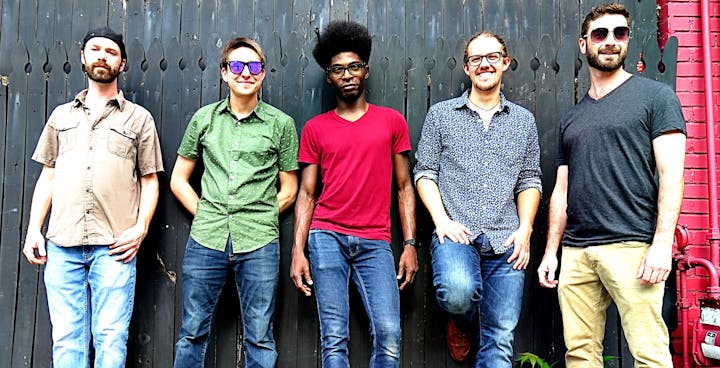 The Fritz is a soul-driven dance rock band hailing from Asheville, NC. The group's aggressive approach to funk, soul, and rock creates a sound that is uniquely their own. Their high-energy, danceable songs provide a platform for each member to shine. With powerful vocals, climactic solos, and tight grooves, The Fritz has built a devoted following and is captivating audiences everywhere.
Originally formed in the rehearsal spaces of University of North Florida's School of Music, The Fritz discovered an immediate chemistry. Drawing on influences such as Prince, Talking Heads and Jimi Hendrix, the quintet integrated their diverse musical tastes and began writing music together.
With their college days behind them, the Fritz soon set their eyes on the mountains of Western North Carolina, eventually settling in Asheville in July 2011. After the release of their 2012 debut album, Bootstrap, the band launched into a near-constant touring schedule. With appearances at festivals such as Hulaween, Wakarusa, and Catskill Chill, the band quickly gained a reputation as a live act not to be missed.
The band's 2017 release, Natural Mind, captures a sound that has been years in the making.
"We intentionally waited to go back into the studio so that we could really work on the music and figure out what makes this band special," vocalist and keyboardist Jamar Woods said.
For the new album, The Fritz headed north to More Sound Studios in Syracuse, NY and enlisted the help of producer Dave Brandwein (Turkuaz, Galaxy Smith Studios) and engineers Jason "Jocko" Randall and Jose Varona to assist with the recording process.
"We wanted to work with a producer whose work we respected and who we trusted to add a different perspective," percussionist Mikey "Spice" Evans said. "Dave played an invaluable role in producing our album."
While most of the songs were written in the months leading up to recording, the studio environment allowed for some last minute additions and musical breakthroughs.
"We really wanted to arrange these songs specifically for the studio, which was both challenging and fun for us" guitarist Jamie Hendrickson said. "Now we're very excited to get on the road and have these songs take on a life of their own."
The band is now taking the album and their unforgettable live performances around the country with the Natural Mind tour.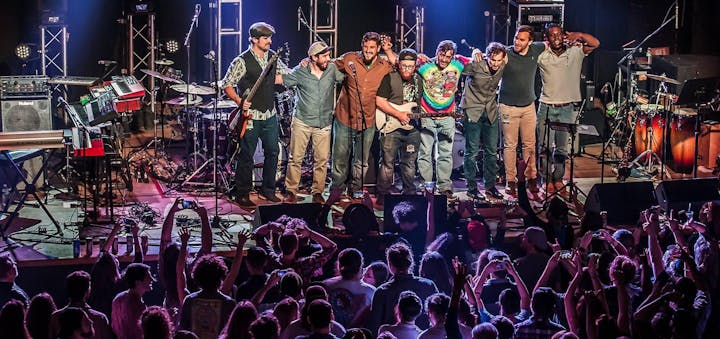 Hailing from the Dirty South musical mecca of Atlanta, GA, Voodoo Visionary's improvisational funk dance music balances a tight, grooving rhythm section with soulful organ, funky clavinet, singing synthesizers, masterful guitar licks, and moving vocals to create a sound the group calls psychofunk. Influenced by a wide array of artists from Parliament Funkadelic and the Meters to the Grateful Dead and Allman Brothers Band to Miles Davis and Herbie Hancock, Voodoo Visionary has a uniquely blended sound that's guaranteed to put the 'oogie in yo boogie.
The band consists of Dennis Dowd (keys), Trent Gilson (bass), Scott MacDonald (vocals), Jose Rivera (percussion) Mac Schmitz (drums), and Mike Wilson (guitar) and features Martin Anderson (saxophone) and Ben Otieno (trumpet) known as the Side Chick Horns. Over the past 11 years, these players have built a unique chemistry that allows for exceptional improvisation during live shows and relaxed and creative songwriting sessions.
Voodoo Visionary released their debut album, Spirit of the Groove in March 2015 and their sophomore album Off The Ground in February 2017. While playing across the country over the last several years, the band has been direct support for Col. Bruce Hampton, Karl Denson's Tiny Universe (featuring Jimmy Herring), TAUK, DJ Logic, Big Something, Zach Deputy, Earphunk, Roosevelt Collier, Jerry Joseph, The Main Squeeze, Futurebirds, Fruition and more. In May 2015, they made their major festival debut at Counterpoint Music Festival near Rome, GA. Since then, they have excelled further into the national music scene with festival performances at Suwannee Hulaween, Sweetwater 420 Fest, Imagine Festival, Backwoods Music Festival, Funk Fest, Purple Hatters Ball, Great Outdoors Jam, and Hookahville.
"Voodoo Visionary… synthesizes elements of funk, jazz, disco, and rock 'n' roll into their unique improvisational sound."
– Live For Live Music
"A mix of psychedelic southern funk, Michigan soul, and gulf coast flavor."
– Relix
"Vooodoo Visionary is the next generation of Atlanta funk bands."
- Inside Out WTNS
"If this band had been around in the early '70s out of Atlanta, they would surely have been scooped up in a heartbeat by Capricorn Records... Repeated listenings reveal layer upon layer of elements. This is simply a superb recording, in terms of composition, performance, and sound."
– Scott Hopkins, MusicFestNews.com
"Spirit of the Groove refuses to confine the band to a single genre and takes listeners on an adventure through sound and time... Voodoo Visionary has embraced and harnessed this epic blend [of influences], resulting in a truly amazing studio record."
– Randy Harris, Live Music Daily
"While genre conventions are clearly upheld, driving rhythms, blistering lead guitar, and gospelesque lyrics, Voodoo Visionary escape the generic and create their own space, capitalizing on what works within funk as a genre. These guys will no doubt jam easily into the college bar scene, keeping the waning hippie contingent well fueled with healthy servings of funk. For that matter, Voodoo Visionary maintains the spirit of bump and sway in an otherwise monolithic universe of EDM. Before robots usurped dance music, this was what you dropped doses to. This is what outer space looked like from fifty thousand feet."
– Jon Litten, The Artifact Magazine
Performers
Date and Time
Location
Refund Policy