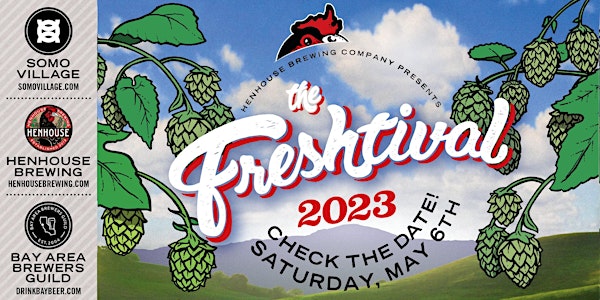 The Freshtival 2023
Sonoma County's Premier Beer Festival Celebrating the Art of Freshness Returns May 6!
By Bay Area Brewers Guild + HenHouse Brewing Co.
Date and time
Saturday, May 6 · 1 - 5pm PDT
Location
SOMO Village 1100 Valley House Drive Rohnert Park, CA 94928
Refund Policy
Refunds up to 7 days before event
About this event
HenHouse Brewing Company is beyond stoked to bring back The Freshtival! On May 6, we will once again be collaborating with the Bay Area Brewers Guild and SOMO Village presenting the largest variety of brewery-fresh beer ever poured in one place!
As we all know, The Freshtival is a celebration of the art freshness! All of the beer poured at this event will be less than 7 days old!! That's right more than 150 beers, presented in perfect, brewery-fresh condition!
One of our core beliefs at HenHouse Brewing Company is that everyone deserves to drink great beer. We know that no matter how well beer is brewed it will not be great unless it reaches the drinker in brewery-fresh condition. Time, temperature, and travel all take their toll and can render even the most delicious beers forgettable. This is why more and more breweries, HenHouse included, are choosing to self-distribute via refrigerated trucks, sell their beer locally, and do everything possible to ensure the quality of their beer for the end consumer.
On May 6, 2023, we will gather with dozens of like-minded brewers in celebration of this new paradigm at the SOMO Village Event Center in Sonoma County. There will be live music, delicious food, an art gallery, a community market, and of course, a bunch of delicious, brewery-fresh beer!
This is a non-profit event benefiting the Bay Area Brewers Guild, and all proceeds will go to benefit their work advocating for independent, local, beer manufacturing.
2023 PARTICIPATING BREWERIES - check back frequently this list is constantly being updated!
HenHouse Brewing (Sonoma County, CA)
Adobe Creek (Novato, CA)
Altamont Beer Works (Livermore, CA)
Alvarado Street (Monterey, CA)
Armistice Brewing (Richmond, CA)
Bare Bottle (San Francisco, CA)
Barrel Brothers (Windsor, CA)
Berryessa Brewing (Winters, CA)
Canyon Club (Moraga, CA)
Cellarmaker Brewing (San Francisco, CA)
Cooperagre Brewing (Santa Rosa, CA)
Crooked Goat (Sebastopol, CA)
Drake's Brewing (San Leandro, CA)
Fieldwork Brewing (Berkeley, CA)
Fogbelt Brewing (Santa Rosa, CA)
Four Legs Brewing (Brentwood, CA)
Foxtale Fermentation Project (San Jose, CA)
Full Circle Brewing (Fresno, CA)
Ghost Town Brewing (Oakland, CA)
Grains Of Virtue (Oakdale, CA)
Hella Coastal (Oakland, CA)
Highland Park Brewing (Los Angeles, CA)
Hoocha Hard Kombucha (Petaluma, CA)
Kilo Kilo Brewing (Paso Robles, CA)
King Cong Brewing (Sacramento, CA)
MachineHead (Clovis, CA)
Mad Fritz (St Helena, CA)
Mare Island Brewing (Vallejo, CA)
Moonlight Brewing (Santa Rosa, CA)
Narrative Fermentations (San Jose, CA)
New Glory Craft Brewery (Sacramento, CA)
Old Caz (Rohnert Park, CA)
Olfactory Brewing (San Francisco, CA)
Parliament Brewing (Rohnert Park, CA)
Pond Farm Brewing (San Rafael, CA)
Russian River Brewing (Windsor, CA)
S27 Alehouse (San Jose, CA)
Shady Oak Barrel House (Santa Rosa, CA)
Sonoma Springs (Sonoma, CA)
Third Street Aleworks (Santa Rosa, CA)
Three Disciples Brewing (Santa Rosa, CA)
MUSIC
The Seshen - (San Francisco, CA) - https://theseshen.com/
Kayatta (Berkeley, CA) - https://poemsandpaper.com/
Guilty Party (Oakland, CA) - https://www.instagram.com/guilty_party_band
Cera Será Vinyl Collective (Santa Rosa, CA) - www.instagram.com/cera.sera
FOOD
Camacho's Southern Style BBQ - instagram.com/camachosbbq/
Galvan's Eatery - instagram.com/galvanseatery/
Streetside Asian Grill - https://www.instagram.com/streetsideasiangrill/
SOCO MARKET AT THE FRESHTIVAL - a community market produced by https://www.instagram.com/thesocomarket/
Herrera De Corazon - https://www.instagram.com/herreradecorazon/
Hop Raised - https://www.instagram.com/hop_raised/
Dyed and Gone To Cali - https://www.instagram.com/dyedandgonetocali/
Blooming Coast - https://www.instagram.com/blooming_coast/
Beeyond Boutique - https://www.instagram.com/beeyondboutique/
Cosita Contreas - https://www.instagram.com/cositascontreras/
Radio Thrift - https://www.instagram.com/radiothrift/
Soul Creations - https://www.instagram.com/soulcreationsenterprise/
Foolish Pride Leather - https://www.instagram.com/f.p.leathercraft/
Crafty and Creative - https://www.instagram.com/craftyandcreativeshop/
West Coast Vibez - https://www.instagram.com/westcoastvibez22/
Little Miss Gypsy - https://www.instagram.com/little_miss_gypsyshop/
THE ART OF FRESHNESS GALLERY - a craft beer industry art gallery curated by The SoCo Market https://www.instagram.com/thesocomarket/
Check back frequently to see who will be vending at Freshtival 2023
ACCOMMODATIONS (Make a whole weekend out of your visit to Sonoma County with these discounted room rates!!)
La Quinta Inn and Suites Santa Rosa - 9 miles to SoMo Village, 3 mins to HenHouse Brewing Company - Use this link to book: www.wyndhamhotels.com/hotels/53728?corporate_id=1000030119
Oxford Suites Rohnert Park - 5 miles to SoMo Village, 2 mins to Graton Resort and Casino - Use this link to book: https://bookings.travelclick.com/106575?groupID=3855405&hotelID=106575#/datesofstay
The Art House Hotel downtown Santa Rosa - 11 miles to SoMo Village, walking to The SoCo Market event on Friday evening - https://reservations.arthousesantarosa.com/?&hotel=32192&promo=FRESH&arrive=2023-05-
Please review prior to purchasing your tickets:
Attendees must be 21+ and IDs will be checked at the gate.
All Attendees must agree to the Freshtival 2022 Code Of Conduct (see below)
No infants, children, or anyone under 21 will be allowed in.
No pets will be allowed in.
Tickets are non-refundable. This is a rain or shine event.
Food is not included in the ticket price.
Do not bring glassware for beer tasting.
Reusable water bottles are encouraged. They must be empty and available for inspection upon entry.
Backpacks or any container or even clothing may be subject to search.
Please drink responsibly and use public transit, designated drivers, or cab services.
CODE OF CONDUCT
This code of conduct outlines our expectations for event attendees and participants. This code applies uniformly to all, including attendees, brewery representatives, event staff, vendors, on-stage performers, media representatives, sponsors, and volunteers.
EXPECTED BEHAVIOR
HenHouse Brewing Company expects all participants to treat one another with respect, share the space, and stay stoked! Additionally, we expect all attendees of our events to follow public health guidelines related to health and safety.
INAPPROPRIATE BEHAVIOR
Inappropriate behavior and harassment of any sort will not be tolerated at the Freshtival. This includes…
Offensive comments and negative behavior, especially related to or based upon gender, age, sexual orientation, gender identity, gender expression, disability, physical appearance, body size, race, ethnicity, religion, or other group identities.
Deliberate intimidation
Stalking or following
Unwanted photography or recording
Sustained disruption of talks or other events
Unwelcome physical contact or sexual attention
Sexually demeaning language and imagery (this includes brand and product names)
Public intoxication
Pressuring or aggressively encouraging others to consume alcohol in excess
FAQs
What's the refund policy?
The event is RAIN or SHINE and all ticket sales are final; there are no refunds.
Is it okay if the name on my ticket doesn't match the person who attends?
Yes, IDs are checked for age verification, not for the name on the ticket. (Note: you can also transfer your tickets into someone else's name via your Eventbrite account.)
Do I have to bring my printed ticket to the event?
We encourage bringing a printed ticket for potentially faster check-in, but it is not a requirement.
Can I bring in a bag?
Smaller bags and backpacks will be allowed but may be required to be checked and/or inspected. Please avoid bringing in any valuables to the event.
Can I bring outside food or water into this event?
No outside food or beverages. Food will be available for purchase. Water will be available, free, and plentiful inside the venue. Bringing your own reusable water bottle is allowed and encouraged! These must be empty and available for inspection at entry.
What can you tell me about the beer being served?
The Freshtival is the largest gathering of brewery-fresh beers in the known universe! We anticipate roughly 75 breweries and over 150 varieties of beer, all kegged within the past seven days!!
About the organizer
The Bay Area Brewers Guild is a non-profit organization celebrating and promoting independent craft beer and craft brewers throughout the Greater SF Bay Area