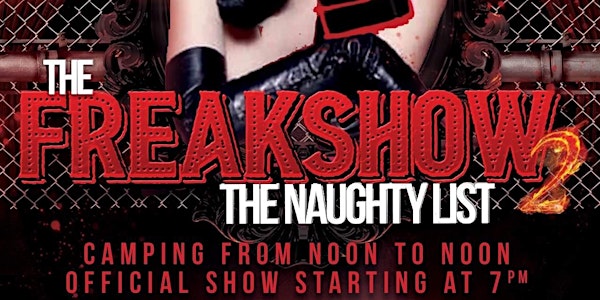 The Freak Show 2: The Naughty List
The Freak Show 2:The Naughty List Aka The Freak Festival
When and where
Location
Nature Adventures Outfitters 1010 Reverend Perry Road Mc Clellanville , SC 29458
Refund Policy
Contact the organizer to request a refund.
Eventbrite's fee is nonrefundable.
About this event
Greetings FREAKS!!
We are taking The Freak Show to a NEW LOCATION 1010 reverend Perry Rd., McClellanville, SC !Camping from noon on the 12th to noon on the 13th
21 and up only
If you choose to camp you can bring your own cooler for food and BYOB although there will be food trucks and bonfires
Temperature checks at entrance
Music several local bands and acts going all hours of the night
Rope Suspension Performances
Lyra performances
Pole Performances and so much more
THE FREAK SHOW
Please read and initial the following regulations set forth by the event organizers. No person(s) will be allowed on the premises nor inside the event venue without initialing and signing the following. Bring to event filled out completely with government ID and consent form and ticket to entrance of event.
• I understand that this is a private event which I am attending and am here on my own volition. _______(initial)
• I understand the principles of consent, defined as, "a mutual, enthusiastic and informed YES, not just the absence of NO" ("Got Consent" NCSF Brochure--FREE COPIES AVAILABLE). This includes, but is not limited to, conversation (ex. asking of personal information) and touch, including all patrons, employees, performers and all other persons participating in this event._______(initial)
• I understand there is to be no full nudity at this event and that is unlawful to willfully, maliciously, and indecently expose yourself, or others, on a street or highway (SC Code 16-15-130). _______(initial)
• I understand there is to be no sex, sexual play, scenes or realted activit(ies) as a patron of this event. _______(initial)
• I understand that there will be photography and video at this event and there will be a photo consent form which I may consent to by signing, or decline. If I consent to photos and/or video, I will receive the appropriate colored wristband. If I do not consent, I will only receive the general admission wristband obtained after signing this document (all patrons, employees and performers will receive this liability and waiver form and upon signing, receive a general admission wristband). _______(initial)
• I understand that even upon declining the photo release form, there is still a possibility of being in and around photos or videos taken by patrons, (REMEMBER: If you want to take a picture ASK first, be aware of your surroundings). _______(initial)
• I understand I am to conduct myself in a respectful and competent manner. The organizers, and organizers alone, reserve the right to refuse entry and/or escort any person(s) off the premises if determined to be a liability. _______(initial)
• I understand that any violation of these regulations will result in refusal to attend future events and may result in potential legal actions pursued by the organizers. _______(initial)
RELEASE OF LIABILITY, WAIVER OF CLAIMS, EXPRESS ASSUMPTION OF RISK & INDEMNITY AGREEMENT
I,______________________________________, (PROVIDE LEGAL NAME) hereby affirm and acknowledge that I am fully aware and understand the multitude of inherent hazards and risks to myself and others associated with this event, The Freak Show. I acknowledge there will be active performances that such performances/activities could result in bodily injury, whether inflicted deliberately or accidentally. I acknowledge that not all hazards and dangers can be foreseen. I fully and willingly accept and assume all risks that may arise out of or result from my attendance/participation in the activities at The Freak Show. I understand and acknowledge that all events and activities sponsored by The Burnlessflame Productions are private events where consensual intimate personal contact may occur.
I knowingly and voluntarily acknowledge and agree as follows:
• •
Assumption of Risk: I am knowingly and voluntarily assuming all risks of injury, loss or damage to myself or to any other person or property arising directly or indirectly from my attendance/participation in The Freak Show event.
Waiver and Release: I, my estate, representatives, employees, consultants, attorneys and executors (collectively, "Representatives') will not make any claim against or sue The Freak Show and Burnlessflame Productions, any of the employees, associates, members and/or volunteers of this event, or the owners or operators of any of the establishments where event takes place, for personal injury, property damage, injury or damage arising from or related to the activities occurring at any Burnlessflame Productions event, whether foreseen or unforeseen, resulting from the negligence or other acts.
Indemnity: I agree to INDEMNIFY and HOLD HARMLESS for The Freak Show 2 and Burnlessflame Productions, any of the employees, associates, members and/or volunteers of The Freak Show and Burnlessflame Productions, and the owners or operators of any of the establishments where The Freak Show and Burnlessflame Productions event. Such indemnity covers all reasonable expenses incurred by them, including but not limited to attorney fees.
Unknown Claims: The undersigned acknowledges and agrees that the release herein applies to all claims for injuries, damages or losses to person and property, real or personal (whether those injuries, damages or losses are known or unknown, foreseen or unforeseen, or patent or latent) and that the undersigned may have against The Freak Show and Burnlessflame Productions.
I affirm that I am at least 21 years of age and that I am competent to sign this Release on my own behalf. I have read the foregoing document in its entirety, which constitutes the entire Agreement between the parties, and I fully understand its contents. I am aware that this is an Assumption of Risk and Release of Liability and I sign this document of my own free will. By signing below, I expressly agree to all of the terms contained in this document.
__________________________________ _______ _______________
(Signature) (Date)
PHOTO RELEASE FORM
I, ______________________________, hereby grant and authorize BurnlessFlame Productions the right to take, edit, alter, copy, publish, distribute and make use of any and all pictures or video taken of me to be used in an/or for legally promotional materials including, but not limited to, letters, annual reports, press kits, posters, flyers, brochures, advertisements, fundraising, social networking sites and other print and digital communications, without payment or any other consideration. This authorization extends to all languages, media, formats and markets now known or hereafter devised. This authorization shall continue indefinitely, unless I otherwise revoke said authorization in writing.
I understand and agree that these materials shall become property of Burnlessflame Productions and will not be returned.
I hereby hold harmless and release Burnlessflame Productions from all liability, petitions and causes of action with which I, my heirs, representatives, executors, administrators or any other persons may make while acting on my behalf or on behalf of my estate.
I warrant that I am of the age of consent (21 years or older) and that I am competent to contract in my own name. I have read this release before signing below and I fully understand the contents, meaning and impact of this release.
_______________________________ __________ _________
(Signature) (Date)
COVID-19 SAFETY PROTOCOLS
Masks are mandatory for all guests at The Freak Show 2. You are allowed to remove your mask while at your campsite. There is a max of 8 people in each campsite. Attendees are permitted to bring their own food, drink, beer, wine, coolers, blankets, tents and chairs. Black Water on The Ashley is a perfect outdoor location to breathe fresh air with plenty of open space to party while social distancing.
By attending this event, you acknowledge the risk of becoming exposed to or infected by COVID-19, as well as any risk inherent with being outdoors in the woods. You voluntarily agree to assume all the foregoing risks and accept sole responsibility for any exposure.
GENERAL PROCAUTIONS
Please stay home if you are at high risk, sick, or if you have knowingly been exposed to Covid-19 in the last 14 days.
Wash your hands often and use sanitizer.
No need to shake hands, elbow bumps are legit.
Black Water on the Ashley and The Freak Show 2 security staff reserve the right to remove anyone from the property who is not abiding by the guidelines as outlined here.
SOCIALLY DISTANT Camping
We ask that all guests respect the social distance space of others and maintain a 6-foot distance from people who are not in your group.
Masks are mandatory in common areas.
EVENT EXPERIENCE
Event guests are encouraged to bring chairs and blankets to make their space more comfortable.
Guests are allowed to bring coolers, tents and outside food or drink.
This event is 21+ so please leave the little ones at home, including pets.
Restrooms, hand washing stations, and hand sanitizer will be available.
INCREASED SANITATION
Per the CDC guidelines, staff will sanitize common surfaces such as picnic tables and stages after each customer use.
Burnlessflame Productions asks that all customers sanitize their hands with sanitizer provided before entering the property.
Hand sanitizing stations have been added throughout the property for public and employee use.
Additional restrooms with sanitation have been added for all events.
STAFFING POLICIES
All staff are required to wear a protective mask when social distancing is not an option.
Staff continues to be trained and educated on best practices as provided by the CDC, as well as state and local agencies.
WHAT TO BRING
Coolers, food and drinks, water, chairs, blankets, tablecloth, tent, lights, closed-toed shoes, insect repellent, your freaky flag. Masks required.