About this Event
We are so pumped to have The Foxies coming to The Outpost! This group has steadily become one of the coolest names in the Nashville pop scene. They enjoyed a well received set at 2018's Bonnaroo and have been quickly winning over every crowd they play for. This is guaranteed to be a rowdy, energetic night you can't afford to miss.
Info about this show:
Doors open at 7:00pm.
Music starts at 8pm
Standing Room Only.
This show is for ages 18+.
Tickets are $7 in advance and $10 the day of show.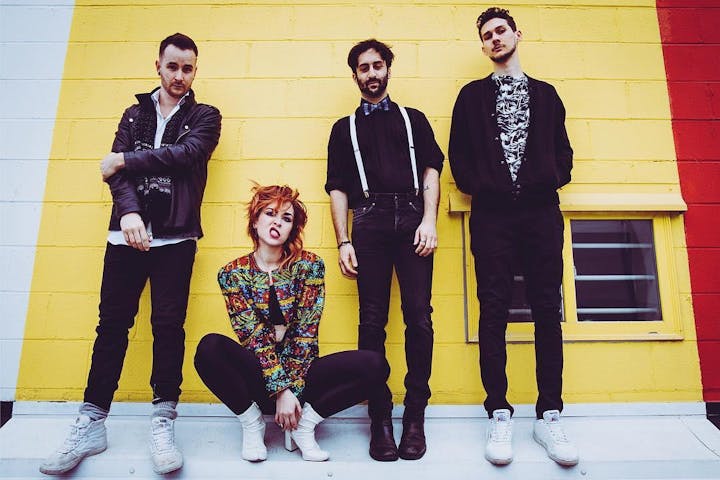 THE FOXIES
By its very nature, the fox is a deceiver. Seen from a distance it barely even looks wild. Sleek and refined, alarming only in its beauty, it almost begs to be made a pet. But make no mistake – those teeth are sharp, and a loner's life calls for ferocity.
The same is true of The Foxies, the indie pop foursome now prowling a melodic crossroads of new-wave glam, punk rock, and high octane dance-floor fire. Based in Nashville, Tennessee, the band's roots stretch from the wide-open expanse of Arizona to the tangled urban jungle of New York City, created by front woman Julia Lauren Bullock and featuring guitarist Jake Ohlbaum, bassist Kyle Talbots and drummer Rob Bodley.
A kinetic blast of back-alley grit and tightly-wound flamboyance, their live shows are defined by an unlikely but danceable combination of sensual vocals, grungy guitars, fat-bottomed beats and shimmering electronic hooks, making them surprise standouts at the 2018 Sundance, South by Southwest and Bonnaroo music festivals. Likewise, enigmatic recordings like the Oblivion EP ("Wander in Lust," "Floods") have earned the band praise from Native magazine and Nashville's Lightning 100 radio, as well as inclusion on Volume 63 of NOW That's What I Call Music.
A fresh batch of sly Foxies singles are now emerging from the shadows, including the femme fatale club anthem, "Be Afraid Boy," and a just released power-pop gem titled "Chewing Gum." Driven by '80s synth and sticky-sweet vocals, the throwback jam calls out a careless lover and his feeble attempts at mending Bullock's broken heart.