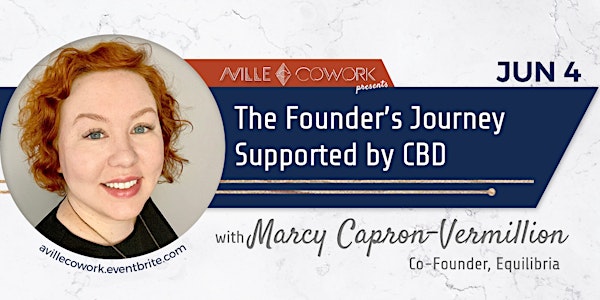 The Founder's Journey Supported by CBD
Entrepreneurship comes with many challenges. Hear this story about 2-time founder Marcy Capron-Vermillion and how CBD affected her journey.
About this event
Entrepreneurship comes with many challenges, and the founder's health is essential to success.
Two-time founder (Polymathic and Equilibria) Marcy Capron-Vermillion joins us to share her story about bootstrapping her first software development business, how discovering the health benefits of CBD drastically changed her life, and how this change led to co-founding a second multi-million dollar business.
As an innate problem-solver, Marcy began Polymathic LLC (acquired by DevMynd in 2017) out of her living room. Over time she built a team and expanded into a small commercial space in Wicker park, and eventually grew into a prestigious suite in the Chicago Loop.
Through her journey, Marcy faced a number of health challenges; but after receiving some CBD as a gift for her 30th birthday, her life was forever changed. She was able to drastically reduce her reliance on pharmaceutical drugs, and tackle her mental health and spinal nerve pain issues.
So naturally, as an engineer and perpetual innovator, she chose to learn everything possible about this powerful health agent, eventually leading workshops and gatherings on the medicinal and regulatory power of cannabis for women.
She has since co-founded Equilibria, a company for women, by women. As one of the first CBD companies focused specifically on women's health, they understand women's bodies are different — from cyclical changes to the very real challenges of menopause and childbirth and everything in-between. The company is on a fast growth trajectory, with 11x revenue from 2019 to 2020 and on track to 4x again in 2021.
Join us to listen to Marcy's inspiring story about creating, growing, and selling one business, tackling extraordinary health challenges, and continuing on to co-found an 8-figure business (and growing!), serving as Chief Product + Innovation Officer.
——
Connect Online
Instagram: @equilibriawomen
LinkedIn: Marcy Capron-Vermillion
After registering, you can view event links to find the Zoom link. Access this either from your Eventbrite profile, or use the orange button in the reminder emails.