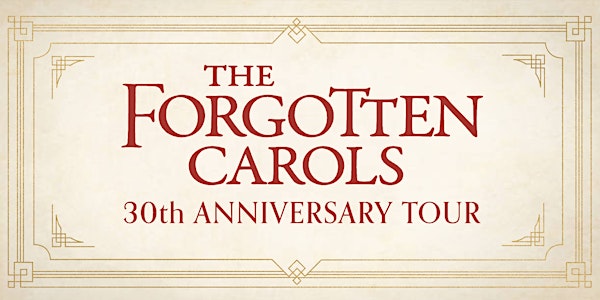 The Forgotten Carols in SLC, Saturday EVENING,12/18/21, 7:30pm
We invite you to join us for the 30th Anniversary of THE FORGOTTEN CAROLS! Our best season ever!
When and where
Location
Cottonwood High School Auditorium 5715 South 1300 East Murray, UT 84121
About this event
"It's a thrill for us to bring The Forgotten Carols tour back again this year for its 30th Anniversary and to introduce Emmy Award-winning actor Michael Young as Uncle John."
Synopsis
Touring since 1991, this timeless Christmas tradition brings to life the story of Constance Louise Chamberlain, a nurse who hasn't laughed or cried in over 30 years. But that all changes when she meets, and cares for, a homeless man with dementia (Uncle John, as he likes to be called) who insists he's been alive for over two thousand years. Uncle John recounts the story of Christ's birth through these Forgotten Carols sung from the perspective of his "friends" the Inn Keeper, a Shepherd, Handel and others, taking Connie Lou on a life-altering journey. As Uncle John struggles to remember all the reasons why he feels compelled to share these unknown carols with his nurse, she discovers what her heart has forgotten about the true power and meaning of Christmas!
This year's Cast
Michael McLean (the Narrator)
Michael Young (Uncle John)
Adrien Swenson (Connie Lou)
Gili Getz (Dr. Halifax)
TBA (Mr. Rutherford, Uncle Ted and James Chamberlain)
Christy Summerhays (Lily Chamberlain)
Kyle Olsen (the Inn Keeper and our featured vocalist)
Lynne McLean (as Sarah)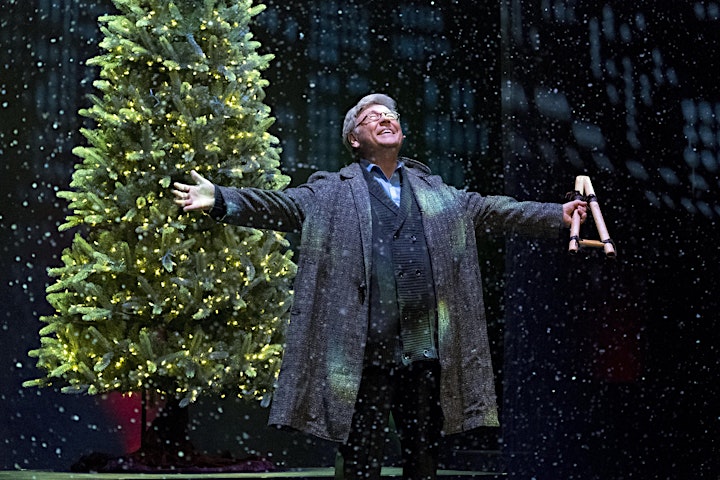 Important Venue Specific Information - Cottonwood High School
Are there elevators in Cottonwood High School?
There are NO elevators in this venue. If you are purchasing tickets in the balcony, you must be able to walk up several flights of stairs to get to the balcony and then walk the stairs to your seat. Please be sure that all members of your party are physically able to walk up the stairs.
Are there wheelchair accessible ramps?
Yes, coming in to the lobby from the bank of glass doors in the center of the building (whether parking and entering from the north or from the south parking lots) there is a ramp down to the lobby and then another wheelchair ramp on the west end of the auditorium.
Where should I park and enter the building?
The best place to park is on the north side of the building and enter in the bank of glass doors in the center of the building.
You can also park on the south side and enter in the bank of glass doors in the center of the building.
Frequently Asked Questions
What are the 2021 Covid protocols for the Forgotten Carols cast, crew and patrons?
We will be monitoring local Covid protocol requirements prior to our shows. We encourage the use of masks while in the facility but will not require it unless local mandates change.
Please provide an email address that you regularly use so that you will receive all notifications regarding Covid safety, possible Covid mandated cancellations, etc.
We have required our cast and crew to be vaccinated in order to go on tour.
We would also greatly appreciate it if you would pay with a credit card for any merchandise you purchase at the show, rather than with cash, to further minimize transaction contact. We will also make merchandise available through our online store, if you prefer that option. Shipping charges will apply based on the quantity purchased. Please note that NOT all merchandise will be available online due to size or weight restrictions.
Are there casting changes to the show in 2021?
Due to major health issues, Michael McLean will not play the part of Uncle John in this year's performances. Depending on his health at the time of the show, Michael may be on stage in some capacity. We are, however, excited to bring in seasoned television and stage actor Michael Young to play the role of Uncle John.
Kyle Olsen, who was last seen onstage in the 2019 tour, will return as our featured vocalist for the 2021 tour.
All other actors will remain the same.
What time do the doors open?
Doors into the auditorium will open 30 minutes prior to show time. Doors to the lobby, the box office and merchandise sales will open 1 hour prior to show time.
How long is the show?
2 hours and 20 minutes with intermission.
Can I bring my nursing baby or young child to the show?
The Forgotten Carols is recommended for ages 5 and older. If you choose to bring a slightly younger child, each person entering the hall must have a ticket. In order to provide a favorable experience for all attendees, NO children 2 and under, including babes-in-arms, will be allowed. Please make arrangements to leave all children 2 and under at home. And, please consider the ability of a 3 or 4-year-old to quietly enjoy the show before purchasing a ticket for him/her. We want The Forgotten Carols to be a family event, when the time is right for our young friends to join.
Do you have ASL interpreters for any of The Forgotten Carols shows?
In the two arena shows at UVU and Weber State, we can arrange ASL interpreters upon request. Please submit requests at least 2 weeks in advance of the show. After that time, we cannot guarantee that we can accommodate the request. For shows in venues that run more than one day (the UCCU Center in Orem,) we will only select one show at which we will offer an interpreter. Please contact us via email, tickets@forgottencarols.com, BEFORE purchasing your tickets to be certain we can offer interpreters for the show you wish to attend.
Do you offer hearing assistance devices at any Forgotten Carols shows?
No, we do not offer these devices.
If I can not use my ticket, can I get a refund?
We do not offer refunds on ticket purchases.
If a show is cancelled by the Producers due to illness or inclement weather, you will receive a refund for your ticket purchase. If the show, however, runs as scheduled and you choose not to attend because of weather conditions or your own illness, you will not receive a refund. Note that shows are very rarely cancelled.
If local Covid mandates shift and begin to require that patrons wear masks and/or require that patrons be vaccinated, we will uphold those requirements. Please note that we will not refund ticket purchases due to a change in these requirements. You are welcome to sell your ticket to someone else if you choose not to attend due to a change in Covid protocol by your local government.
Are there discounts available for children, military or seniors?
There are no military or senior discounts for The Forgotten Carols.
Are group discounts available for The Forgotten Carols?
Yes, our group discount rate is 15% off when a patron purchases 10 tickets for the same show in one order. Please send an email to grouptickets@forgottencarols.com to receive an automatic response with the detailed instructions, the group code, etc.
Will Forgotten Carols merchandise be available at the performance?
Yes, tour exclusive merchandise and select Forgotten Carols items will be available before the show, during intermission and after the show. Note that lines are shorter before the show and the lobby opens 1 hour prior to the show start time.
How can I receive behind the scenes information?
Follow us on Facebook, Twitter or Instagram to receive information on contests and behind the scenes information.
How do I contact The Forgotten Carols Customer Service Team?
You may either email us at tickets@forgottencarols.com OR you may call 385-487-6109. Please remember that we have a very small Customer Service team, with minimal and varied hours. If you will send your email or leave a voice mail, someone from our team will get back to you within 24 hours (excluding Saturdays and Sundays). Your business is important to us and we will make every effort to get back to you as soon as we can. Thank you for your patience with our team and thank you for your support of The Forgotten Carols!