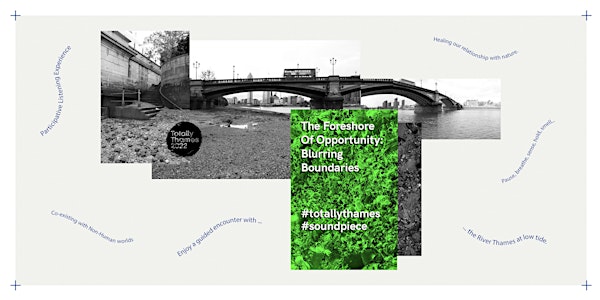 The Foreshore Of Opportunities: Blurring Boundaries
This event brings people together on the Thames foreshore for an immersive listening experience, to heal our relationship with nature.
When and where
Location
Wapping Foreshore 169 Wapping High St London E1W 3NQ United Kingdom
About this event
What you will do : Immerse yourself in a world where water, bodies and creatures co-habitate as equals. During this audio piece, you will be invited to gently move your body, follow your breath, and use your imagination to help you reconnect with nature and water in the city.
Think : meditation, watery soundscapes, storytelling, microscopic entities, mindfulness, and somatic practice. The audio piece will last approximately 30 minutes and responds to elements on site (Wapping Foreshore). By listening using earphones, you will connect with the landscape and yourself in new, weird, and wonderful ways!
Why reconnect? : Home to many creatures and other entities, the River Thames is the largest natural space in the city yet it remains a stranger to most Londoners! Plus our body is mostly made out of water, but alarmingly the city is facing a water crisis! If we want healthier cities, we need to start changing our attitutes towards local & global natural ressources.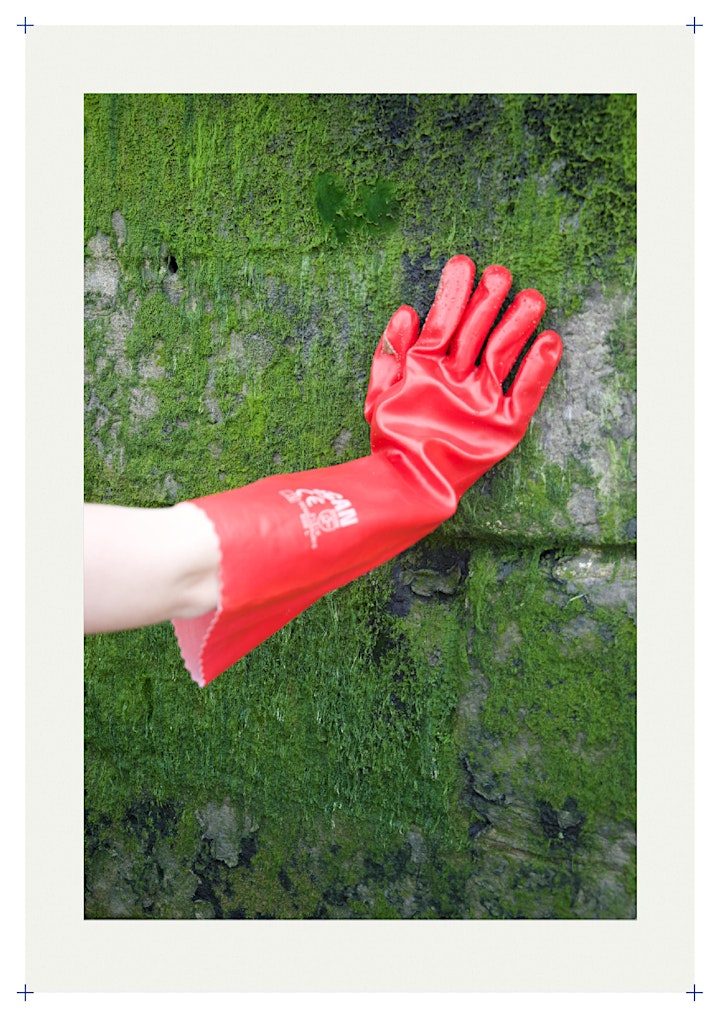 1) Upon arrival, the audience will be greeted by the artist and invited to start listening to the sound piece in their own time. Audience members are asked to bring their own listening devices (wireless earphones recommended) and to wear black/dark clothing to blend into the landscape and to bring a bottle of water. Please contact the organiser in case of any difficulties to do so.
2) In order to start the listenning experience at the same time, audience members are asked to arrive on time. However, it can also be started individually.
3) The link to the sound piece and additional information about the event will be shared with participants at a closer date to the event.
4) The audience may be prompted to interact with small installations or existing elements in the landscape. Unfortunately, the Thames Foreshore is only accessible by stairs and the event is primarily an audio piece. To accommodate a wider range of needs, digital elements of this event can be found on the Thames Festival Trust website once the program of events is announced.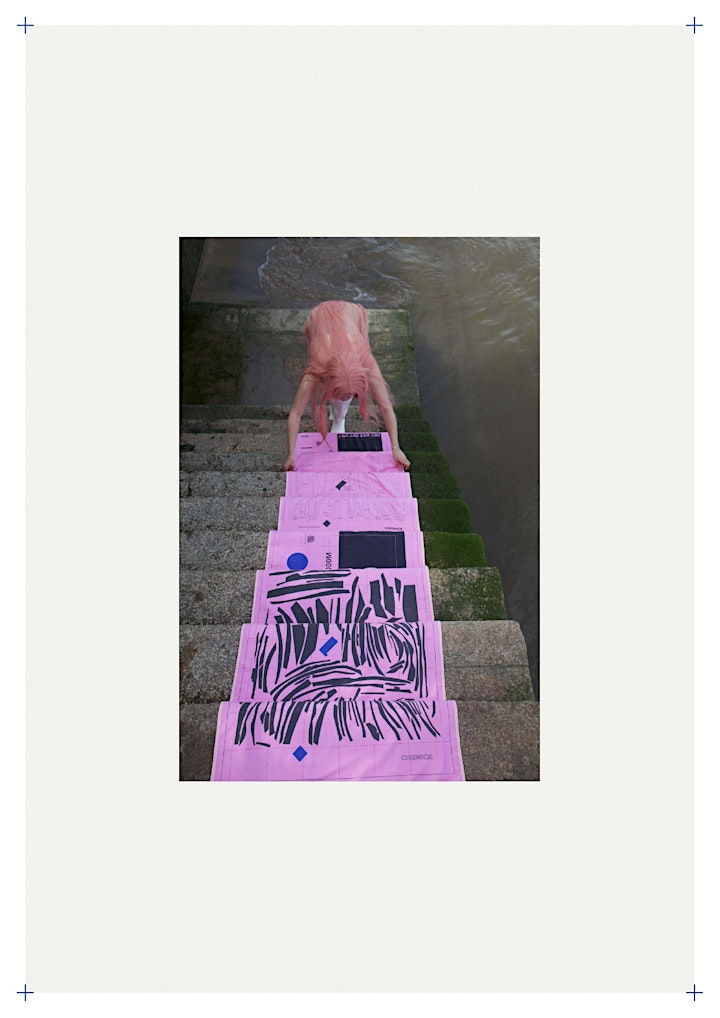 A few things to keep in mind: The Foreshore is an ecological and archeological site, therefore it must be enjoyed with the up­most respect and nothing can be taken home (even the smallest pebble). It is equally important to adopt a "Leave No Trace" attitude, meaning that no items or rubbish can remain on site.
The foreshore is an unpredictable landscape and can present cer­tain dangers. Wear sensible footwear, be mindful of the tide, slippery or uneven surfaces and be vigilant for debris or sharp ob­jects. Cuts and grazes must be protected and/or cleaned immediately. A first aid kit and disposable gloves for the audience will be provided by the organiser. Finally, extra caution must be taken when ingesting or drinking anything on the Foreshore. Hands must be clean to avoid risks. For safety reasons, attendees under the age of 18yrs must be accompanied by an adult. COVID19 safety measures will equally be implemented.
We are fragile entities living amongst stronger forces of nature and man-made pollution. These warnings are not a deterrent, but rather a set of reminders to ensure safe and humble play on the Foreshore. By attending, you agree to have read and understood the above.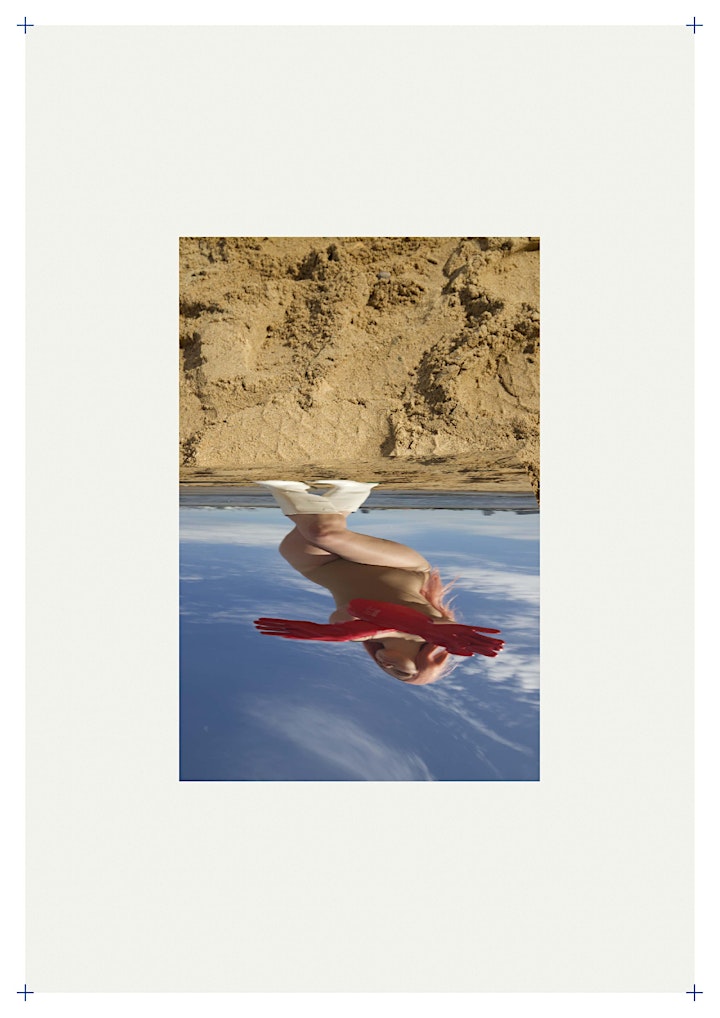 In light of climate change, there are many voices, opinions, and strategies for transitioning to a greener, healthier future. As an artist and spatial designer, it is Victoria's believes none of the above can truly be effective if our attitude and priorities do not change in the first place.
Inviting the audience to become part of the performance is a form of alternative education. It allows for personal, emotional, and scientific discoveries to be made, which will then influence future ideas and decisions. If more Londoners connected deeply to water and non-human entities, would our wider attitude towards the environment change altogether and create momentum for bigger systemic shifts?
By blurring the boundaries between our human body and the landscape, this immersive listening experience will lead us into a playful moment of mediation and reflection on our position on this planet.