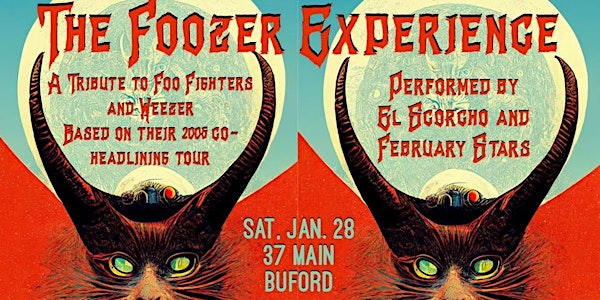 The Foozer Experience (Tribute to Weezer & The Foo Fighters)
Fill your night with a double dose of great rock tributes with El Scorcho (Weezer) & February Stars (Foo Fighters) LIVE at 37 Main Buford!
When and where
Location
37 E Main St NE 37 East Main Street Northeast Buford, GA 30518
About this event
21+ SHOW
DOORS: 5 PM
El Scorcho - Tribute to Weezer
About:
Performed by El Scorcho & February Stars, "The Foozer Experience" is a 2+ hour Weezer/Foo Fighters tribute show based off their 2005 co-headlining tour with the moniker "Foozer."
The songs of both Weezer and Foo Fighters are powerful and memorable rock anthems and sing-a-longs that have proven the test of time over their 20+ year careers. The Foozer Experience delivers anthem after anthem from these two giants of the Alternative Rock era.
**********************
El Scorcho formed in the summer of 2004 with the goal of creating the highest quality Weezer experience next to actually seeing Weezer live. El Scorcho performs the best of the "Blue" and "Pinkerton" albums as well as classic deeper cuts, rarities, and new songs that the ever prolific Weezer continues to produce. The "Quintessential Weezer Tribute Band" quickly grew into one into one of the highest in-demand tribute acts across the Southeast. After Karl Koch (Weezer's "5th member" and website administrator) caught word of El Scorcho, he immediately started to post show dates and news clips about the tribute act on Weezer's website, http://weezer.com. El Scorcho has even had the privilege of performing on-stage with Weezer during their 2008 tour of the "Red" Album. To this day, Karl continues to support the band by occasionally tweeting their show announcements.
February Stars deliver the best live Foo Fighters show with songs spanning their entire career. Foo Fighters are arguably keeping the rock n roll torch lit by delivering melodic and guitar riff-based songs that everyone knows. With a catalog of over 12 full-length studio, live, and EP recordings and a 20+ year career, there is no doubt they are one of the most recognized and influential rock bands of the modern era.