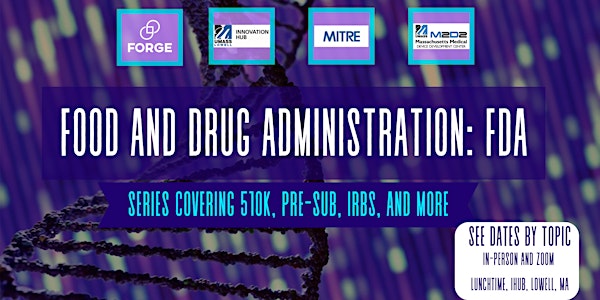 The Food and Drug Administration (FDA): Oct 25th
Series on FDA Rules, Prep, Submission: What to do and what to expect
About this event
The Food and Drug Administration's (FDA) regulatory rules can be challenging, even for those who have gone through the process before. Medical device processes start with choosing the best class. For food, beverages and personal care items, do you know what approvals you need? How about the best strategy for the fastest approval? And, what about clinical or user testing trials?
For food & beverage and personal care startups: what role does the FDA play and what are those requirements?
FORGE, M2D2, MITRE and iHub join forces with subject matter experts to dive into the steps and challenges of this critical, yet complex process!
You will have the opportunity to ask experts specific questions about the FDA process during each 90-minute session. We welcome any and all startups with physical products, consumables, wearable or components expected to need FDA clearance to go to market.
This is an multi-part series so join for the topics that you need. In-person, at FORGE's Northeast MA offices, at and hosted by iHub.
2022:
September 22, Preparing for medical device FDA pre-submission. Led by Barry Sands, RQMIS
September 27, Special focus on unique requirements of food, beverages and cosmetics. Led by Joanne Hawana, Mintz.(Zoom)
October 25, FDA Overview. Led by Iris Sherman, MITRE (Zoom)
==
There are (4) 1-on-1 sessions with experts planned for each program. An executive summary is required and we will get back to you if you have been selected. Email materials to: ivanna@forgemass.org
When an attorney is offering the guidance, the firm does not become their attorney as a result of this interaction and it is not to be considered official legal advice.