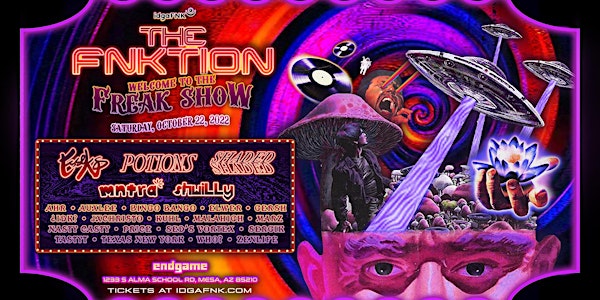 The FNKtion: Freak Show
The FNKtion is back this Halloween. Come get freaky with the funkers.
When and where
Location
Endgame Bar 1233 South Alma School Road Mesa, AZ 85210
About this event
idgaFNK presents THE FNKTION: Welcome to the Freak Show.
We don't choose our freaks, they choose us 😈
The FNKtion is back for a very special Halloween Edition. Experience a micro-festival full of whimsical surprises, circus performances/activations, and a thrilling musical lineup 🎪🎟🤡🔮
- 21+
- 9PM-4AM
- 4 FULL PRODUCTION STAGES 🎶
- 20+ HOUSE, TECH HOUSE, DUBSTEP, EXPERIMENTAL BASS DJ's 🎛
- COSTUME CONTEST FOR PRIZES
- FIRE AND FLOW PERFORMERS 🔥
- BURLESQUE CIRCUS PERFORMANCES 🎪
- FREAK SHOW 🧟‍♂️
- IMMERSIVE ART INSTALLATIONS 🌈
- LIVE PAINTERS AND VENDORS 🎨
- INDOOR & OUTDOOR STAGES
- FUNKIFIED STAGE PRODUCTIONS 🕺
- 3 BARS 🍻
HEADLINERS:
ESSEKS
Esseks (Sam Eckstein) is a Brooklyn based producer and visual artist. His music ranges all the bass-centric genres with a focus on the off-kilter. The diverse elements of his music are tied together with Esseks' subtly dark but playful sound and visual aesthetic. He has built up a large catalog of music since his first release in 2012 with releases on Wakaan, Deadbeats, Subcarbon, Saturate, Sleeveless Records, Gravitas Recordings, Foundations Recordings, and Smokers Cough along with a number of self releases
https://soundcloud.com/esseks
https://open.spotify.com/artist/27mChCxMpfmLnXhdD07DLZ?si=s9tIs98ST0uIR8zu1hQnnw
SHADED
''I'm floating in my own abyss of chunky techno and liquid house." – SHADED
SHADED has a signature sound. It's a weaving combination of driving, psychedelic vibes and funk inspired textures. His sound is undeniable in character, and whilst his production style is constantly evolving, he always stays true to his Southern California roots.
As a slew of new and recently released material will all attest, SHADED is on fire in every sense of the word. His release schedule is now packed for 2021 and over the past two seasons, he's signed music to all the labels he had as key targets, namely Dirty Bird, Hot Creation, Turbo and Trick. His huge Mad Stacks release was hammered and championed by label boss Jamie Jones and BBC Radio 1's Pete Tong alike. And he has fans across the globe in such luminaries as Dubfire, Tiga and Patrick Topping. If you're a long-term fan or just discovering him through DirtyBird, Solardo or Turbo Recordings channels, there's never been a better time to light the touch paper and indeed get lit.
https://soundcloud.com/shaded_official
https://open.spotify.com/artist/2xKTuI2Nl32OaYyDndSB3S?si=nctKEIVdSemyeEAajc9Vwg
POTIONS
potions is an electronic music producer / musician based out of Northern California. Blending a variety of tempos and styles, his music walks the line between experimental psychedelia and a dance-able, narrative experience. The forthcoming album, New Earth Formula (out July 2022), is an alluring and melodic journey through the mind of the multi-instrumental producer. Emphasizing unique rhythmic and melodic cadence with an exploration of distortion and atonality, potions seeks to provide a full spectrum audio experience derived from a broad range of influences.
https://soundcloud.com/potionsmusic
https://open.spotify.com/artist/1uOATWKrMTtQyKaKpbdt76?si=mE6PnKPDTTmXjbrK0aJpDA
shwiLLy
Experimental Bass Music Producer / Vocalist / DJ
https://soundcloud.com/shwillyum
https://open.spotify.com/artist/7xr0MXidauDzozDFSnPLfh?si=dRzBuP5QReuAMtUFO7FVbg
MNTRA
SoCal-based DJ/producer MNTRA has cultivated a funky-fresh, avant garde style of house music, circling around tech house with elements of swing and the occasional breaks, and in doing so has pioneered a genre of his own. A thrilling interplay between playful harmonies and nasty basslines defines his boundary-pushing sound, perfect for the dance music fan who craves something new. MNTRA's musical education at Icon Collective combined with his classical training in East Asia to become an ensemble percussionist translates into his otherworldly soundscaping abilities. In 2016 he made a home for this sound with his record label Boiz House.
https://soundcloud.com/mntramusic
https://open.spotify.com/artist/5F3sVzbqKv9DqQjt6gAXlM?si=TXbqOEwcTNmy34h1ettp_g
Follow @thefnktion on Instagram for Event Updates!
https://www.instagram.com/thefnktion/
Note: There are no VIP tickets for this FNKtion due to capacity. All attendees gain access to every stage and area of the event. Enjoy!