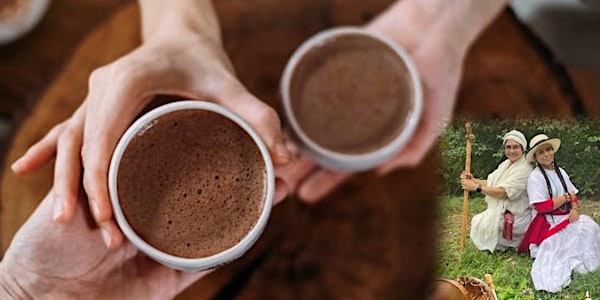 The Flower of Cacao Circle with Letizia and Fatima
The spirit of Cacao is what makes this plant a powerful healing medicine and heart opener when it is consumed intentionally.
Refund Policy
Contact the organizer to request a refund.
About this event
This Online Cacao Community Circle is a heart-centered community circle to support each other around the ancestral drink of Cacao (If you, for any reason can't drink cacao, please bring your favorite herbal tea or water.)
Cacao can be used as a heart-opening portal to the spiritual realm while still staying rooted in the physical realm. Cacao honors the heart by providing nutrients such as protein, fiber, iron, magnesium, phosphorus, zinc, manganese, selenium, and copper. All of these are essential minerals for the proper functioning of the body.
We drink with the intention to open our hearts and connect to the essence of who we truly are. Each circle is different as we are guided by the cosmic energy of the day based on the Sacred Moon Calendar Cholq'ij, the energy of the group, and your personal intention. Let us celebrate, sing, share, meditate, learn, and experience a Cacao Community Circle.
*Contraindications for those who are sensitive to caffeine, taking antidepressants, or high blood pressure medicine, have serious heart conditions, or are pregnant/ breastfeeding. Please check with your primary care doctor before consuming Ceremonial grade cacao. Cacao contains histamine. Pets must NOT be given raw chocolate, as they lack the enzyme to metabolize theobromine.
We recommend avoiding:
Eating heavy meals, fried foods, or any caffeine 3 hours before & 3 hours after the event
Consuming Alcoholic beverages & any other recreational substances the night before and the day of the ceremony!
This is not a traditional Maya Kotzij' where cacao is shared. To work and learn directly with the indigenous Maya wisdom keepers, Maya guardians of the medicine, and find ways to give back directly to them, please contact us and we will be more than happy to refer you to our indigenous elders. We have received permission in front of the sacred fire to be able to share this medicine in a sacred way.
To Register or for more info: email shamanicfirereiki@gmail.com
One-pound blocks of 100% Pure Ceremonial Cacao from Guatemala are available for sale at: sacredlegacyproject@gmail.com