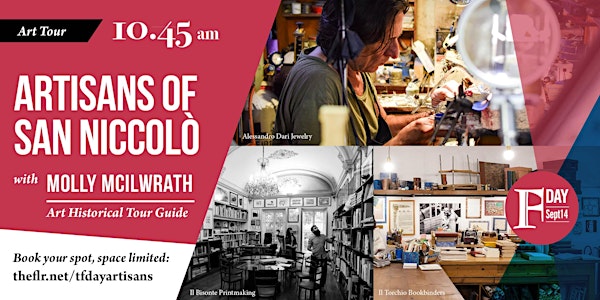 The Florentine Day: Artisans in San Niccolò Tour
When and where
Location
Palazzo San Niccolò 79 Via di San Niccolò 50125 Firenze Italy
Description
Get an up-close look at the wonders of Florentine artisans making in San Niccolò with the Art Historical Tour Guide Molly McIlwrath. Join this guided visit to the workshop of Master Goldsmith Alessandro Dari as he shares his secrets of the trade, from process to experimentation. Florentine leather, marbled paper and coloured cloth are the materials that Erin Ciulla uses in her artisanal bookbinders Il Torchio to handcraft and reinterpret products that lie on the cusp between tradition and innovation. The tour continues at Fondazione Il Bisonte, the graphic design school and gallery, a mecca for printmaking that vaunts collaborations with renowned international artists.
The tour will last for 1 hour and 30 minutes, free admission / Only 15 places, so sign up NOW!
MEETING POINT is at Palazzo San Niccolò, via San Niccolò 79 at 10.45 am. The tour starts at 11 am.