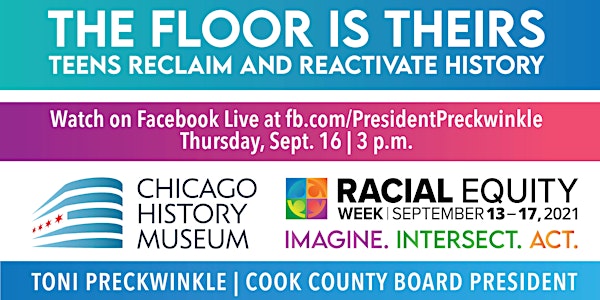 The Floor is Theirs: Teens Reclaim and Reactivate History
Join us for a conversation with Skyla Hearn, Cook County Manager of Archives and Julius L. Jones, Curator for the Chicago History Museum
About this event
Cook County Manager of Archives, Skyla S. Hearn joins Chicago History Museum (CHM) Curator Julius L. Jones, and Director of Education Erica Griffin in a conversation exploring their roles in CHMs recent teen projects that join art with history to amplify overlooked histories and forgotten narratives of Black women in service to community and citizenship during the quest for universal suffrage, to reactivate voided spaces, and challenge key epistemologies of our city's history.
Watch live at Facebook.com/PresidentPreckwinkle
About Racial Equity Week: Cook County's third annual Racial Equity Week will be held September 13 – 17 in 2021. This year's theme will reflect on three words: "Imagine. Intersect. Act." Cook County Offices Under the President has programmed a week of events that probe the audience to use their imaginations to understand justice and equity issues at the intersections of identities and encourage all to take action. For more information and updates, please visit www.cookcountyil.gov/service/racial-equity.