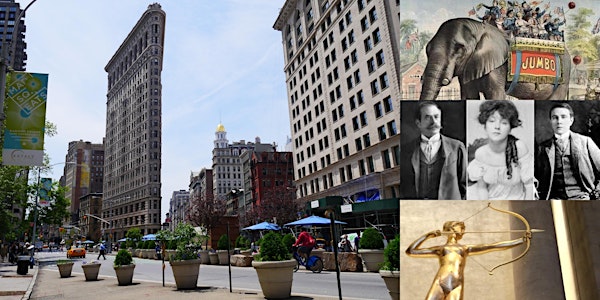 'The Flatiron District, From Toy District to Murder of the Century' Webinar
Can't make it live? Register and get access to the full replay for one week! New York Adventure Club | www.AdventureClub.com
About this event
While seemingly every New York City neighborhood is filled with its fair share of history and happenings, it's tough to top the Flatiron District. From the site of one of the world's most iconic skyscrapers, to home base for the Gilded Age movers and shakers, to a destination for a world-famous burger, this is the story of a neighborhood that continues to be the center of it all.
Join New York Adventure Club as we explore the rich history and incredible tales of the Flatiron District, a historic neighborhood in Midtown Manhattan that has been a hub of New York culture, entertainment, and architecture for over a century.
Led by NYC licensed guide Mike Kaback, who was born just a few blocks from this area, our virtual experience of one of the world's most famous neighborhoods will include:
A closer look at the buildings, statues, and fountains around Madison Square Park, including the iconic 1902 Fuller Building (aka Flatiron Building)
How the original Madison Square Garden came to be, along with the three that followed
The unbelievable story behind the assassination of Stanford White, the world's leading architect, in the very theater that he himself built
Why the Flatiron District was previously referred to as the Photo District, Toy District, and Silicon Alley
A discussion around the neighborhood's role as the American birthplace of modern art and the music industry
Mike's personal stories from growing up around the neighborhood, including where to find a great egg cream
Stick around afterward for a Q&A with Mike — any and all questions about the Flatiron District are welcomed and encouraged!
Can't make it live? Don't worry, you'll have access to the full replay for one week!
See you there, virtually!
*Immediately upon registering, you will receive a separate, automated email containing the link to join this webinar
**For the best possible viewing experience, please ensure you're using the latest version of your internet browser — Google Chrome is the most compatible. Exact technical requirements and a webinar user guide will be shared in the automated confirmation email upon registration.
***A full replay of the experience will be available to all registered guests for up to a week
About Mike
Mike Kaback, a licensed tour guide and avid History Buff, was born just a few blocks from this area and has traversed its streets countless times. He will shed his own personal take on the area and can also recommend a wonderful old restaurant where you can still order an egg cream!
Testimonials
"I loved the local roots of the presenter, Mike, and the depth of knowledge--plenty I was unaware of even though I live nearby." -Patricia
"The guide was absolutely hilarious and so full of great stories as well as all the details. He was absolutely the best!" -Sharon
"Mike's enthusiasm & knowledge of a variety of people & events. Informative & entertaining." -Smock
"Mike is a real character - made for a very lively presentation." -Barbara
"The enthusiasm of the speaker was contagious! I liked his passion and enjoyed all the information he provided!" -Diana
"Mike is the best! Entertaining and knowledgeable." -Carol
"Very informative! Tour guide, Mike, was terrific, a real New Yorker. I live on 25th Street and plan to walk around the area and check out the sites mentioned." -Sandra
"Informative, great photographs, host entertaining" -Pamela
"Fun, engaging, and the presenter was awesome. The expressions he used - so hilarious! Very, very enjoyable." -Margaret
"I love Michaels storytelling about history that makes it so lively and refreshing to learn new things." -Barry
"The tour guide was GREAT! Real NYer and lives listening to him. And personal stories" -Frank
"Mike! He is a rock star with his stories and knowledge. Always learn so much!" -Linda
"Really liked his personal stories. very heartfelt and genuine in his delivery. he was really funny. I will definitely be on his next one" -Noelle
"I liked the scope of his knowledge, and passion for NYC." -Ellen
"Very informative. The guide was extremely knowledgable." -Judith
"I enjoyed the fact the presenter lived in the area he was giving his presentation about. Very knowledgeable and intermingled personal stories." -Ronald
"Personal, Factual, Historic, up-to-date." -Thomas
"Very lively, insightful webinar. I watched the re-run (as am in Dubai). Loved it!" -Deana
"I liked the information, the humor, the New York "state of mind" of the presenter. Most enjoyable!" -Lois
"the presenter was great. loved his comments!" -Sheila
"Well put together. His pace of talking was good. He knows a lot from his longevity!" -Jill
"Mike was very knowledgeable & I liked that he used maps to show exactly where each location was. I used to work on E. 24th; got off the subway in front of the Flat Iron Bldg., then walked across Madison Pk. to 24th. No that I've seen this, I must go back to check out the many bldgs. I used to (just) pass by!" -Neal
"Speaker was a true New Yorker, accent and all and you could tell he loved what he was doing." -Susan
"Very informative and very human. He was great!" -Linda
Disclaimer
By attending a New York Adventure Club experience, you accept our terms of service.
Categories: Virtual, Neighborhoods