The Five Rhythms of Life ~ Which one are YOU???

Saturday, October 14, 2017 from 10:00 AM to 4:00 PM (EDT)
Event Details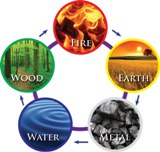 The Five Rhythms of Life ~ Which one are YOU? 
Fire -Water - Earth - Wood - Metal 
Saturday, Oct. 14th from 10-4
Energy for Healing 4446 Rt. 27, Kingston, NJ
with Eden Energy Medicine Practitioners: Elsie Kerns & Denise Paolini
Class limited to 25 students - Questions? 856.988.7426 or 609.230.3743 
Ancient wisdom viewed the human form as a combination of the five earth elements: Water, Wood, Fire, Earth, and Metal.   These elements each hold a unique rhythm with both positive and challenging aspects of their nature.  Knowing your rhythm helps you communicate better, live longer and navigate confidently through life's transitions. 
Elsie and Denise will help you understand:
-what is your dominant rhythm and how to recognize the rhythm of another
-take an easy rhythm test to view your rhythm more closely
-what are your rhythms' attributes and stress emotions
-what happens when you get stuck in a rhythm?  
-or you can't metabolize certain energies?
-the organs associated with each rhythm and its vulnerability to illness

-make the most of the positive aspects of the rhythms in every season 
-famous people we know and their rhythms 
-ways to harmonize your rhythms and release stagnant energies  
-easy exercises for each rhythm's season to maximize the rhythm's strength 
Join us for an educational event with handouts, video tutorials for each rhythm & practical healing concepts for your life sprinkled with fun and laughter!
Elsie and Denise are Eden Energy Medicine Practitioners with private practices locally & teach a variety of holistic healing classes.  
Contact www.wellnesswithelsie.com  Elsie 856.988.7426 or Denise 609. 230.3743
When & Where

4446 NJ-27
4446 New Jersey 27
South Brunswick Township, NJ 08528


Saturday, October 14, 2017 from 10:00 AM to 4:00 PM (EDT)
Add to my calendar
Organizer
Elsie Kerns as Wellness with Elsie offers educational webinars, tele-classes, Worksite Wellness, Energy Medicine Seminars/Coaching and Private Sessions. www.wellnesswithelsie.com