Description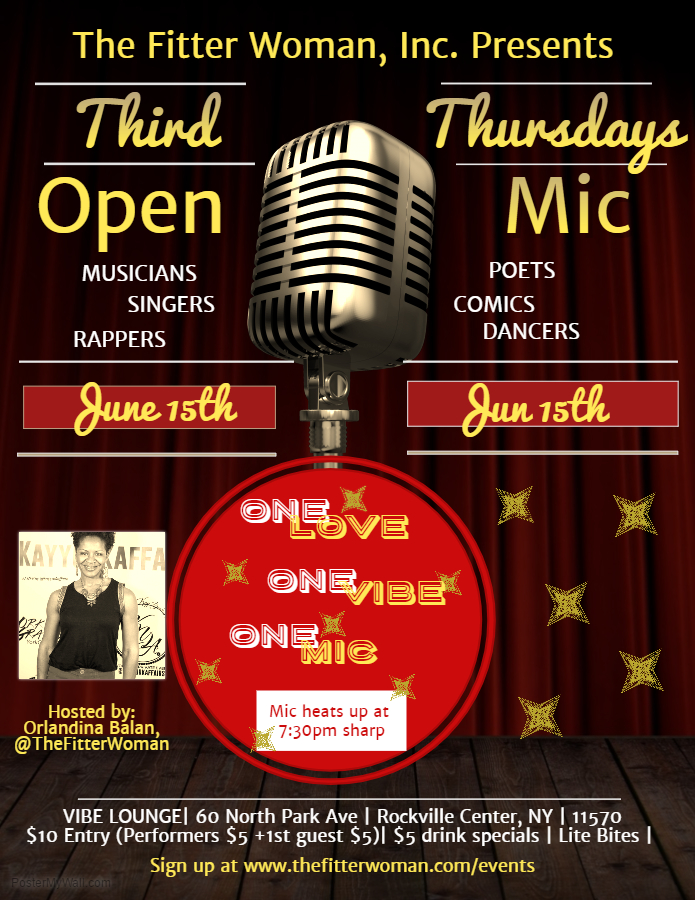 Come join me for my monthly Open Mic Night series held every 3rd Thursday of the month at the New Vibe Lounge. Come listen to POETS, SINGERS, SPOKEN WORD ARTISTS, LYRICISTS, MUSICIANS & DANCERS SHARE THEIR HEARTS, GIFTS AND SOUL.
This is great opportunity to network, meet new people, showcase your hidden talents and be discovered!
Artists MUST sign up @ www.thefitterwmoman.com/events
Doors open at 6:00 pm. Performers please arrive at 6:30pm. Mic heats up @ 7pm sharp!

Tickets $8 on Eventbrite until June 14th. $10 at the door, 21+ Only!
$5 Drink Specials, Small appetizers, Raffles and some of the most incredible artists in Long Island..
Don't miss this!
COME OUT AND ENJOY THIS OPEN MIC NIGHT-
DOORS OPEN AT 6 PM!

SEATING IS LIMITED!!!
Artists of every kind coming together to spread good vibes through Poetry, Music, Song and Dance.