Description
Have you ever wondered how successful entrepreneurs are able to build their businesses, save their money, and create a lifestyle they love?
Are they lucky or strategic?
It's all about strategy and we're bringing you The First Quarter Business Check-In to teach you how to use a corporation or an LLC as your foundation to financial freedom.
This 4-day workshop series brought to you by two lawyers, a certified public accountant, and a certified retirement counselor covers the following topics:
Monday - Using an LLC or a corporation to protect your business and personal assets,
Tuesday - Retirement planning as an entrepreneur seeking financial freedom,
Wednesday - Accounting practices to keep your business afloat in the time of Covid-19 and beyond, and
Thursday - Estate planning for business owners - retain control over your business and limit who gets access.
These live workshops will not only be filled with pertinent information and practice pointers that you can implement immediately, but you will have the opportunity to ask questions in real time.
Each professional on the panel charges a minimum of $300/hour for a consultation, which means that instead of paying $1800 to meet with us all individually, you can join us for the workshop for $97. That's 80% off!
So sign up now and take advantage of the opportunity.
Here's more information about your panelists: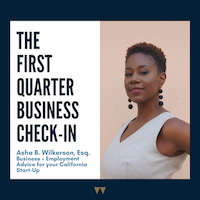 Monday, April 27
Asha B. Wilkerson, Esq. of The Wilkerson Law Office takes great pride in counseling businesses on labor & employment law matters before they become an issue. Specifically, Ms. Wilkerson enjoys teaching entrepreneurs about business formation, contract creation, and liability reduction. She also enjoys training leaders in the areas diversity and leadership and she has a particular affinity for working with non-profit and faith-based organizations.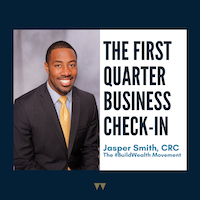 Tuesday, April 28
Jasper Smith, CRC is the founder of the Buildwealth Movement. The Buildwealth Movement is a financial education initiative that will encourage people to address their biggest concerns as it relates to their financial status. People avoid having serious financial planning conversations for fear of embarrassment or judgement. There needs to be a shift from the reactionary stigma that is connected to financial planning. The Buildwealth Movement shows people how simple financial planning can be, by meeting them right where they are.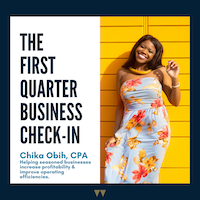 Wednesday, April 29
Chika Obih, CPA is a Profit & Growth Advisor and a certified public account for 6 and 7 figure service-based businesses. She helps her clients implement the proper accounting and financial protocols to reduce expenses and grow their bottom line all while working smarter and not harder. She's been in this numbers game for over a decade and is a self-proclaimed tax nerd.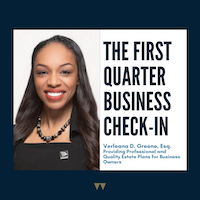 Thursday, April 30
Verleana D. Green, Esq. is the founder and senior partner of The Law Offices of Verleana D. Green (VDG Law). Proper estate planning developed by VDG Law will help to avoid high estate taxes and the lengthy and costly process of probate. Additionally, a well-drafted estate plan provides clients with the peace of mind of knowing that assets will go to the designated heirs in an orderly manner upon passing. Orderly arrangement of VDG clients' estates creates for the best tax and family effect.
FAQs
What time are the sessions? The sessions start every day at 5 pm and will conclude by 6:30pm. They start Monday, April 27th and conclude Thursday, April 30th.
What happens if I miss a session? All sessions will be recorded, so if you miss one day, you'll still have access the content.
Are there any refunds? There are no refunds for the sessions, but if you cannot make it, you will get a recording of the live session.
Who is this for? This is for you! Whether you're a sole proprietor or run a corporation, whether you've been in business for a while or are just starting out, this series is for you. There is always something new to learn and it never hurts to look at your business with new eyes every few months.
Date and Time
Location
Refund Policy