The First Annual Endless Summer Social [@TheAdSocietyLA]

Saturday, August 23, 2014 from 9:00 AM to 12:30 PM (PDT)
Event Details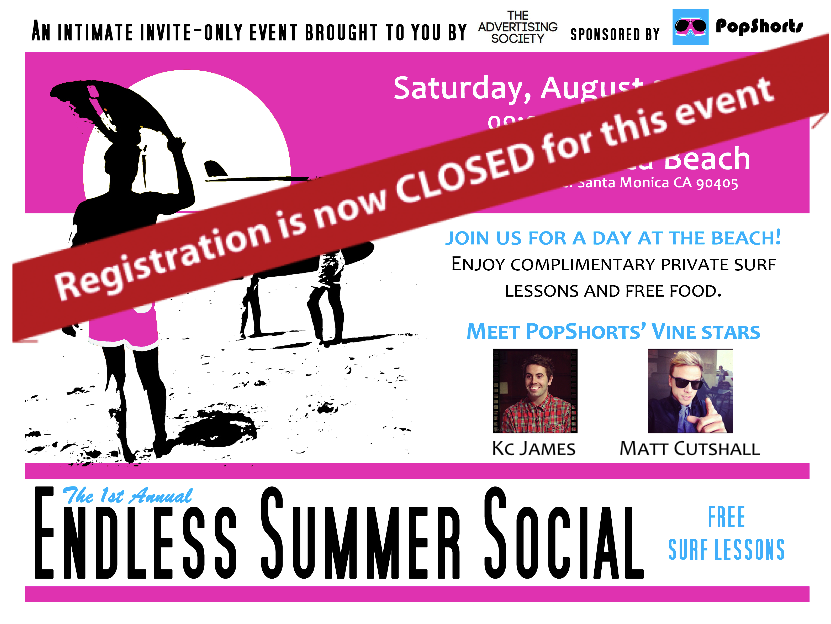 ###
EVENT SPONSOR
PopShorts is the authority on Vine content. We collaborate with creative agencies, social community directors and CMO's to create massive mobile video exposure opportunities. Our helpful team of writers, content creators, and designers do all of the heavy lifting so that campaign goals are exceeded in a stress-free environment. 
### 
YOU UNDERSTAND THAT PARTICIPATION IN THE EVENT IS POTENTIALLY HAZARDOUS, AND THAT A REGISTERED PARTY SHOULD NOT PARTICIPATE UNLESS THEY ARE MEDICALLY ABLE AND PROPERLY TRAINED. YOU UNDERSTAND THAT EVENTS MAY BE HELD OVER PUBLIC SPACE AND FACILITES OPEN TO THE PUBLIC DURING THE EVENT AND UPON WHICH HAZARDS ARE TO BE EXPECTED. PARTICIPATION CARRIES WITH IT CERTAIN INHERENT RISKS THAT CANNOT BE ELIMINATED COMPLETELY RANGING FROM MINOR INJURIES TO CATASTROPHIC INJURIES INCLUDING DEATH. YOU UNDERSTAND AND AGREE THAT IN CONSIDERATION OF BEING PERMITTED TO PARTICIPATE IN THE EVENT, YOU AND ANY REGISTERED PARTY, THE HEIRS, PERSONAL REPRESENTATIVES OR ASSIGNS OF YOU OR THE REGISTERED PARTY DO HEREBY RELEASE, WAIVE, DISCHARGE AND CONVENANT NOT TO SUE ACTIVE FOR ANY AND ALL LIABILITY FROM ANY AND ALL CLAIMS ARISING FROM PARTICIPATION IN THE EVENT BY YOU OR ANY REGISTERED PARTY.
BY PARTICIPATING IN THIS EVENT; YOU UNDERSTAND THAT YOU ARE GIVING UP SUBSTANTIAL RIGHTS, INCLUDING THE RIGHT TO SUE. YOU ACKNOWLEDGE THAT YOU ARE AGREEING AND WAIVER FREELY AND VOLUNTARILY, AND INTEND BY YOUR ACCEPTANCE TO BE A COMPLETE AND UNCONDITIONAL RELEASE OF ALL LIABILITY TO THE GREATEST EXTENT ALLOWED BY LAW.
When & Where

Santa Monica Beach
104 Hollister Ave
Santa Monica, CA 90405


Saturday, August 23, 2014 from 9:00 AM to 12:30 PM (PDT)
Add to my calendar
Organizer
The Advertising Society
The Advertising Society is a private organization serving the advertising community with the necessary tools and resources to educate and empower industry talent. We fulfill our mission by providing a professional platform for our members to connect face to face, collaborate and share life experiences.  
Learn more at: http://TheAdSociety.com 
Sponsor our events: info@theadsociety.com
The First Annual Endless Summer Social [@TheAdSocietyLA]