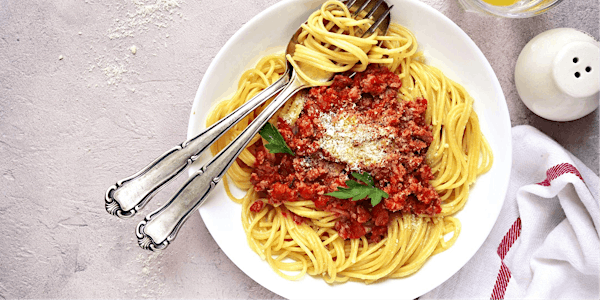 The Fine Art of Italian Cooking: A Tribute to Giuliano Bugialli
Location
Central Market Austin North Lamar
4001 North Lamar Boulevard
Austin, TX 78756
Refund policy
Refunds up to 7 days before event
Demonstration. You will not be cooking in this class.
About this event
Age Restrictions
For ages 18 & up
Description
Pick up a bit of history along with culinary tips as our instructors introduce you to traditional Tuscan dishes. As you sit back and relax,  you'll enjoy panzanella, one of the most characteristic of all Florentine dishes which relies on fresh summer tomatoes and basil; a spicy, peppery Tuscan pasta; chicken flavored with pancetta, almonds and fennel, cooked to perfection; and, as the grand finale, warm handmade crepes with cinnamon-scented raisins and orange sauce. 
For ages 18 & up. 21 or over? A glass of Italian wine will be paired with your meal. 
Culinary historian, food writer and teacher,  Giuliano Bugialli spurred interest in the food of Italy with his cooking schools and the publication of his acclaimed cookbook, The Fine  Art of Italian Cooking, which has become a standard in the field. He promoted Italian cooking in general, and especially regional cooking, with an emphasis on his birthplace, Tuscany. He received three James Beard Awards for his cookbooks during his lifetime and was included in the prestigious Who's Who of Food & Beverage in America in 1986. Mr. Bugialli was also was a pioneer of gastro-tourism, showing us how to discover a culture through its food. 
Menu
Panzanella (Bread Salad)
Spaghetti alla Fiaccheraia (Florentine Coachman-style Spaghetti)
Pollo Affinocchiato (Chicken with Fennel) 
Ritortelli Pieni all Fiorentina (Renaissance Crepes) 
Safety & Precautions
At check-in, you will be asked to sign a waiver before entering the Cooking School.
For that reason, we ask that all attendees arrive at least 5 minutes prior to the confirmed start time of the class.
Some COVID-related restrictions may apply.