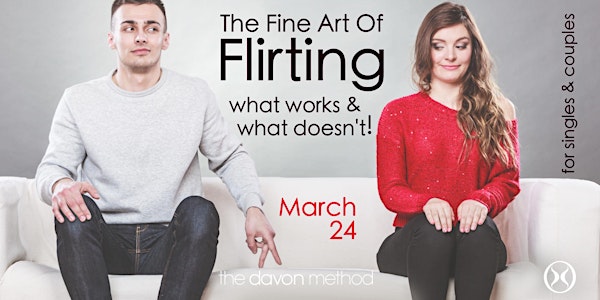 The Fine Art of Flirting; what works & what doesn't!(singles/couples)
Join us for this online evening workshop for singles & couples and learn how to flirt!
About this event
1 hour 30 minutes

Mobile eTicket
Ah….. Flirting! The initial spark igniter, the secret elixir that makes long term relationships continue to sparkle over time….we invite you to come and master this fine art!
Whether you are single looking for love, or in a relationship with a goal of having chemistry and fun increase over time, flirting is an art worth time and study.
Join Alicia & Erwan of The Davon Method online on March 24th for a fun, entertaining and educational event! Alicia & Erwan will not only teach you this fun skill, but they will show you and demonstrate it, so you catch the vibe and can start practicing flirting right away!
You will learn:
• How to physically escalate an interaction with presence, so it goes well!
• How to get out of the friend zone… with someone new or a friend or your partner of 20 years!
• How body language and the way you dress affect your flirt, and how to use both to your advantage
• How to make flirting a habit, a way of life, so you LIVE inside that sparkly, juicy energy!
This event is a great way to find out more about The Davon Method, Erwan & Alicia's 5 keys to a successful relationship life. Their programs will be presented and you will have an opportunity to learn more about how you can sign up for them and take your love life to the next level.
Many people have questions, like:
• Is it OK to flirt when you aren't sure how far you want to take the relationship?
• How about flirting with someone else when you are in a relationship- is that OK?
• How to flirt when you get so caught up in the day to day logistics with your partner?
• How to respond when someone is flirting with you and you aren't sure how you feel about it?
We will answer all of these questions and more on March 24th – Join us for a juicy evening that makes a great date night, whether you are single or coupled up. See you there!
Want to see who's going, make new Buds, and chat with fellow attendees before coming? We're collaborating with the Bloom Community App to help our community connect! Bloom Community is a great place to meet people around events. You can follow us on Bloom at https://bl.ooo/m/org/the-davon-method to be notified of other upcoming events.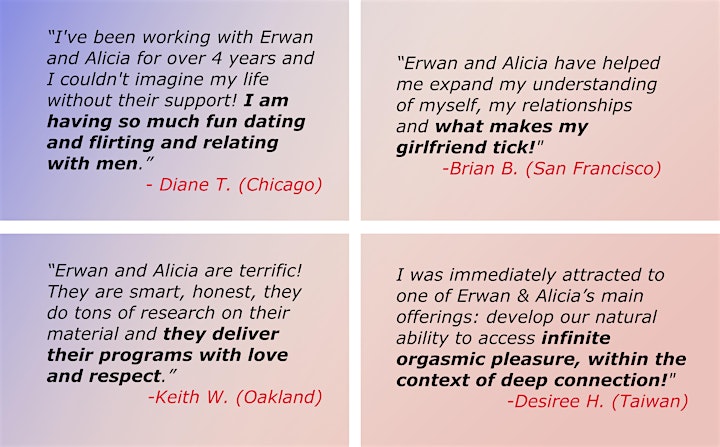 Erwan & Alicia Davon are longtime teachers based in the SF Bay Area. They developed their signature process, the Davon Method, and have taught it to over 15,000 students in groups, retreats and individual sessions. As a married couple, they have been teaching singles to get into relationship & couples to thrive in relationship for the last 25 years. They have become the go-to place in the San Francisco Bay Area for all things romantic and sexual and are quickly becoming that worldwide through online learning.
Erwan and Alicia have a unique approach to relationship coaching that combines their educational backgrounds in psychology and aspects of Zen Buddhism to provide a holistic method to effectively improve connection with the self and others
Erwan studied psychology and graduated with honors after a difficult childhood and an early introduction to therapeutic work. He went on to live and study in a Zen Monastery, direct a Yoga ashram, and teach personal development at one of the world's largest personal grown organizations. Erwan's passion for helping and teaching people led him to found The Davon Method in 1995, specifically to help people improve their romantic relationships.
Alicia holds a Master's degree in Integral Psychology with a focus on women's romantic and sexual expression. She trained as a therapist before meeting Erwan and led numerous women's groups devoted to female pleasure and life fulfillment from career to relationship. She met Erwan 20 years ago and started teaching with him soon after.
They have spent years perfecting their curriculum and techniques and provide a safe place so you can improve chemistry, connection, communication, and passion in your love life! Get ready to have fun because working with them is a blast!
For more events, follow us here on Eventbrite, and on Instagram/TikTok (@davonmethod)