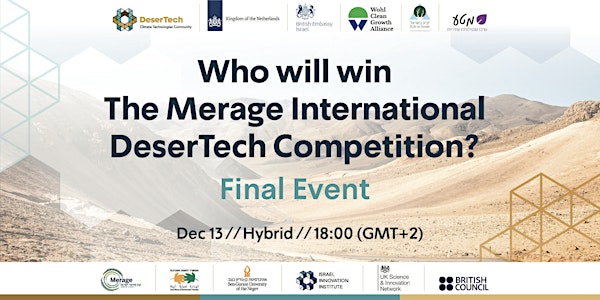 The Finals of the Merage International DeserTech Competition
Who tackled the desert challenges? Watch online!
About this event
Online event link: https://www.youtube.com/watch?v=MCGHKmRiwSM
We are excited to invite you to the final event of the Merage International DeserTech Competition!
In the event you will:
• Hear from leading Israeli startups and their breakthrough solutions for tackling extreme climate, water scarcity, land degradation, and remote living.
• Find out who will be the Negev-based company to win a $75K investment from ICA and Mata, and who are the 4 winners of a 25K NIS grant.
• Get to know the competition winners of the UK and the Netherlands tracks, who will be participating in the DeserTech adaptation seminar in Beer Sheva, on March 2022
See you online!
The competition is brought to you by the DeserTech Community, in partnership with the Wohl Clean Growth Alliance, the British Embassy in Israel, the Netherlands Embassy in Israel, Mata Association, and ICA Israel.
The DeserTech Community is an initiative of the Merage Foundation, the Israel Innovation Institute, Israel's Ministry of Environmental Protection and Ben Gurion University.