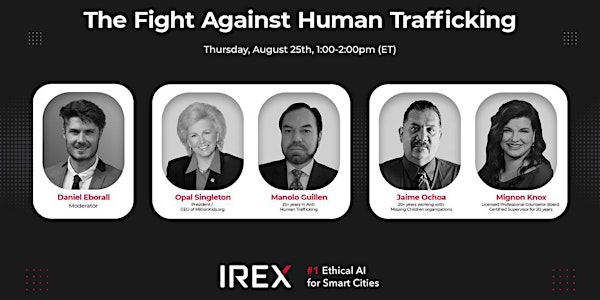 The Fight Against Human Trafficking
The goal of the webinar and all our distinguished expert speakers is to educate the audience on the growing epidemic of human trafficking
About this event
IREX is proud to be the host of an upcoming webinar shedding light on the horrors of Human Trafficking throughout the United States and tht world. The webinar will be streamed live via Zoom on Thursday, August 25th, 1:00-2:00pm EST.
The goal of the webinar and all our distinguished expert speakers is to educate the audience on the growing epidemic of human trafficking, particularly in the United States. Including, but not limited to; challenges we currently face against the growing problem and what can be done to prevent human trafficking and ultimately recover victims.
The Expert Panel Includes;
- Opal Singleton - President/ CEO of MillionKids.org
- Manolo Guillen - 25+ years in Anti Human Trafficking
- Jaime Ochoa - 20+ years working with Missing Children organizations
- Mignon Knox - Licensed Professional Counselor-Board Certified Supervisor for 20 years.
- Daniel Eborall - IREX Global Director & Moderator
To see how IREX unveiled how it's AI is a driving force in the fight against Human Trafficking: