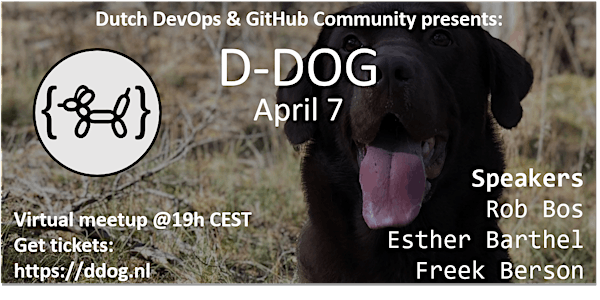 The fifth Dutch DevOps & GitHub Community Meeting
We are very excited to announce the fifth edition of The Dutch DevOps & GitHub Community.
About this event
Our fifth edition of The Dutch DevOps & GitHub Community will take place on April 7th!
What is DDOG
We want to create a community for content related to DevOps and GitHub. We believe GitHub has a lot to offer and deserves a user group in the Netherlands. But we also love the different elements that enable DevOps. So we decided to combine those two into the community you are looking at.
Our goal is to have a platform where we can teach, learn and meet each other.
April 7th
We are proud to announce our great speakers!
How to use GitHub Actions with security in mind
Rob Bos
When working in the real world with continuous integration / continuous deployment, you have to take care of your pipelines and the things they have access to.
- Who can push code into to an environment?
- Who could read and change the connection strings to the database?
- Who can create new resources in your cloud environment?
- Do you trust your third party extensions?
- What part of the network does your pipeline have access to?
I'll go over each of these aspects of your GitHub Actions Workflows and show you what to look for and how to improve your security stance without locking every DevOps engineer out.
Rob Bos - DevOps Consultant @ Xpirit
Rob has a strong focus on ALM and DevOps, automating manual tasks and helping teams deliver value to the end-user faster, using Continuous Integration / Continuous Delivery and other DevOps techniques. This is applied on anything Rob comes across, whether it's an application, infrastructure, serverless or Data Science environments. Additionally, Rob focusses on the management of production environments, including dashboarding, usage statistics for product owners and stakeholders, but also as part of the feedback loop to the developers.
Project Bicep: ARM Templates reloaded!
Esther Barthel & Freek Berson.
If you're into infrastructure as code, this is a session you do not want to miss! During the week of Ignite 2021, Bicep version 0.3 was released making it ready for production usage as the next evolution of ARM templates. In this demo-heavy session we'll touch base on the fundamentals of ARM and the architecture of Project Bicep. We'll perform a deep dive into the latest Bicep features like loops, conditions, decompiling, Az CLI integrations and Azure DevOps deployments! Join us as we flex our muscles and show you how to empower ARM Templates!
Esther Barthel - End User Computing (EUC) Evangelist
Esther Barthel has worked in different roles and functions as an IT consultant after she finished her Master's degree in Computer Science in 1997. She soon discovered that Server-Based Computing combined servers, desktops, and user experience in one solution and specialized in virtualization solutions, like Microsoft Remote Desktop Services, Citrix XenDesktop, Citrix XenServer, Microsoft App-V, Microsoft PowerShell and Citrix NetScaler.
Esther works as a Solutions Architect at cognition IT, designing and implementing Citrix solutions for both small-business and large enterprise infrastructures scaling up to 15,000 users. Ever since she hosted introduction days for technical female student candidates, Esther has shared her passion and knowledge for IT.
What started with small internal meetings and a blog to report on the latest technologies has grown into international presentations at Citrix User Groups, events like E2EVC and Citrix Synergy and writing her first book, Citrix XenApp 6.5 Expert Cookbook for Packt publishing.
Esther joined RDS Gurus in November 2017 to add even more expert EUC and Networking (Citrix NetScaler) knowledge and experience to this awesome team of RDS Experts.
Esther is also awarded as a Citrix Technology Professional (CTP) by Citrix in 2015, 2016, 2017, 2018, 2019 and 2020.
Freek Berson - Remoting Windows Enthusiast & Microsoft MVP
Freek Berson speaks at various conferences around the world including Microsoft Ignite, Microsoft Ignite | The Tour, Microsoft TechSummit, Microsoft TechDays, Azure Saturday, BriForum, E2EVC and ExpertsLive. Freek is awarded Microsoft MVP since 2011. He coauthored the book "RDS - The Complete Guide" which is available on Amazon. He works as an Infrastructure Specialist at Wortell, a system integrator company based in the Netherlands, where he focusses on End User Computing and all related technologies mostly on the Microsoft platform. He is also a managing partner at rdsgurus.com. He maintains his personal blog at http://themicrosoftplatform.net where he writes articles and blog posts related to Windows Virtual Desktop, Remote Desktop Services, Azure, and other Microsoft technologies. He is also experienced in performing automated deployments using Azure Resource Manager and designing JSON templates. . You can follow him on twitter via @fberson.
The event
Schedule
The event will take place on 7h of April, all times here are listed in CEST. For the starting time in your local timezone please use the following link: [April 7th 2021 – 19:00 CEST](https://everytimezone.com/s/c618e1d1)
The schedule for the night is as follows:
|19:00 |19:15 | Introduction - Barbara Forbes & Jaap Brasser
|19:15 |20:00 |How to use GitHub Actions with security in mind - Rob Bos
|20:00 |21:00 |Project Bicep: ARM Templates reloaded! - Esther Barthel & Freek Berson
Location
The event is hosted virtually, and participation is encouraged, do feel free to join our online meeting and have you microphone ready if you want to ask questions directly! Signing up through Eventbrite is not required, but you will receive a link to the meeting by email a day before the event takes place. We will also publish the link to the event on Twitter, an hour before the event on the [@DDOG_nl](https://twitter.com/ddog_nl) account. When signing in to the meeting please use first and last name, or reach out before the event.