The FIERCE Woman 1 Yr. Anniversary Brunch & Awards Ceremony

Sunday, April 26, 2015 from 1:00 PM to 4:00 PM (EDT)
Event Details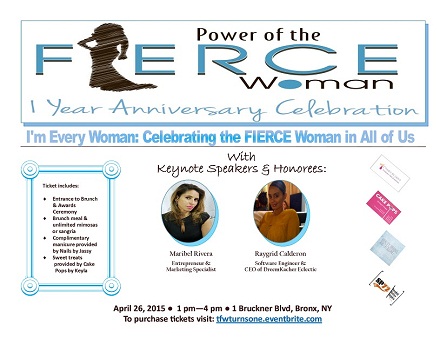 I would like to invite you to The FIERCE Woman One Year Anniversary Brunch & Awards Ceremony taking place April 26, 2015 at the Mott Haven Bar & Grill. This year's theme is "I Am Every Woman: Celebrating the FIERCE Woman in All of Us" because women no longer have to choose between roles. We can do it all if we choose to.
We will be honoring two phenomenal women who are making great strides in business and technology. These women are FIERCE women determined to make their dreams come true and are doing just that. In addition to being honorees they will also share their personal stories of success. They will wow you with their sheer will to get things done by any means possible. Where most people find an excuse they find a solution. They will share with you their pearls of wisdom on how to make it in business and succeed as a woman.
This is a very intimate event and only a limited amount of tickets are being made available to the general public. Once all tickets have been sold there will be no additional tickets and absolutely no tickets will be available for sale at the door.
Your ticket includes a pre-fixed brunch and your choice of unlimited mimosas, sangria, or non-alcoholic drink (for the duration of the event), complimentary manicures by Nails by Jassy, sweet treats provided by Cake Pops by Keyla, and unlimited access to some of today's most influential women in business. Bring your business cards and charm and be prepared to mingle with some very successful women. Please note that this is a FEMALE ONLY event.
Thank you. I look forward to seeing you all and celebrating this milestone with you.
With love
Nancy A. Ruffin, Founder, The FIERCE Woman
When & Where

Mott Haven Bar & Grill
1 Bruckner Boulevard
Bronx, NY 10454


Sunday, April 26, 2015 from 1:00 PM to 4:00 PM (EDT)
Add to my calendar
Organizer
Nancy A. Ruffin is a 4x award winning writer and transformation coach committed to empowering individuals to discover their purpose and live their best lives. She has authored and published four books. Her essays and articles have been featured in various print and online publications, including, but not limited to The Huffington Post and Latin Trends Magazine.  In March 2018, Nancy was also featured in Latina Magazine for the transformative work she does with her annual strategic visioning workshops.
​
In March 2020 Nancy was honored during the 2020 Spring Somos Conference of The New York State Assembly Puerto Rican-Hispanic Task Force for her accomplishments as a leader, philanthropist and contributions to the advancement of the Puerto Rican-Hispanic community.
​
With over 20 years' experience as a healthcare leader leading large teams, Nancy uses that experience to help individuals and organizations invested in career success and leadership development. She is committed to helping the next generation of leaders tap into their potential, ignite their fire, and blaze trails of positive change that will leave a lasting impact both in business and our communities for years to come.
A community activist and social justice advocate, Nancy is a firm believer in the West African concept of Sankofa. Sankofa is an Akan term that literally means, "to go back and get it."  Loosely interpreted, Sankofa's principle is simple, as we rise and excel it is our responsibility to reach back and help others. That philosophy is what drives most of Nancy's work. She believes as we reach certain levels of success, we have a responsibility to reach back and help the next person coming up behind us.
As the host of the Tecla nominated weekly podcast, The Nancy Ruffin Show, she uses her platform to inspire and empower individuals to live life on their own terms. Through personal anecdotes and storytelling Nancy demonstrates how discovering the power within can be used to turn obstacles into opportunities, trials into triumphs, and grit into glory by overcoming seemingly insurmountable challenges and succeeding in the process.
Nancy is also the founder and Executive Director of The Fierce Woman Collective (TFW)™, Founded in 2014, TFW is an organization whose mission is committed to empowering all women and creating a platform that elevates, amplifies, and recognizes the next generation of women leaders. Through its Power UP initiative women benefit from a wide array of workshops and training programs that include but are not limited to financial literacy, job training and resume writing, career development, entrepreneurship development, business planning, strategic goal setting, work/life balance, confidence building, and personal development. 
A graduate of Bernard Baruch College, Nancy has a B.A. degree in Accounting and an MBA in Healthcare Management from The University of Phoenix. A seasoned speaker, facilitator, host, and writer, Nancy has been invited to share her work and give key note speeches at the Federal Bureau of Investigation (FBI), The Metropolitan Museum of Art, The Cedarmore Corporation, United Bank of Switzerland (UBS), The NYC Hispanic Chamber of Commerce, partnered with Google on a digital marketing seminar, and has facilitated workshops and seminars at various schools and universities.
For Nancy, her work is her way of reaching back. Her goal is to uplift, support, and connect women globally so that we can learn from, grow, and build with each other. Earlier this year Telemundo selected Nancy as one of their Mujer Imparables (Unstoppable Woman) for her accomplishments and commitment to improving her community. To learn more about Nancy's work or to connect with her visit her website at www.iamnancyruffin.com or www.thefiercewoman.org