Description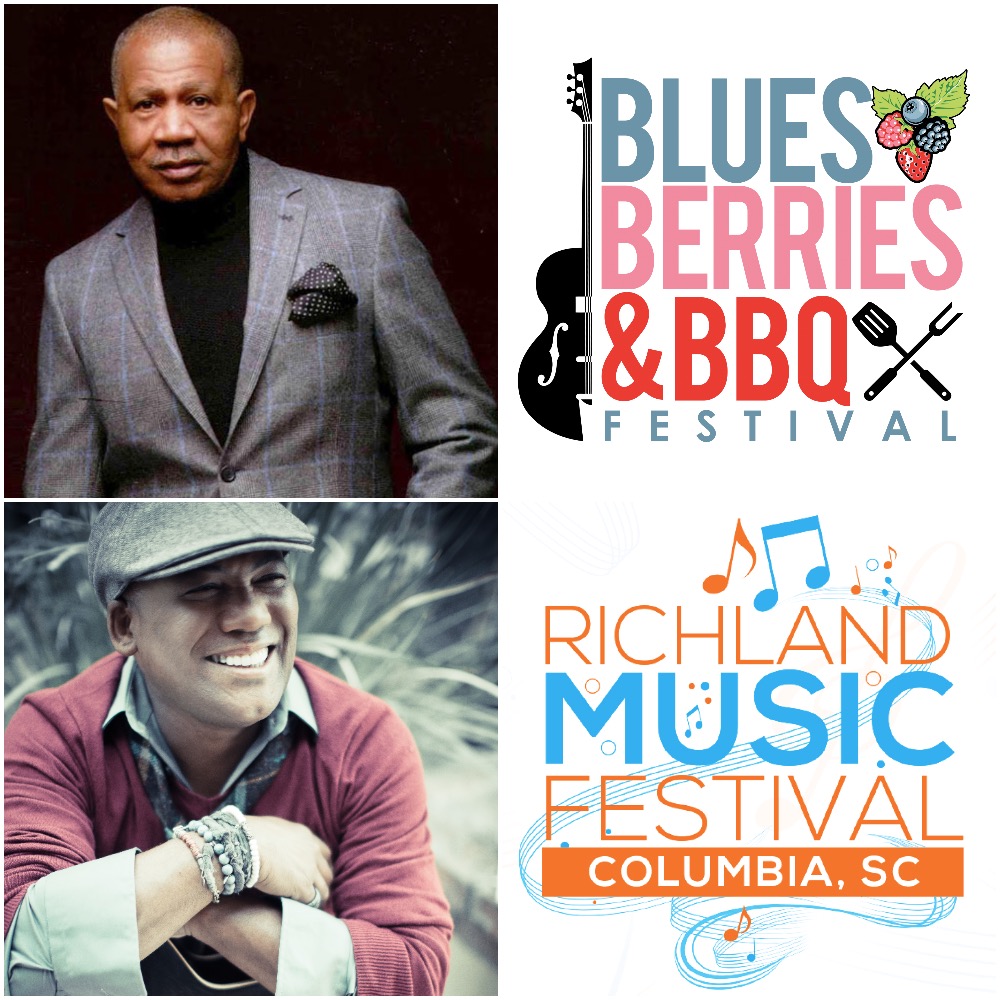 BLUES, BERRIES & BBQ FESTIVAL - LENNY WILLIAMS
11:00 am Gates open
12:30 pm – 1:00 pm BBQ Contest
1:00 pm – 1:30 pm GC Capital Steppers
1:30 pm – 2:00 pm Breana Tepper
2:00 pm – 2:30 pm Pie Eating Contest (Kids)
2:00 pm – 5:00 pm Justin "DJ MaC" McClary (Kid Zone)
2:15 pm – 3:15 pm Elliott and the Untouchables
3:00 pm - 4:00 pm Bonita Global, Live Food Demo
3:15 pm – 3:45 pm Pie Eating Contest
3:30 pm – 4:30 pm Little Ceasar
4:45 pm – 5:45 pm The Terence Young Experience
6:00 pm – 7:00 pm LENNY WILLIAMS
www.Bluesberriesbbq.com

RICHLAND MUSIC FESTIVAL - JONATHAN BUTLER
11 am Gates open
1:00 pm - 1:30 pm Cory Montrell Scott
1:45 pm - 2:00 pm GC Capital Steppers
2:00 pm - 2:45 pm Dante Lewis
3:00 pm - 3:45 pm Palmetto Latin 4
4:00 pm - 5:00 pm Sunshyne P and The Legacy Band
5:45 pm - 7:00 pm JONATHAN BUTLER
7:30 pm JONATHAN BUTLER, CD sales
www.richlandmusicfest.org
One day pass $20 / Two day pass $30
The tickets below must be purchased DAY OF at the gate:
Kids 6 and under Free with a ticket holder, Over 65 with valid id, $10 per day (ID required)
$10 PARKING AVAILABLE INSIDE OF THE PARK
PARKING INFO : $10 PARKING or PARK and RIDE FREE at SC CRIMINAL JUSTICE ACADEMY located at 5400 Broad River Road.
RAIN OR SHINE In the event of inclement weather, we will not be able to refund your ticket.
PLEASE ADHERE TO ALL POSTED PARK RULES
Subject to proof of identification and Bag check upon entry.

We welcome small hand coolers, chairs, small tents
NOT ALLOWED: Weapons, offensive materials