Description
The Feminine Power Is Arising!
Do you feel it?
This workshop is designed to awaken the Spirit within you to its fullest for 2018! Do you feel like there's more? Are you wanting to try something new or ready for some change in your life? Do you want to add more meaning and purpose in your life? Is there a Calling on your life you've been putting off because you don't know exactly what to do or are afraid of stepping out in faith? Do you feel as if you are stuck or don't know who you are or what you really want anymore? Are you still stuck in your past and allowing it to dictate your future? Are you being called into a deeper and more meaningful relationship with God? Are you ready for more Love, Joy, Meaning, Prosperity, Power, Influence, Peace, Confidence, Clarity, Purpose? If you answered yes to any of these questions, this workshop is for you! You are feeling the early stages of the Feminine Power Shift. Embrace it, you were made for so much more my dear friend and more is calling your name!
Will you answer the Call to go deeper and higher?
There is a Powerful Shift happening around the world and God, your Higher Power, and/or Spirit, is calling all women out of the shadows and into the Light. The world needs you, your message, your business, your resources, and your voice! Stop allowing fear to keep you from creating new possibilities for yourself. Are you ready and willing to answer the Call to become what this world so desperately needs at this time, women who Love God, Love themselves, and Love others; are you ready to play BIG, use your voice, lead others, and willing to trust the Voice you hear within? Say "YES!" and watch the magic happen before your very eyes!
If not now then when?
There is no time like the present. It's time for you stop playing small and making excuses, and step fully into your personal Power, re-align and re-position yourself in your relationships, business/career, finances, and your communities to show up as leaders who hold Divine Wisdom. It is taking a step in your own spiritual evolution to reposition yourself into more Authenticity, Power, and Purpose. Everything you will ever need or want is within you to fulfill your Destiny. Make a commitment to yourself by saying, "Yes, I am ready and willing to do the work to create a life I Love."
Start 2018, by giving birth to the most Powerful version of yourself yet, and develop a roadmap for how you can reach your highest human potential and have a more positive impact in the lives of others.
Here is what we will cover during this 3-hour workshop:
- Identifying Your True Power Source
- Listening to Your Intuition
- Standing In Your Power (Perception vs. Truth)
- Identifying & Living Your Core Values
- Healthy Boundaries
- Emotional Resiliency (The Power of Letting Go)
- Rediscovering Your Talents & Gifts

- Living Courageously With Purpose & Meaning
- Setting Goals
- Characteristics of a Powerful & Influential Woman
What to expect & Schedule:
8:30 - 9:00am Check - In/Social Time/Coffee & Pastries
9:00 - 12:00pm Workshop/Q&A
This is an interactive and immersive workshop, therefore I highly recommend you get a good night's sleep the night prior to it so you can be bright-eyed and ready-to-go with your thinking cap on Saturday morning. Come with an open mind to be inspired, learn some new things, and ready to do the work. Dress is casual and comfy, it's Saturday! Bring a working pen/pencil. Lastly, I like to interject FUN in everything I do, so get ready for some giggles, afterall, it is the best medicine.
Please share this workshop on social media and invite your friends to join you. Also, consider gifting this to someone who would also benefit from it.
The Space:
Manny's Photography Studio is a large, beautiful, creative, open, and artistic space with plenty of natural light and an incredible view of downtown Dallas. It's perfect for this type of work as it enlivens all of our senses to the beauty around us.
LIMITED SEATS: We are limiting this workshop to 15 women in order to create an intimate and immersive environment and provide individual support.
Your Facilitator:
Tilde Guajardo, is the Founder of Womanars & the Creator of The Identity Quotient (The New I.Q). She is a Certified Positive Psychology Practitioner, and a Certified Small Flourishing Group Facilitator. She is an author, international speaker, mentor, spiritual teacher, collaborator and leader.
She struggled for years with anger, fear, and shame due to experiencing childhood trauma. Her life changed the day she experienced a miraculous healing, which reminded her how much she was loved by God. This inspired her on a life-long journey to dive deeper into studying and developing an intimate relationship with God, and to learn practical ways to overcome past hurts and lead a joyful life. She found profound healing by combining both Spiritual and Positive Psychology practices, and possesses a unique ability to share the transformative power of faith and action. Tilde delivers actionable and specific strategies that yield tangible, measurable results for those wanting to make true change in their lives. Her powerful life transformation and passion to empower other women inspired the creation of "The Identity Quotient", which reminds women "who they are", "whose they are", and "how powerful we really are when fully aligned". It explains the importance and power of the Spirit-Mind-Body connection to obtain our highest human potential and thrive in every area of our life.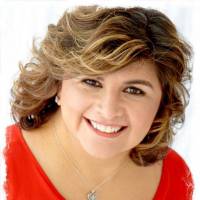 I want to personally thank Manny Rodriguez Photography and Manny's Cortado (a delicious coffee drink) for graciously sponsoring our events and always being a huge advocate for us, joining in as we Celebrate "The Power of Women"! ~