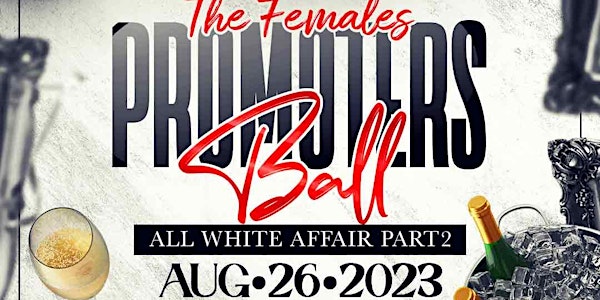 The Females Promoters Ball
The Females Promoters Ball is to acknowledge all the women during the 50th Anniversary of Hip Hop & the work they have accomplished.
Date and time
August 26 · 9pm - August 27 · 3am EDT
Location
Polygon 299 Vandervoort Avenue Brooklyn, NY 11211
Refund Policy
Contact the organizer to request a refund.
Eventbrite's fee is nonrefundable.
About this event
The Females Promoters Ball will consist of live performances by Positive-K doing his hit song ( I Got A Man) Positive K will also be celebrating his birthday at the event. Miss Jones AKA Jonesy from 94.7 fm The Block morning show will be hosting the event, Miss Jones will perform as well. The Legendary Dj Hollywood will receive a special award for all that he has done during the 50th anniversary Hip Hop era. The Female Promoters will also receive an award for all their hard work throughout the years. This is an All White Affair, so come on out to the Polygon in Brooklyn & enjoy this celebrity event.
About the organizer
The Aquarius Boyz have been in the music industry for over 20 years manageing, promoting & doing security work for numberous of artists. We have worked for artist(s) such as, Puff Daddy, Jay-Z, biggie Smalls, Fat -Joe, Big Pun, Doo-Wop, Kid Capri, Kay Slay, Rob-E-Rob, Smooth Da hustler, Lil -Kim, Foxxy Brown, Cuban Link, Red Bandit, Brand Nubains, Force Md's, Chubb Rock, Positive-K, Biz Markie, Dougie-Fresh, Slick Rick, Marly Marl, NORE, Remy Ma, Funk Flex, KRS, Soul Sonic Force, Melle Mel, Africa Bambaata, Kurtis Blow, Spoonie-G, Hi-Five, Ice-T & Coco, Brand Nubains, Big Daddy Kane, Marly Marl, Soul Sonic Force, Dana Dane, Tony Touch, Treach ( Naughty by Nature) Ice-T, Coco, Mr. Cheeks, Busta, Q-Tip, MOP, Lord Finesse, Show Biz & AG, Johnny Kemp, just to name a few. We have our own booking agency.
Our most recent event was held at the Yotel Hotel which was a Black Tie affair for our 4th annual Aquarius birthday celebration party on Feb 19, 2013, which was a successful event with over 1,000 people present at our venue, celebrities such as: Marly Marl, Chubb Rock, Mob wives, Wendy Williams, Mama Jones, Hi-Five, Ralph McDaniels( Video music box) Jerseylicous cast, Stephen Balwin (Actor), Roxxane Shante, Bad Girls Club ( reality show) Doo-Wop, Brucie-B, Spoonie-G, Special -K, Allure, Kevie-Kev, Grand Master Caz, Sirius XM Fm radio Mickey Bentson and Cutman L.G., Mr. Biggs (Soul Sonic Force), The Crown prince of Italy( Prince Emanuelle) Jessica Romano (Glam Fairy Star) Angelina (Jersey Shore) Elizabeth Vashisht ( VH1 Touch Love) Pearl Naidoo ( Fashion Designer) Milton Saul ( fashion Designer) just to name a few.
Now we are back on August 17, 2013 at the hottest club in NYC STAGE 48, which has a capacity of over 3,000 people. This event is an White Affair Fashion Show midday event with an after party for all Cancers & Leo's. Mr. Milton Saul CEO of I Am Me will be conducting the fashion show with his clothing line. After the show we will present Autism Speaks with a check from the Aquarius Boyz Dream Team Family & Friends then present the winner of the raffle ticket with their cash prize;
But we still aint done yet, Our live performance includes, Mr. Cheeks doing all his hit singles, follow by Grand Puba & Sadat X doing all their hit singles as well, We also have En-Touch blessing us with their hit song also...more groups will be annouced at a later time... The Aquarius Boyz brings the stars out.
Confirm celebrity guest list is now in the makings, we have alot of suprises for this event. Portion of the proceeds goes to Autism Speaks, so we encourged our fans to donate a small fee to autism speaks or purchase a ticket for this cause... Thank You in advance..AB