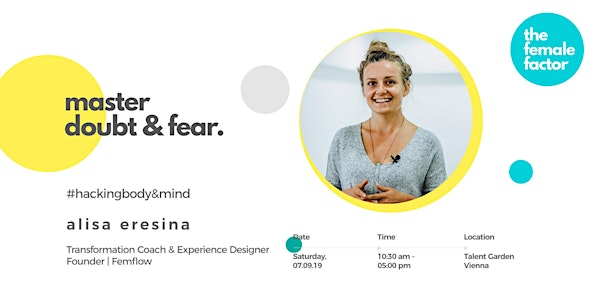 the female factor masterclass | master doubt and fear
Learn How To Transform Self-Doubt Into Confidence
When and where
Location
Talent Garden Austria 111-115 Liechtensteinstraße 1090 Wien Austria
About this event
what is it about?
Your heart is pounding, your hands are sweaty, your breathing fast. You think that you can't do it. You wish to just turn back and leave… Fear and doubt are ruling our reality. Fear feels paralyzing and holds us back from realizing our full potential. In this masterclass Alisa will teach you the 3 STEP SYSTEM that will help you to develop unshakable confidence by turning self-doubt and fear into your personal power.
who will you learn from?
• Alisa Eresina is a female empowerment and transformation coach.
• She is a certified yoga instructor, meditation teacher, trainer and speaker. She is the founder of Femflow.org, a space that helps women to expand their pleasure potential and harness the power of the menstrual cycle to live a vibrant empowered life they love.
• During her academic career in business and socio-ecological economics and policy, she focused on: work culture, corporate social responsibility, employee engagement and mindfulness, application of mindfulness as health promotion behavior and its potential to reduce hyper-consumption.
• In the past years, she worked with different audiences on leadership development, organizational and personal growth. Her approach is holistic (ranging from positive psychology, somatic bodywork, Buddhist and yogic teachings and more) and is based on experiential learning and discovering of the Self.
• Her mission is to help others to live an empowered life on their own terms.
who is it for?
No matter if you are just starting out or in the middle of the career jungle. If you feel that fear and self-doubt is stopping you from breaking through the next level of your success, then this masterclass is for you.
about the female factor.
The female factor empowers driven women to hack their potential through tailor-made experiences and know-how. We believe impactful mentorship, dedicated knowledge and personalized events can change the game.
We want every ambitious woman to wake up in the morning knowing that she has what it takes to do whatever the F she wants.
about the inner circle.
The inner circle is the members-only community by the female factor. Members get access to highly curated, impactful workshops, mentoring sessions, and exclusive events.
This masterclass is part of the inner circle offer and free for all members. If you're not a member yet, you can become one here. Members will get their access codes via mail.
Join the movement: www.femalefactor.global
Terms of Participation Agreement: By participating at the event, you grant the female factor permission to capture photo/video of the event. You can find the exact legal terms on our website but to summarize, we want to share your success with the world.