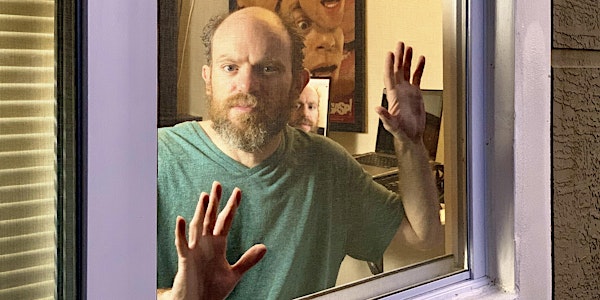 The Feldman Dynamic: Social Distancing Dinner
Description
This event has been created due to COVID-19.
------------------------------
***THIS IS AN ONLINE EVENT. PLEASE CLICK OR SCROLL DOWN TO CHECK YOUR LOCAL VIEWING TIME!***

It's been 390 days since The Feldman Dynamic last gathered at a dinner table in front of an audience. And now, unable to get together amidst the global COVID-19 pandemic, it's four different tables at once!
What has up to this point been an unprecedented reality theater event featuring a family – Brian Feldman's actual family (Mom, Dad, and sister) – having dinner together live on stage, will now be, for the first time-ever, an open-source videoconferencing event on Jitsi Meet. Will it work? We'll find out together!
There's no script, no rehearsal, and every performance is completely different. It's not improv. It's the reality show that will never be on TV.
Although there've been *many* variations on this concept in online spaces, Brian's signature performance is still the original IRL, premiering way back in August 2003 as part of FringeNYC (The New York International Fringe Festival), where it was featured on NBC's Today Show (Ok... so it's been on TV once, but that's it!) and dubbed "the reason the Fringe exists," among many other accolades.
Of his more than 125 realized works, Brian still considers The Feldman Dynamic his pièce de résistance. It's certainly the most autobiographical and remains his most difficult to perform.
While the coronavirus outbreak is an extremely challenging time for all people around the world, Brian remains an eternal optimist. He looks forward to the day we can all gather in person once again, and hopefully sooner than September 2021 (predicted development time for a vaccine).

So save your agonizing about the end of the world for another night, and direct it instead towards the inevitable technical mishaps inherent in this one-night-only Social Distancing Dinner.

The Feldman Dynamic is Brian Feldman, Edward Alan Feldman, Adrienne McIntosh, and Marilyn Wattman-Feldman.
------------------------------
When Is It?
6:00 PM EDT (UTC−04:00)
5:00 PM CDT (UTC−05:00)
4:00 PM MDT (UTC−06:00)
3:00 PM PDT (UTC−07:00)
2:00 PM AKDT (UTC−8:00)
12:00 PM HST (UTC−10:00)
------------------------------
Where Is It?
Jitsi Meet
(Meeting name will be sent to all registered participants)
------------------------------
How Much Is It?
Feel Free* (to participate online)
*As in, feel free to give something following the performance. That is, if you've still got a job in these crazy times.
------------------------------