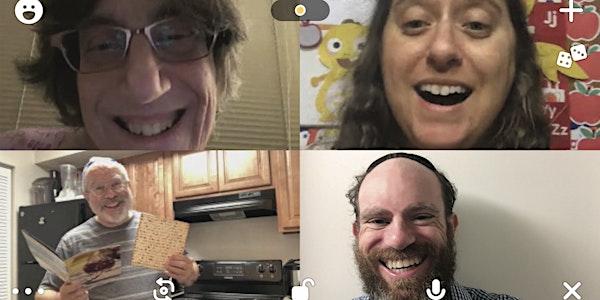 The Feldman Dynamic: Seder-in-Place
Description
This event has been created due to COVID-19.
------------------------------
Unlike last week, though (Jitsi Meet with viewer cameras off), it's now *mandatory participation* (on
Houseparty
)!
It's also the first night of Passover under the stay-at-home order, everyone's in a different place, and not much holiday shopping got done. Expect things to be super Reform.
Needless to say, if you're looking to *briefly* check-in on what will arguably be the most nontraditional, open-to-the-public, Seder-by-app experience of all-time, sign up to Seder for 30 minutes with The Feldman Dynamic as they try their best to Seder alone, together. (So as to safely spread the Seder to as many people as possible; only 4 guests per time slot!) They may not have anything Kosher due to current events, but they still have each other.
And that, my friends, is Dayenu.
"Next year in person!" *fingers Star of Davided*
Until the end of these crazy times... be well, stay safe, practice social distancing, and, please, wash those hands!
The Feldman Dynamic is Brian Feldman, Edward Alan Feldman, Adrienne McIntosh, and Marilyn Wattman-Feldman.
------------------------------
4 Time Slots Available; 16 Seder Guests Total
4 Seder Guests every 30 minutes until 8:00 PM ET
Time Slots: Part of the Seder you might take part in...
6:30 PM ET: Candle Lighting, 1st Cup, Handwashing (!), Karpas, Middle Matzah Break
7:00 PM ET: The Four Questions, Exodus Story, The 9 Plagues (skipping Makat Bechorot!), Dayenu, 2nd Cup
7:30 PM ET: 2nd Handwashing (!!), Matzah, Maror, The Sandwich, Holiday Meal
8:00 PM ET: Holiday Meal (continued), Afikoman, 3rd Cup, Elijah, 4th Cup
------------------------------
------------------------------
How Much Is It?

Please make sure you have the Houseparty app installed on your phone, tablet, or computer. (If you haven't yet downloaded the app, please wait for Brian to contact you before doing so. tyvm!)


*If you've still got a job in these crazy times, and feel inspired to give something following the performance... feel free.
------------------------------